Chicory Hill Herbs
Holistic wellness is becoming more mainstream, but this Peach Street gem has been healing Erieites for nearly two decades.
March 30, 2016 at 2:00 PM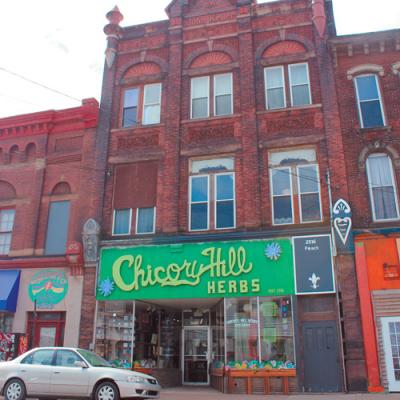 My wife and I have never had a problem finding a good reason to visit Chicory Hill Herbs.
Most recently, while I was there looking to pick up the pieces needed to tell some of the story about this colorful, vibrant upper Peach Street holistic living store, she was aiming to grab some activated charcoal (for the teeth); some bentonite clay (for the face); and some of Chicory Hill's in-house migraine-relieving tea blend (for the babysitter).
Most of that done, Lisa (my wife) and Lyla (my three-year-old) were sitting on a sun-splashed corner of the floor, playing with some beautiful stones, when a young mother walked into the shop, her baby – a sort of fussy, kind of fidgety little thing – in tow.
She got right to the point with shop manager Kellea Wilson and employee Lainey Will: She was looking for information about natural methods for dealing with gut worms.
"Is this for a person, or a pet?" Wilson asked peacefully.
"A person," the young mother answered calmly, proceeding to tell them it was the baby boy who needed to be de-wormed. The doctor recommended garlic supplements, she said, but she wanted to know what the folks at Chicory Hill had to say on the matter, as well.
Without missing a beat, Wilson and Will began consulting and perusing – their own mental libraries, the Internet, and the herbs, books and other holistic stuffs of the space around them – almost immediately finding what the mother came in for: information.
At Chicory Hill, whether it's helping people to heal physical ailments or to maintain their celestial health, it's all in a day's work. And within that, it seems, kindness and understanding, comfort – love, even – are always at play.
At Chicory Hill, whether it's helping people to heal physical ailments or to maintain their celestial health, it's all in a day's work. And within that, it seems, kindness and understanding, comfort – love, even – are always at play.
"We get asked about everything from intestinal parasites to how to cleanse your house spiritually," says Wilson, from astral projections to flea removal, from gem and mineral wisdom to common headache relief.
It's a setting where, for nearly 20 years, the mystical has met the non-mysterious, where the esoteric had melded with the obvious – all from a place in Mother Nature's lap. Everyone there has a space in that place, too: Wilson, the shop manager and self-professed "resident rock nerd;" Will, the quiet-mannered tea expert; Amy Keiper, the in-house researcher and oracle reader; Danny Burger, a curious mind, an easy smiler and all-around nice guy; and his mother, Judy Burger, the one who started it all.
"Everyone has some knowledge" in various specific areas of holistic health practices and methods, Wilson said, and with that knowledge, "we bounce off of each other all day."
The stated mission of Chicory Hill, started by Burger some 18 years ago, is simple enough: "Exploring holistic living with herbs, oils, teas, spiritual goods, and incense to preserve and maintain physical well-being and spirituality."
And, essentially, that's all they do. But there's so much to doing all of that, especially as more and more people become aware that there may be a lot of good, old sense in practicing good, old, time-tested-and-honored approaches to better health and well-being.
"Erie's waking up left and right," said Wilson, with the local holistic community in general growing in leaps and bounds in recent years.
That seems to flow right along with what's been an expanding national movement: Since 2013, upwards of 50 percent of Americans have been employing at least one method of complementary alternative medicine in their own health practices – ranging from healing herbs to healing energies to healing touches and more – according to a July 2013 report in USA Today.
Here in Erie, with their myriad natural products, books, and tools, and a lengthy calendar of ongoing workshops, discussions, and other natural health-minded presentations and events, Chicory Hill "is providing a little bit of a support system that people kind of come to," said Wilson.
In everything they do, she added, "we support a 'coexist' mindset. We get wildly varying groups of folks in here all the time, and everyone gets cozy."
And shares what they know. And leaves at least a little (and, sometimes, a lot) better for it. 
To find out more about Chicory Hill Herbs, what's on its shelves, and everything that's happening there, visit the shop (at 2516 Peach St.); call 454.5844; or check out chicoryhill.com.
Ryan Smith can be reached at rsmith@eriereader.com, and you can follow him on Twitter @ryansmithplens.