Dining Review: Jekyll & Hyde?s
Already known for their great food and craft beer, Jekyll & Hyde's gets a major upgrade with a new tap room.
December 14, 2011 at 4:00 PM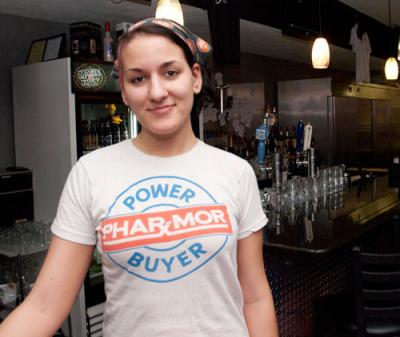 As we ready ourselves for a Hoppy New Beer, we can look back in retrospect and safely say that 2011 was a good year for beer in Erie, Pa.
Lavery Brewing Company established an independent brewing facility after operating an alternating proprietorship with the Brewerie at Union Station.  The Erie Brewing Company more than doubled its brewing capacity.  UPick6 opened a second location downtown, and then there's the strange case of Jekyll & Hyde's gastropub. 
Recently, a new establishment opened its doors kitty-corner to them called Jekyll & Hyde's.  Wait, what?  At first glance it might appear that a simple expansion has taken place, but looks can be deceiving.  There are two separate entrances, two different atmospheres, and indeed, two different personalities co-existing there.
Jekyll & Hyde's original 10th Street entrance gives the passerby a full view of its interior with a wall of windows adorned with neon beer signs.  Inside, tall tables and chairs fill the room with walls littered with tin tackers and mounted flat-screen televisions.  One of the flat screens plays a loop displaying beer trivia and draft selections available.  The bar has a granite surface made to look like marble and an external facade of diamond plate aluminum.  Specials and seasonal menu offerings are listed on the East wall in chalk.  The lighting is dim, but the place is well-lit and the atmosphere is alive.  This original portion of J&H offers 12 draft beers and a generous assortment of craft and macro beers, wines, and spirits.  It has an urban, industrial feel and feels perfect for either a night out with friends or even a business meeting with Dr. Henry Jekyll.
The word gastropub gets thrown around so much these days, it's hard to tell what a gastropub is or isn't.  It could basically be defined as an establishment that serves high-end food and high-end beers.  Some critics would argue that most establishments aspire to these standards and that the term has become irrelevant, though there has to be some qualifier that sets a gastropub apart from an ordinary tavern.  Owner Jason Fultz has a humble take on what it means to be a gastropub, asserting that, "We just want to offer a good product for a fair price."  Aside from such professions of modesty, the quality speaks for itself, whether it is the range of beer styles presented or the wonderfully eclectic menu.
The view from State Street offers a similar, yet albeit alternate exterior, with an arched glass window frame and neon signs.  Upon entrance to this new addition, either from the State Street entrance or through a narrow interior hallway connecting the two, you may go through a transformative effect, as they are night and day in relation to each other.  Inside, long tables fill the room with walls painted in a Victorian burgundy tone.  The bar has a tin plate facade made from old ceiling tiles and a jutting glazed stone surface, making misplaced beers a concern if it weren't for the glycol-circulated cooling plates to rest them on.  The lighting is dimmer on this side and the atmosphere is relaxed and subdued.  Along the West portion of the bar is an impressive collection of 34 draft beers on tap, making the total draft beers found at Jekyll & Hyde's the most found anywhere in Erie.  Of these 46 beers, many styles and regions are represented, from local beers, to California IPAs, Belgian imports, and even domestic macro lagers.
A glance at what they describe as "bar food" could leave you a little confused.  Just what kind of bar is this?  Items like guacamole and tortilla chips, edamame, and hummus seem too fresh and healthy to be labeled bar food.  Even the macaroni and cheese is given the red-carpet treatment, being made with cavatappi pasta, smoked Gouda, mascarpone, Smith's bacon, and peas.  My personal favorites include the chicken lettuce wraps and Devils on Horseback.  The chicken lettuce wraps have pulled pork-style chicken wrapped in leaf lettuce with a nice balance of sweet and spicy giving them a Thai fusion quality.  The Devils on Horseback are goat cheese stuffed dates and pickled pears wrapped in bacon and served with vinaigrette and mixed greens, hosting flavor combinations unimaginable to most palettes.  If this is bar food I can't wait to advance to the main course!
I spoke with the pub's culinary artist, Amanda Kleckner about some of the things that drive the menu, which clearly at times seems to outshine the beer. The focus kept coming back to similar themes: freshness, diversity, and simplicity.  Indeed, the menu has a little something for everyone, omnivores and vegetarians alike.  The bread they use comes from a local bakery in Meadville called Creative Crust, and one third of the menu (including specials) changes consistently to take advantage of seasonal ingredients.  She mentioned that when formulating recipes, she likes to keep the ingredient list simple but dynamic.  Menu items have their ingredients conveniently listed beneath them, and in all honesty, I've never seen better descriptions anywhere! Certainly, there is beauty in simplicity.  She attributed her skills to a "lord of the flies" reign her mother gave her in the kitchen in addition to experience in other local restaurants, like the now defunct downtown location of Papa Joes
Pepperoni Cafe.  Operating out of a 13-foot by 7-foot kitchen, delivering fresh, made-to-order cuisine, her accomplishments are nothing short of magic.
Over on the Edward Hyde side of things, is a truly unique offering to Erie beer lovers.  One of the tables is constructed with four beer faucets that are self-serve.  You can make reservations for no additional cost and request the beers you want on tap or just walk in and if the table is free and you like what's on tap, just pull up a chair and start pouring.  Some of you may be scratching your heads, wondering how this works.  The taps are connected to flow meters, which measure the amount of ounces that flow from the tap. Be sure to sit your friends with the best pouring skills closest to the taps, so as not to pour your money down the drain.
Food as well as any of the beers on draft can be ordered any where on the premises, which include an outdoor patio in the summer.  Again it must be said that one of the greatest strengths of Jekyll & Hyde's is their ability to make ordinary items into extraordinary items: Gorgonzola cheese dip, sweet potato gnocchi, the Dr. Jekyll steak burger made with fresh ground beef brisket and sirloin, the Mr. Hyde black bean burger with chipotle mayo, and even a shrimp burger with cilantro tartar sauce.  The sandwich sides continue this flair with Asian slaw, dill potato salad, and seasonally rotating soups. In recent weeks, I've tasted a carrot-ginger soup that felt almost therapeutic with its intense flavor and a sinfully delicious twist on tiramisu, playfully called "beeramisu," as it is made with Southern Tier's Creme Brulee stout.
Regardless of whether the term gastropub is oversaturated and irrelevant, Jekyll & Hyde's puts the "gastro" in gastropub and is most definitely deserving of the title.  The opposing atmospheres will attract different personalities; perhaps possibly alter your own.  Go to the Jekyll side for lunch or dinner and then transform and let your inhibitions run wild on the Hyde side for the evening.  As owner Jason Fultz contends, "That's our motto here: Change your character."
I agree. Just don't let your "Hyde" get the best of your "Jekyll."