Donut Diaries: Doughdrop Inn
New West 38th Street Shop Boasts Handmade Confections, Glazed Authenticity
August 1, 2018 at 10:00 AM
By: Marie Turko
When I arrived at The Doughdrop Inn around 8:30 a.m. on Friday, July 6th the shelves were close to bare. Instead of being disappointed like most of the extremely rude customers, I was elated for the new Erie business. Near empty racks on day two of opening? It might be the hype, it might be that Erie is full of gluttons, or it might be that the donuts are really good.
Despite the ridiculous comments I heard from people waiting in line, the employees were all more than friendly and willing to discuss the remaining donut varieties. Pricing was not posted for the donuts, which range depending on what you purchase. The cakes I bought were about $1 each. Aside from donuts, there were hot and cold coffees and pop. They also serve sandwiches, so if you miss the donuts, don't cry about it because you're accustomed to accessibility to anything and everything on demand and instead embrace the words of Mick Jagger, "You can't always get what you want. But if you try sometimes you just might find, you get what you need." Suck it up and have some healthy chicken and support a new local business created by fellow Erie residents.
But let's be honest — I wasn't there for a ham or chicken sandwich — I was in the GIVE ME THE DONUTS crowd. I was able to escape the shop with a Red Velvet Donut, a Chocolate Vanilla Glazed Donut, a Chocolate Glazed Donut, and a Blueberry Glazed. All were cake donut varieties so I was expecting the same-same flavor over and over. This was not the case.
First, I tried the Red Velvet. The cake was fluffy and sweet but not saccharine and had a soft pink tint. The top crunch coat enhanced the donut's texture. I'm not sure why my taste buds were reading strawberry and not red velvet. Red velvet is tricky — it should be a less chocolaty chocolate with the ingredients combining to create a red hue rather than a deep brown but still have a chocolate taste. I didn't get this from the Red Velvet Donut, nor did I care. It was still delightful and cake-for-breakfast. It was the least flavorful of the varieties I tried, so I would recommend this for picky eaters who say nonsense like "I don't like anything too rich." Since I had three donuts to go, I didn't want to eat the whole thing. But I ate the whole thing.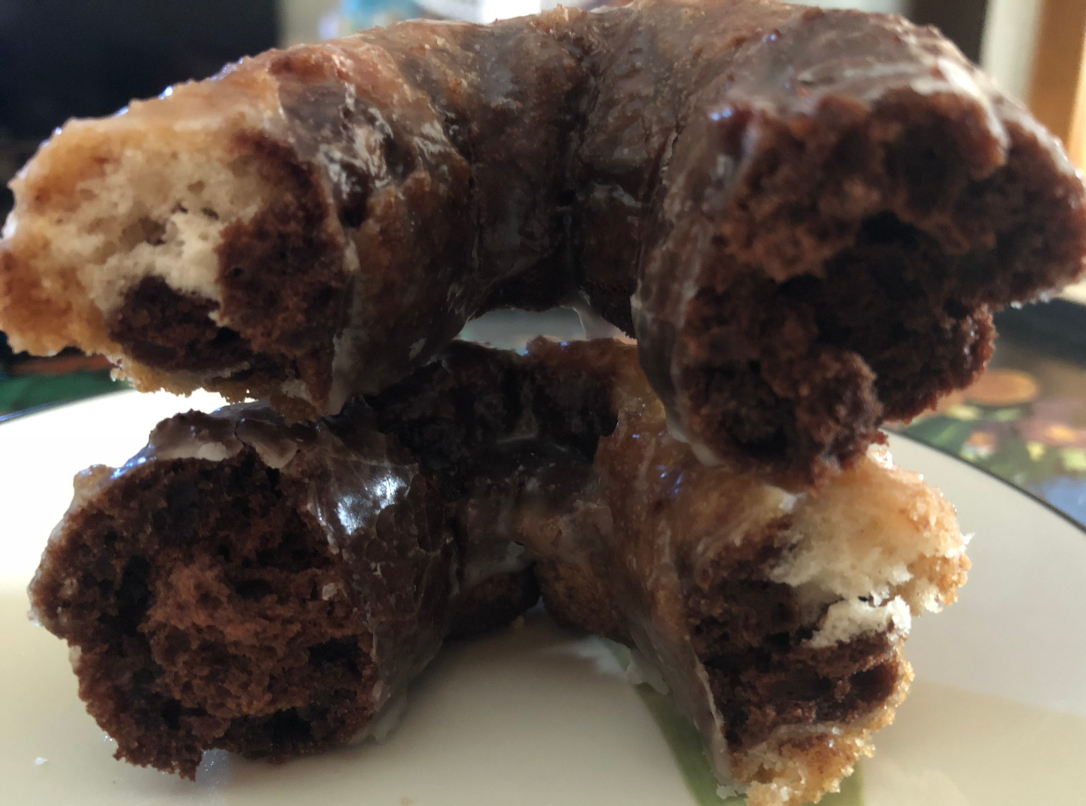 The chocolate vanilla donut took the cake as Turko's favorite Doughdrop Inn dounut (so far).
Next, I consumed the Chocolate Vanilla Glazed Donut. I loved the marbled look. First bite was love. It was unadulterated chocolate — like intensely real chocolate — flavor. It screamed "I wasn't manufactured in a big processing plant!" Plus it wasn't dry. I have a hard time finding a good chocolate cake because they often have that too-much-flour, dry mouth effect. Not this chocolate sweetheart. She was smooth and perfectly aerated. The vanilla wasn't as prominent but it balanced the chocolate for a perfect yin and yang. The glaze was crisp and even across the entire cake making each bite equally delicious. This was my favorite donut I tried.
Donut number three was the Blueberry Glaze Donut. Since diving deeper into the donut world, I learned these were are a back-in-the-day donut staple. Offering a blueberry donut gives the Doughdrop Inn major donut cred. Fruit flavors aren't my favorite but this donut was truly a taste sensation. Again, I could tell this was made with true love, not an artificial approximation of it poured from a box. It had REAL blueberry flavor, not some chemical version of what a blueberry might taste like if a computer read blueberry code and created a 3D printout of a blueberry. Old-fashioned donut lovers, those who know the joy of an Amish bakery, and people who are health-conscious (I'm assuming because I am NOT one of those people) will want to try and return for this donut many times throughout the years (because I'm assuming this shop will be open for the long haul).
I powered through and got to my fourth and final donut of the day — the Chocolate Glazed. I was expecting nothing less than perfection and was pleased once again. This was basically the Chocolate Vanilla Glazed Donut minus the vanilla. Chocoholics will be in love with this cake because of its distinct real chocolate flavor and soft texture. The glaze was again perfection and the overall effect was delicious.
Every donut I tried was worthy of being served after dinner as an individual dessert that guests would never balk at even if filet mignon was the main course. Be kind to this baby business while they learn. Like Jay-Z's mom explains throughout the lyrics in "December 4th," she knew he was a "special child," just as I know this is a special business that just has to live through the infantile growing pains. But at their core, they are already producing great product.
Go get you some at the Doughdrop Inn located next to Valu Home Centers at 38th and Washington. Store hours are listed through August 5th, 2018 as Wednesday to Sunday from 6 a.m. to 2 p.m. After August 5th, 2018, hours will be Tuesday to Sunday from 6 a.m. — 2 p.m.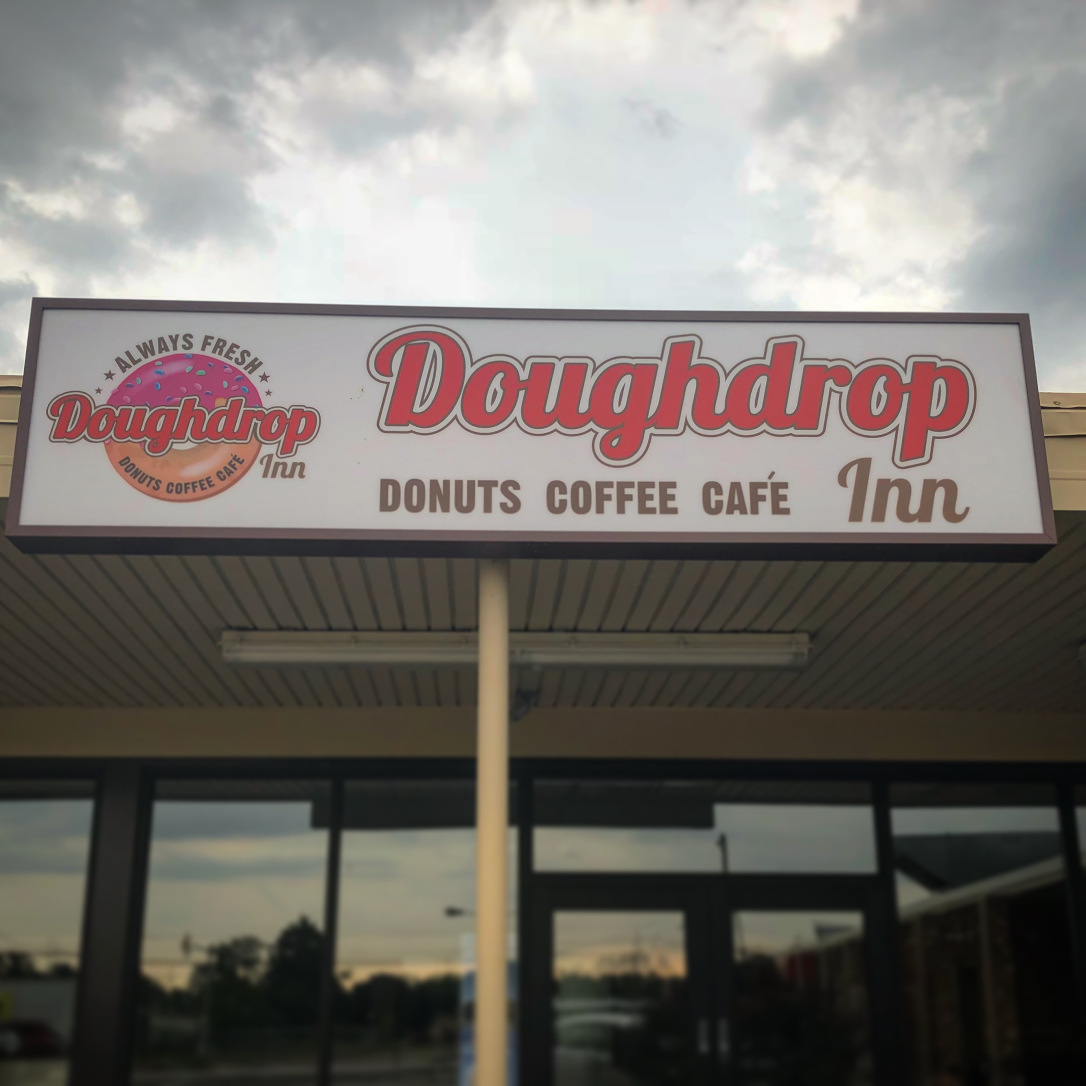 Marie Turko is no stranger to torus-shaped treats. Find her further journeys online at donut-diaries.com