DSO's blasting Jamestown into Dead space -- TONIGHT!
Plans for tonight? You may wanna clear 'em out, because Dark Star Orchestra's letting some Dead light shine in Jamestown in just a few short hours.
November 15, 2013 at 4:18 PM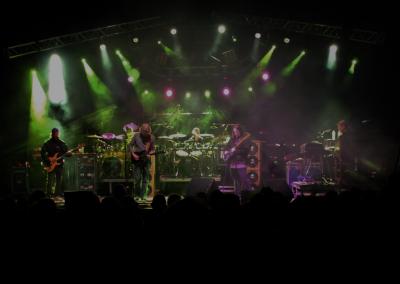 Dark Star Orchestra plays in great tribute to the Grateful Dead, for sure, but they're no cover band.

What they do, night-to-night on stages across the world, is take a page from a stellar and long-storied volume of live music, and use it as their Mission Control. From there, they blast way, waaay off into Dead space -- and explore the wide-open, wild galaxy within it.
Masters of their crafts, they bring the Dead's music to vibrant, full life. When you're there, you feel it all over.
And now, you may wanna clear out any other plans for your next hours, because they're letting some lovelight shine in nearby Jamestown, New York -- TONIGHT.
DSO's performance tonight, slated for 7 p.m. at the Reg Lenna Center for the Arts at 116 East 3rd St., is the first show in Southern Tier Brewing Company's new Live Concert Series.
The Lakewood-based microbrewery even concocted an exclusive special brew for the special event: 'Casey Jones,' which the company describes as "a 6.4-percent alcohol-by-volume, medium-bitterness pale ale, brewed with light roasted coffee beans ... straw gold in color, with a thick, rocky head. [And] yeah, it has caffeine in it.
"


Now, the last times I caught DSO -- at their early-summer Dark Star Jubilee at Ohio's Legend Valley -- they blew a crowd of thousands right out of its collective mind for three nights straight: One big '80s Dead set; another with a '76 - '79 vibe; and then, for the last night , a late '60s deep-psychedelic excursion.
There's really no telling yet what tonight will bring -- they never say out loud beforehand -- but Dark Star drummer Rob Koritz did take some time to talk with me about shows and other things DSO before getting out on the road earlier this week.
Here's some of what he had to say:


Ryan Smith: So many Dark Star shows are in open-air festival environments, usually with thousands and thousands of people getting down under the sun (or stars). Tonight's show at Reg Lenna is in a more intimate theater setting. Musically, does the band approach shows differently based on the given set and setting?

Rob Koritz: "I don't think we approach [any given show] any differently. We always put our best foot forward. We work hard at it. [RS note: That means blowing the roof, if there is one, right off of any place, any time.] From a musical standpoint, nothing changes."


RS: Tell me a little about DSO's new permanent bassist, Skip Vangelas (who, after a stint with the band in 2011, came on board after longtime, celebrated bassist Kevin Rosen departed in July).


RK: "We're very, very happy to have Skip. He's a monster player. He really captures the essence of the Grateful Dead's music, and makes it his own. ...He's a great addition to the tour bus too."


RS: Being the kick-off show for a new, small-city live music series, there may be quite a few DSO first-timers there tonight. What would you tell those who may not know what they're in for?


RK:
"I think the most important thing for people who haven't seen us before [to know is that] 90 percent of what we're doing onstage is completely improvised. We're not regurgitating, not playing note-for-note. [It's] completely creative ... and the Grateful Dead's music is the framework."
Wanna go and check out some of Dark Star Orchestra's ongoing and ever-growing adventures in raising the Dead? Visit
darkstarorchestra.net
and
facebook.com/darkstarorchestra
for info on the band, its upcoming shows, DSO-hosted special events and more.