ER Sports
ESPN gets it right, regional game makes Dead Spin, and honoring an Erie great.
October 15, 2014 at 7:15 AM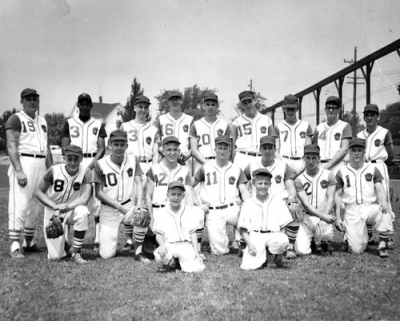 I'M NOT THE BIGGEST ESPN fan around, but I have to admit their 30 for 30 series is some of the best programming I've ever seen, and it takes a lot for me to admit that. As a matter of fact, I didn't know that the sports network had time to work on anything else besides the Derek Jeter retirement.
"The Captain" did retire in case you just came back from a round trip space ride to the moon.
However, the latest edition of 30 for 30 was a gripping documentary titled Playing for the Mob that was aired earlier this month, a tremendous investigative report looking into a point shaving scandal regarding the Boston College basketball team during the 1978-79 season. It truly was flat-out gripping.
An interesting sidebar noted that the main contact at BC was a Swissvale native, and two of the bookies also grads of Swissvale High School in Pittsburgh.
One of my best friends, Dr. Billy Esper, is a proud Swissvale High grad and I gave him a call while the show was on, and the good doctor enlightened me even more, as he was very familiar with these characters – and I stress characters. He played on the baseball team with Rick Kuhn, the original contact for the bookies who was the sixth-man at BC.
There were an incredible number of sub-plots to go with the point-shaving scandal, including one main cager who was the All-American type "kid next door" and a couple of others that were implicated but swore they were unaware of what was really going on. And they were very believable.
Adding to the excitement was the fact one of the "Bad Guys" was mobster Henry Hill who became famous after the movie GoodFellas hit the screen and Hill was played by actor Ray Liotta, who gave a magnificent performance. As a matter of fact, Liotta narrated the documentary.
The best line of Playing for the Mob came in an interview with Hill when the well-known hitman said, "We never once threatened any of the players, but I did tell one of them it's hard to play basketball with broken limbs."
The message was heard loud and clear by the players.
This was one of those shows where the 90 minutes just flew by. I didn't want it to end.
I have to admit the Swissvale angle added to my interest level. Geez – and I thought Dick Groat was the biggest name to ever come out of Swissvale.
On a local note, Gannon great Jack "The Spaceman" Byrnes was a product of Swissvale High.
I HAVE BEEN following high school football locally for 60 years, but I have never seen anything remotely approaching what happened in the recent Warren-Meadville contest played in Meadville. It was so outrageous that Dead Spin reported on it, and what the media outlet told America was the Warren Dragons edged the Meadville Bulldogs 79-78 – and that's with no overtimes.
A look at the statistics showed an amazing compilation of facts and figures that may've never been put together in any other high school in U.S. history.
Try these on for size: The two teams totaled 50 first downs, 1,280 yards of offense, and Warren had one rusher with 333 yards while Meadville countered with one player with 344 yards and another player adding 162.  The Dragons had one receiver picking up 145 yards of real estate and another hitting the century mark with exactly 100.
The lowest amount of points scored in one quarter was the fourth when the two teams, apparently exhausted, managed to tally only 30 markers. The third period saw 47 points put on the scoreboard.
And this was done with 12-minute quarters. You won't see this ever again – I don't think.
ERIE LOST A GREAT athlete and an even greater person recently when former Strong Vincent great Dennis Atkinson passed away at 68 years old after a short illness, Atkinson a standout in both baseball and basketball for the Colonels.
I first became acquainted with the SV great 55 years ago when we both played Boys Baseball in the Lawrence League at 14th and Greengarden, "Atki" playing for the Erie Forge and Steel squad while I was a member of the Security People's Trust squad.
He was a year older than me and a superstar in the loop, but he always had time to talk sports. Dennis and I became best of friends and attended many sporting events together.
Atkinson went to star as a first-baseman, and, I believe, was the best first sacker ever with the glove. He was so smooth it was borderline amazing and magical.
He was also a star on the SV basketball team, but I believe he was incredibly underrated, as he was constantly compared to his older brother James "Mickey" Atkinson, who was one of the greatest players ever, and an all-state performer. The older Atkinson led the Colonels to the state semi-finals before his team lost to a powerful Altoona squad.
One of the highlights of my career – and there weren't very many – was becoming a teammate of Atkinson when we played on the American Legion team, Local 1186, that won our region and played in the state tournament in Allentown.
Watching him day in and day out made me even more impressed with him as a player and a person.
He was a natural leader, and I was a better person for knowing him.
We will miss you, Atki!
Below is the American Legion team featuring Atkinson.
Browns fans (me being one of them) are ecstatic after their team pounded the rival Steelers, but this is the question of the day: Have the Browns caught up to the Steelers or has the Pittsburgh crew come down to the Cleveland squad's level?
James R. LeCorchick can be contacted at JRLSportsReport@gmail.com, and you can follow him on Twitter @JRLSports.