Erie County Update: April 24, 2020
Dahlkemper reports new high numbers, first death as Erie's reopening looms
April 24, 2020 at 5:02 PM
After delivering the unfortunate news about the first death of an Erie County resident due to COVID-19, Erie County Executive Kathy Dahlkemper followed that "unfortunately, as we suspected might happen after the Easter weekend, we also have quite a few new cases to report today." She reported that there were seven new cases of COVID-19, bringing the total of 75 positives, with 1,492 negatives. Out of those cases, six of them are in their 20s, while one is in their 50s. Six of the seven can be traced back to known positive cases. There have been 19 new cases reported this week.
In total, 44 patients have recovered out of the 75, for a total of 31 active cases, and one death.
Now available at eriecountypa.gov's COVID-19 page is a new chart that shows even more information about current positive cases. In addition to the total number and number of recovered cases, negatives, and deaths, it shows the data for those in official quarantine or isolation. Those numbers are as follows: 
Active Q or I*: 214
Released Q or I*: 186
Cumulative Q & I*: 399
Q to positive: 1.5%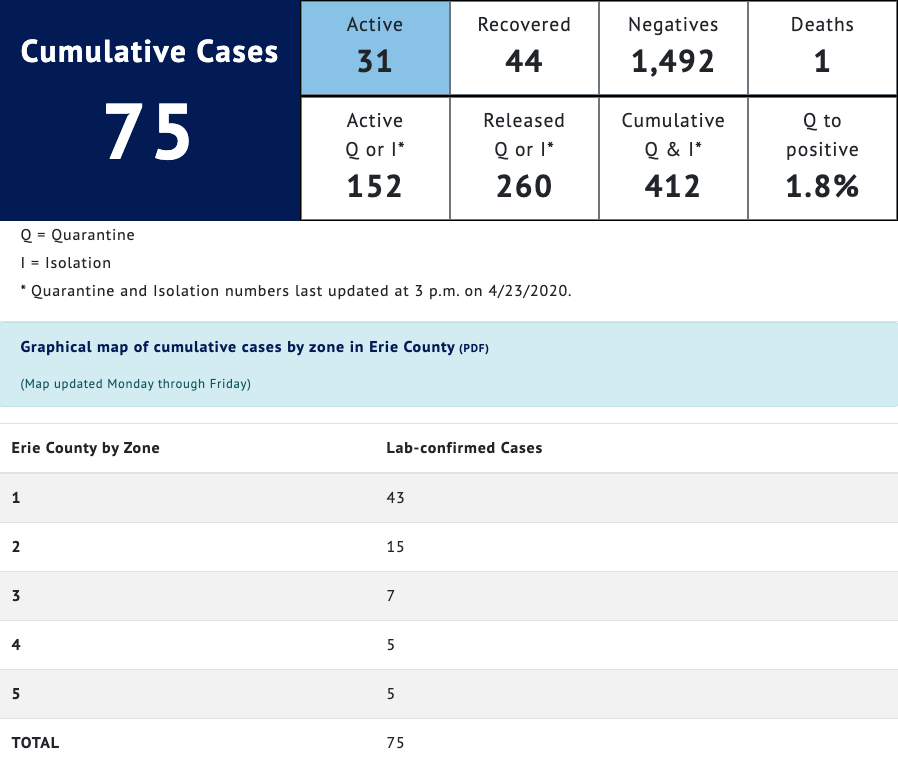 A screenshot from eriecountypa.gov
Statewide, there were 1,599 additional positive cases, for a total of 38,652 total cases. So far, there have been 1,492 confirmed deaths statewide, and 147,491 patients who have tested negative to date.
Crawford County has 19 cases (up two from yesterday), while McKean County remains at five. Warren County has one case. Chautauqua County has 29 (up one) cases and three deaths. Ashtabula County now has 98 (up 12) cases and seven deaths (up one).
It was cited that the Environmental Task Force responded to 46 new complaints yesterday (incidentally the same number as the previous day).
Dahlkemper noted that the county was actively working Governor Tom Wolf's office to coordinate a possible reopening, and reassured that more details would be made available in the next week. 
Dr. James Lin, DO, MHSA, president of LECOM Institute for Successful Aging (and 40 Under 40 recipient) joined Dahlkemper today via Zoom.
"We're fortunate in Erie County that the number of COVID cases and our capacity is well under what we were preparing for," Lin explained.
"Having had conversations yesterday with the state, we're going be to having a more robust conversation with the state," Dahlkemper said regarding our region of Pennsylvania. She noted the 25 person limit mentioned in Wolf's guidelines and how that could affect certain businesses, though she quickly noted that more clarification was both needed and coming. 
She suggested that businesses who would like to be considered for reopening develop their own plan as soon as possible to possibly expedite the process.  
When asked if Erie County should still be considered for the Yellow phase of Wolf's guidelines, Dahlkemper said "I still think we're way below the threshold that the state is putting forward. Again, the state is using data, and I think that is really smart, to use data to inform how they open up the state again. Somehow, we have to get our state and our economy back up and going, but we have to do it in a way that doesn't threaten the lives of people in our communities ... I think we are still in a good place," she admitted, speaking to the hard work of the community-at-large.