Father John Misty Covers Nirvana and Leonard Cohen
Father John Misty has already released some excellent original music this year and now he's putting a new spin on a pair of older tracks.
February 18, 2015 at 9:25 PM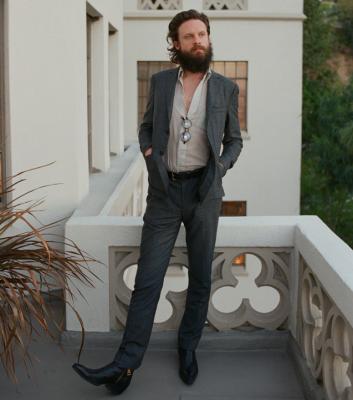 Father John Misty is absolutely fascinating. Josh Tillman recently released I Love You, Honeybear under the moniker, an excellent album that I would already rank up as one of the best of 2015 so far (which is not as impressive as it sounds, given that it's still February, but still). The former Fleet Foxes member isn't quite done providing us some musical gifts, however, as he's treated us to a pair of covers in recent days.

Usually Valentine's Day is reserved for flowers, flowers, and other things that either die or get eaten. Tillman provided us with a different form of treat with a stripped-down cover of Nirvana's "Heart-Shaped Box" during a session for Sirius XMU, all of which sounds awesome even before listening to the actual track.
It's even more awesome when you actually do press play, as Tillman gives a killer - and properly enunciated - version of the grunge greats' killer track. In fact, I'm already marking this up as 2015's best cover of a song written about Courtney Love's lady parts. The song was taken off off Soundcloud not too long ago, but track can be find on YouTube.
[Update: The original video that was included in this blog was taken down due to a copyright claim from Sirius XMU and has been replaced with a video that SiriusXMU probably should have uploaded a few days ago, but so it goes.]
The next Tillman cover to enjoy is his version of Leonard Cohen's "I'm Your Man," a song that the man now known as Mr. Misty [note: not true, but it should be] has been incorporating into his current set. If you're not lucky enough to see him live, you can at least check out his performance of the song at El Rey in California.
It's not nearly as dramatic of a performance as what he's been known to drop on Conan [video unfortunately unavailable] and the Late Show with David Letterman. Still, the lounge singer shtick is plenty fun, particularly when it's hard to tell how much of the performance is part of the Father John Misty character and how much of it is actually Tillman being Tillman. Either way, I'm going to enjoy results.