Just a Thought: December 21, 2016
Getting in the swim 
December 21, 2016 at 9:45 AM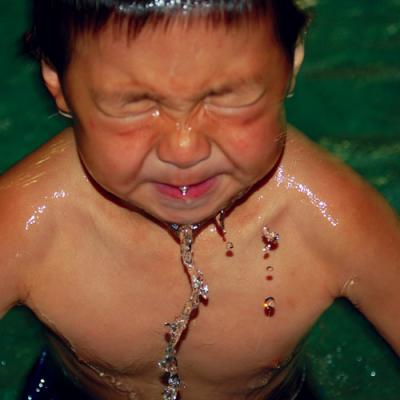 The last time I really swam was about 13 years ago. I'd gotten it in my head that it might be "fun" to do a couple of triathlons, figuring it couldn't be that hard – I already ran and biked some, and everyone can swim, right? I'm a Pisces! I love the water!
If you're a swimmer, I hope you're laughing at me right now.
I put off swim training, thinking I'd practice just enough to survive. Finally, about four weeks before my very first tri, I hit the Downtown YMCA pool.
Though that pool isn't even Olympic-sized, it became immediately evident that "survive" was the best I could hope for. It was so hard. My heart pounded, my lungs gasped, and I thrashed uncoordinatedly like someone drowning – maybe while drunk.
A bighearted lifeguard who took pity on me gave me a few tips, and I soon progressed to a sober-looking drowning person. But I dreaded the swim leg, especially after hearing about a woman whose nose was broken in that same tri by a fellow swimmer's kicking.
What fun!
Anyway, adequate training for the bike and run earned me a strong enough finish. I even caught that curious tri-finisher ailment that makes enduring the exact same pain again sound just swell. Thankfully, a tooth-shattering bike wreck the next year cured me.
And I never got back into a pool. Until now.
I felt like swimming was in the cards for me. I'd even dream about it. I knew it'd be healthy, and was attracted to the water – like so many of us who live around here. But intuition told me I needed the water in ways that went deeper than living near it or paddling on it.
There's something so elemental and sacred about swimming. The way your body remembers, somehow, the nine months before you were born. The way you become weightless. The way your movements are slowed and graceful. The way you float.
These are what drew me into the pool at Fitness U recently, figuring it was time I gave lap swimming another try. I biked all the way through November, so I entered the pool with a modicum of confidence.
Which was shattered by the end of my first length. Not lap. Length.
My heart pounded, my lungs gasped, and I was the drunk-drowner once again. It was so hard. I pushed myself for 25 minutes, stopping to calm cardio craziness between each length, then dragged myself humbly (and ploddingly) through the rest of the day.
The next day, I went back. And the next.
By day four, I felt something akin to flow. By day five, I was hooked. I've even begun to crave the feeling of propelling my body through water. (I also crave guacamole. Balance, right?)
Resolutions are so often catalyzed by underlying feelings of self-loathing, inadequacy, failure – you know, general not-good-enough-ness.
I'm sharing all of this because we're nearing resolution time. And resolutions are so often catalyzed by underlying feelings of self-loathing, inadequacy, failure – you know, general not-good-enough-ness. So we resolve to try something new, but our motivation comes from the tired old stories we believe about ourselves. That we're bad. That we can't be trusted. That we must be punished.
Or, we try, and we really struggle at first. We're humiliated or overly-daunted, so we complete the circle of self-loathing by just giving up. Like I did. (I'm using goggles I bought in 2005, then never opened. How economical!)
This is the sort of thinking that begins personally but extends into a community. A region full of folks who don't much believe in themselves or their power to change becomes a region paralyzed by jading narratives. 
My wish for all of us, dear Reader readers, is that – whether we make resolutions or not – we'll give ourselves the chance to try something new in 2017 – something we just might learn to love. Not because we're faulty; not because we should. We don't need more doggedly-determined, grindingly joyless thinking in these complicated times. We need the creativity and inspiration that only float up without being forced. We need to jump the hell in.
Katie Chriest can be contacted at katie@ErieReader.com.