Lee's Locks
He's back for more. LeeS brings his views on sports and beyond.
August 2, 2011 at 9:53 AM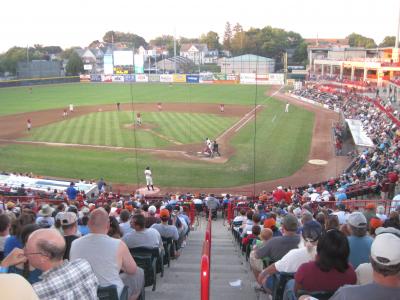 Took a hit on what was my first pick last week and that was Pittsburgh Pirates at Atlanta Braves on Tuesday night. The Bucs lost and part of it was a very controversial call-- I'm using that term loosely because it was bad, as umpire Jerry Meals later admitted that he was in error-- at home plate which gave Atlanta the game in an incredible 19 innings.
The human element is always going to be a major part of deciding any contest, I get it, but it's terrible when it decides--and loses--the game for you, and that's essentially what happened here. A heartbreaker in every sense and it dropped the Pirates – on a crucial road trip first to Atlanta and then to Philadelphia – to 3rd place. Tough to take with a team trying to stay alive in the pennant race where every loss is huge.
Evidently the Meals family has received some threats and frankly, that's just wrong. The outcome isn't going to change, no matter what, so move on.
Wednesday afternoon was the LA Angels of Anaheim at Cleveland Indians, where I went with the Tribe on sheer instinct. Some instincts, as not only did the home team lose, 3-1, the Angels' Ervin Santana tossed the first no-hitter at Jacobs Field. Can't blame this one on the guys wearing blue-- I don't think.

Thursday had the San Francisco Giants visiting the Philadelphia Phillies. I never really understood the 'visiting.' It's not like their having dinner and going shopping, so I don't get it. Anyway, that one ended up with Tim Lincecum pitching for the Giants since he missed his Tuesday scheduled start having come down with the flu. San Fran took it from Philadelphia, 4-1 and newly acquired Carlos Beltran went 0-4 with two strikeouts for the Giants.
That salvaged an otherwise unlucky group of picks and I finished the week at 1-2.
The Observation Deck:
The NFL is back in business, and every team is unbelievably (nay, uncontrollably) busy trying to sign free agents (their own, other teams, and also undrafted rookies) and get their rosters set heading into camp by this past weekend.
What isn't unusual is the head scratching that typically accompanies some of the signings, not to mention the money. OK, I sort of get Matt Hasselbeck to Tennessee, but Tarvares Jackson goes to the Seattle Seahawks where Pete Carroll has him penciled in for the starter's job. Really, Pete, you're serious? They'll no doubt be 'jacked' and 'pumped' in the good old Pacific Northwest with that scenario unfolding. They also signed WR Sidney Rice and although he conjures up thoughts of dazzling catches, he's basically had one very good year (83R, 1,312 yards, 8 TD in 2009), but last year he had just 17R, 280 yards and 2TD's due to a hip injury that may not be healed. Make you feel better? Uh, pass the Tums, please.
Speaking of 'jacked': Hey, Minnesota Vikings, if Kevin Kolb was available in Philadelphia, you choose instead to go with Donovan McNabb? How's your fan base? Pretty solid, er, gullible, eh? I like Leslie Frazier, but he must not have played a big role in this decision because I'll lay odds that McNabb likely doesn't have another playoff win in him. Did you watch him last year in Washington? I did, and it wasn't pretty. Playoffs? Playoffs? Are you kidding me? Playoffs? This is the same outfit that chose to fly down in Ziggy's private jet and pulled Favre off his riding mower and out of Hattiesburg last summer. Wow, that worked out well, now didn't it? Right, because that move was not about wearing the hair shirt for Brad Childress, it was about torpedoing his own ship. The upside is the Vikings only had to give up a 6th round pick in '12 and again in '13, and they threw in a bag of footballs and some Subway coupons to show their sincere appreciation to the Redskins.
Kevin Kolb went from the Eagles to Arizona for cornerback Dominique Rodgers-Cromartie and a pick in next years' second round. Not bad. Philadelphia didn't stop there signing Jason Babin from the Titans and Cullen Jenkins from the Packer's, but the coup was snagging prized corner Nnamdi Asomugha from Oakland when everyone expected him to go to the Jets or possibly the Cowboys. It remains to be seen what Philly will do about a 3rd corner that is on the team--and that's Asante Samuel--simply because it doesn't seem feasible to have all that money tied up at one position on your roster. They're already talking 'Dream Team' and you can thank newly acquired QB Vince Young for that.
The NY Jets who lost out on Asomugha have re-signed Antonio Cromartie at CB and then also signed WR Plaxico Burress on Sunday night. Thought the Steelers were getting Plax, but it must not have worked out, while the Giants passed, thinking maybe once is enough.

I wonder what Randy Moss is doing today.
Then there's Tiki Barber who wants back in after a failed attempt at broadcasting. If Favre's not coming back, he figured the league needs another old guy.
Wait a minute -- Albert Haynesworth and Chad Ocho Cinco in New England? The first went from being the highest paid defensive player to the equivalent worth of a late round draft pick and the other a controversial, but talented receiver also at a relative bargain. Looks like another classic Corey Dillon/Randy Moss move from here, and although I think Ocho Cinco can produce, I'm not sure about the very questionable Haynesworth attitude. Funny things can happen when players get into a situation where a championship ring is in play, however. Hoodie knows something we don't. I heard he's kinda smart.
Although I'm not really big on Reggie Bush (never was), it could be a good signing for the Dolphins. Look, he won't get 23 carries a game, but because he can create mismatches in the defensive backfield, a linebacker probably can't cover him so you would have to commit a safety and that opens up other possible plays in the passing game. It's another smart move for relatively low risk. If they had a quarterback, I'd be concerned.
Mismatches and one-on-one battles – that's how football games are decided. Uh, turnovers, also.
I can't possibly be the only one that can see this stuff, right? Can I assume that you're with me on this?
By the way, I don't get any mail, so I don't even have to mention it.
The Picks:
When you have the luxury of not giving a fling about wins and losses, then you can pick whatever you want and not even consider the ramifications. The one thing I don't like are 'cupcakes', where the winner is without question and the contest is just a formality so you can sell programs, jerseys and overpriced, semi-flat beer with funny names.
I like going out on a limb with an underdog or just picking a close contest that's anybody's guess.
Hey, it's fun and here goes:

Tuesday, Aug. 2 – Texas Rangers at Detroit Tigers. Now this should be some ballgame. We've got Colby Lewis (10-8, 4.00 ERA) going up against Max Sherzer (11-5, 4.35 ERA) for the Tigers. Both teams are 5-5 in their last 10, but Texas has been playing pretty good baseball up until this point. Going with the Tigers in this one because I believe they are going to get hot in August.
Let's stay on the American side and check out the Cleveland Indians at Boston Red Sox on Wednesday night. Another goody. It will be Carlos Carrasco (8-9, 4.67 ERA) for the Tribe and Tim Wakefield (6-4, 5.06 ERA) for the Bosox. Pop open a cold one and 'getcha popcorn ready' because this is where it's at for these two teams because hitting will not necessarily be at a premium with these two arms. Cleveland is fading (3-7) while Boston is not (7-3), but I'll pick the Indians to win this ballgame.
Going National League now-- we've got the final game of the series on Thursday with Chicago Cubs at the Pittsburgh Pirates. We have Rodrigo Lopez (2-3, 4.40 ERA) and James McDonald (7-5, 4.17 ERA) for the Pirates who lost a close one to Cliff Lee in Philadelphia last Saturday. Pittsburgh tends to have trouble with the non-contenders and Chicago gives them issues when you least expect it, so I'm going with the Pirates to win.
Bonus round where all answers are worth exactly the same as the other picks, so I'm going to take another chance on the SeaWolves. Why, you ask? Well, I'll have you know that I'm a glutton for punishment, that's why. We know that the 'Wolves aren't necessarily keeping pace with anyone, but frankly, I still love 'em. On Friday, Aug. 5, we'll have Harrisburg at Erie. The Wolves lost Francisco Martinez (trade) and Jacob Turner (call up to Toledo) but have been fortunate to get some talent from Lakeland, and frankly the infusion could be good for them. The Senators are clinging to 1st and the Wolve's to 5th, but I'm picking Erie all the way, here. It's crazy, baby.
And another thing:
It's a sad one: It looks like LA's finest may actually have the two men who are likely the ones that are responsible for the brutal beating of paramedic and Giant's fan Brian Stow at Dodger Stadium on opening day. Stow remains in the hospital for a severe brain injury, and these two may also be responsible for assaulting three other Giant's fans that same day. If they are brought to trial, I can only hope that if they attend another baseball game, they're well past retirement age. Moreover, I sincerely hope that Brian fully recovers, but it doesn't look very good for him.
Far out:
Boston seems to be the favorite to win the AL pennant and that could happen, but other than Jon Lester and Josh Beckett, no one else is consistent-- although Lackey has won four in a row. Acquiring Erik Bedard from the Mariners helps, but not sure of the plan for the left hander. The Clay Buchholz situation hurts, because he's likely done for the year.
If the Ubaldo Jimenez trade works out (he was maddeningly inconsistent this season), the Indians could claim a Wild Card since Tampa Bay is sinking into the depths. You could see the LA Angels claim the other with Detroit taking the Central and Texas holding on to the West. The ChiSox could make things difficult in the Central for either the Tribe or the Tigers, but the Twins seem like they are stuck in low gear.
Is there a better pitcher in baseball right now than Justin Verlander? He's got Cy Young written all over him.
From here, I can easily see Detroit battle the Rangers for the AL crown with Texas again representing the junior circuit.
In the NL, I greatly respect what's happening in Pittsburgh and they could possibly snag the Central, but I see either St. Louis or even Milwaukee taking it away from them. We have San Fran and Philadelphia vying for the pennant and I see the Phillies representing the NL. Pitching wins championships and they also helped out their lineup greatly by trading for Hunter Pence formerly with the despicable Astros. Jason Werth, who's that?
So there.
Have a great week,
Lee