Lee's Locks #17
With only one loss last week, Lee posted a 4-1. Think he can do it again? See who he's picking this week with the Locks.
November 20, 2011 at 12:00 PM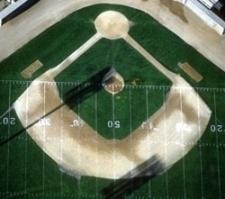 The Observation Deck:
What a weekend for NFL football, and as usual, we had surprises, disappointments, and some accompanying head-scratching last week. 
Chicago, for example, absolutely undressed Detroit and exposed some flaws in Matthew Stafford's game (to the tune of four interceptions);  Pittsburgh got a win in Cincinnati, although they didn't look great getting it (no style points and Roethlisberger was sacked five times), while Baltimore was pretty much embarrassed in Seattle;  San Francisco proved they are for real as they beat the Giants at home; the despicable New York Jets 'were ready' (well, that's what their coach said) for the Patriots, but New England didn't get the memo and walked all over them in the Meadowlands where they had never beaten a Rex Ryan team before, essentially blowing Fireman Ed's fragile egg-shell mind in the process; meanwhile, the Browns fell to the lowly Rams, 13-12, at Cleveland,  in another lackluster effort capped by a missed 22-yard field goal attempt courtesy of a botched snap from center.
The Houston Texans are now 7-3 for the first time in their brief history and beat the ever-fading Tampa Bay Buccaneers, 37-9 in Tampa.  The Texans enter their bye week tied with Pittsburgh for the best record in the AFC and have an easier remaining schedule, sprinkled with some creampuffs and posers.  A team that never made the playoffs could potentially be the number one seed, but wait, there's a fly in the ointment, however: They've already lost OLB Mario Williams for the season and WR Andre Johnson for an extended period and didn't miss a beat, but QB Matt Schaub is now out for the season with a foot injury and backup Matt Leinart – formerly with Arizona -- will take over and now we'll see just how good they are because there are no awards for 7-3 records that I'm aware of.   They do have something they've never had before and that's a defense. 
One head-scratcher was Atlanta (5-4) coach Mike Smith electing to go for it on fourth down in overtime against New Orleans (7-3) on Atlanta's own 29-yard line and consequently didn't make it, allowing the Saints to take the game from them with a field goal.  It was a gamble that put his team in a position to lose the ballgame.  Murder, She Wrote.   
Another puzzler was the Kansas City Chiefs and the Denver Broncos game at Arrowhead, which the Broncos won, 17-10 with QB Tim Tebow going 2 of 8 passing for 69 yards (uh, you read that right)--although he ran for another 44 yards and a score.  I've never heard of passing numbers like that by a winning NFL team, ever.  Or a losing team now that I think about it.  Chief's QB Matt Cassell now has a hand injury and backup Tyler Palko will be under center Monday Night at New England.
Then there's the hated New York Jets not taking advantage of a New England secondary full of undrafted free agents, practice squad members and former stadium hot dog and beer vendors after CB Devin McCourty went down with reportedly, a dislocated shoulder in the first half (whacked by his own teammate, he was).  The Patriots kindly invited QB Mark Sanchez to beat them, but he couldn't, tossing two interceptions – one for a pick-six – and getting sacked five times with the Pats rushing only four D-linemen for nearly the entire game with DE Andre Carter accounting for a Patriots' record 4.5 sacks in a single game. 
The Indianapolis Colts recently signed QB Dan Orlovsky as a backup to starter Curtis Painter.  In 2008, Orlovsky played for the Detroit Lions who went winless in a 0-16 season.  This could be a sign.     
Thursday Night Football is back and the Denver Broncos (5-5) defeated the New York Jets (5-5), 17-13 when Tim Tebow took them 95 yards and scored on a 20-yard run with just under a minute left.  The Jets' Mark Sanchez aided the Denver cause with another pick-six interception and New York had some key defensive miscues on the final drive.   That was really thoughtful of them, wasn't it? 
The latest on the NBA has the players again rejecting the latest owner's proposal, which was supposedly the last one to be offered.  With the average annual salary of an NBA player now at $5 million, I'm having a tough time feeling any sort of sympathy for their plight.  Don't ask me why.  I feel sorry for those people who base their livelihood on the NBA, like ticket and concession vendors, training staff, maintenance staff, equipment people, and many others who now have no work as they wait out the current stalemate between the millionaires and billionaires.  There is a fairly good chance that there won't be a 2011/12 NBA season.  If there was an agreement, there would be a 30 day period until the first game could be played.  
In college basketball, the first ever 'Carrier Classic' was played on Veteran's Day between the University of North Carolina and Michigan State and won by UNC, 67-55 with the game being played on the flight deck of the U.S.S. Carl Vinson in San Diego.  This signaled the start of the 2011/12 college hoops season, opening it in an unprecedented way, which was also attended by President Barack Obama and the first lady.  He did, after all, let them use the boat.    
Congratulations to Duke University coach Mike Krzyzewski on Division I record win number 903 on Tuesday night.  He surpassed mentor Bobby Knight with a 74-69 win over Michigan State at Madison Square Garden.
Congratulations as well to Detroit Tigers (and former SeaWolves) ace, Justin Verlander on a unanimous vote for the American League Cy Young award, which is given to the best pitcher in each league after every season.  Verlander compiled a 24-5 record with a 2.40 ERA on the season, pitched a no-hitter, had 250 strikeouts, and no one else came close.  As you may remember, he played in Erie in 2005 and appeared in seven games, going 2-0 with a 0.28 ERA and had 32 strikeouts in just over 32 innings. He was then called up to parent Detroit and didn't look back.  The L.A. Dodgers' Clayton Kershaw won it for the National League with a 21-5 record and a 2.28 ERA to include 248 strikeouts, beating second-place finisher Roy Halladay of the Phillies. 
The Luck Contest:
With Stanford QB Andrew Luck likely to go with the first pick in the 2011 NFL Draft, we're keeping tabs on who is presently qualifying for that lofty position and likewise, the rights to select what many claim is to be the best quarterback prospect in the last decade, if not the last couple of centuries.
The current Luck Leader field:
Indianapolis Colts
Miami Dolphins
St. Louis Rams
Carolina Panthers
Minnesota Vikings
 
Not every team would necessarily be looking for a quarterback, but this list has nothing to do with need and everything to do with what place you're in.  You can always trade your spot (or your current hotshot QB), if that's how you choose to go.  We've had some slackers fall out of our fun contest, but they could manage to sneak back in because it's not too late to lose. 
Recap:
For the first pick, I had winless Indianapolis over hapless Jacksonville, but I failed to recognize that the Colts simply will not be denied and seriously want to stay in first place in the Andrew Luck Sweepstakes and lost comfortably by a 17-3 margin.
I then had the Buffalo Bills at the Dallas Cowboys, picking the 'Boys to win, and they did so convincingly, 44-7 with the game never in question.  The Bills are suddenly not looking very good with two consecutive losses and I fear the wheels are falling off the wagon.  Can't circle 'em, if they don't have wheels, boys.
Next, I picked one-win Miami over the Washington Redskins and the Dolphins now have an awesome two game win streak going and took this one handily, 20-9.  The Redskins, meanwhile, are just plain horrible, are bad and they stink. 
Had a tough one with Pittsburgh at Cincinnati and the Steelers came through, beating the Bengals, 24-17 in a game both needed to win.
Finally, the Sunday night game had New England at the despised New York Jets and I had no business going with the Patriots, but was rewarded with my rather tepid confidence, when New England trounced them, 37-16.
After a horrible week of picks for last week, I needed this one and rebounded with a 4-1 mark. 
I'll hold off asking my mother for help with the picks until at least another week. 
The Picks:
Another NFL weekend with some good matchups and the season is starting to sort itself out between the contenders and the pretenders.
First, we have the Buffalo Bills (5-4) at Miami Dolphins (2-7).  The Bills have lost two in a row and the Fish have won two after starting the season 0-7.  The luster is coming off Buffalo's awesome start, but what do we know about Miami?  Okay, they jacked up Kansas City for their first win and then spanked Washington for their second.  Meanwhile, Buffalo has looked lost in their last two games and got rolled in both, while not looking at all competitive.  They could easily travel to Miami and not show up because although winning is contagious, so is losing.
Pick: Miami
Next, we have the Dallas Cowboys (5-4) at the Washington Redskins (3-6).  The questions as I see them: Are the Cowboys as good as their win over the Bills, and are the Redskins as bad as their loss to the Dolphins?  I'll say yes and yes.
Pick: Dallas
Then we have the Cincinnati Bengals (6-3) at Baltimore Ravens (6-3).  I still believe in the Bengals, but I also believe that the Ravens are going to be in an ugly, man-eating, and foul-mouthed mood after dropping their last game in Seattle.  Their next adversary will also unfortunately be their next victim.  Cincinnati can only hope that Baltimore self-destructs.    
Pick: Baltimore
It's the Tennessee Titans (5-4) at the Atlanta Falcons (5-4).  Both teams are playing for their playoff lives because each can't afford to drop further behind their current and respective division leaders.  The Titans are coming off a big win at Carolina and the Falcons a heartbreaker to New Orleans.  Pain is more profound than happiness. 
Pick: Atlanta
Finally, it's the Philadelphia Eagles (3-6) at the New York Giants (6-3) for our last pick.  Last year, it was Philadelphia who derailed the Giants by beating them at the Meadowlands after New York was comfortably ahead in that game.  The G-Men were never the same after that and missed the playoffs.  These two teams are headed in different directions and it has nothing to do with the compass.
Pick: New York  
Note:  I have the luxury of not caring how I fare with my picks, and did I mention that I hate cupcakes? 
And another thing:
Have you seen the latest on the situation with Peyton Manning and his recovery from neck fusion surgery in early September?  He won't be evaluated again until early December, but the outlook is not very good overall.  This particular injury could take between one and two years for recovery and even then, they still can't predict what exactly will happen with regard to Manning's football abilities.  They don't know if he will be able to play again and he won't play this year. 
Admittedly, Bill Polian now looks like a doof because he had no contingency plan in place when Manning went down--call Curtis Painter whatever you want, but don't refer to him as a 'contingency plan'--and now the team is currently dead last in the NFL with a 0-9 record because of that fact.
Don't worry because one year of sacrifice can solve many issues.  If the Colts finish last and therefore draft first, then Peyton Manning's heir apparent can be theirs for the taking.  No Manning = no problem because of Andrew Luck. 
Far out:
I saw that Oakland had completed a trade with Cincinnati for the rights to QB Carson Palmer, and since it was during our vacation, I never caught exactly what the deal included.  When QB Jason Campbell was hurt, the Raiders went into action, called the Bengals and evidently gave up a first round draft pick in 2012 and a conditional second round in 2013.  Oakland gives away picks like they have cooties, and although that's well known, I was still surprised by the move.  In three games since the trade, Palmer is 41 of 76 for 747 yards and a 54 percent completion rate with 5 TDs and 7 interceptions.  He will be 33 before the season ends. 
Now we don't know exactly where Oakland will select, but we're looking at two potentially high picks in the next two drafts.  I'm not saying that Palmer is bad, but I can't see where he's worth those two picks. 
Hank can stash him on his fantasy team likely for a few Monopoly bucks, a leftover slice of pizza, and a Wendy's buy-one, get-one Frosty coupon.
You heard it here:
I'm not a chronic complainer by any stretch, but I will call them as I see them, however, and I'm compelled to ask: Is there life out there as we know it?  You see, week after week, I wear my heart on my sleeve, well, maybe not quite that, but we put some genuine effort into providing our online readers with some thought-out sports' information and maybe something more, and for that, we just want to know if anyone's home.  Opinions, comments, remarks, and even some constructive insults would be welcome, so please, throw me a bone.

Have a great week and stay out of trouble,
Lee