Lee?s Locks #18
Can you believe it? Another 4-1 week for Lee. He just might be on to something. See if he can keep the streak alive in this week's locks.
November 27, 2011 at 10:00 AM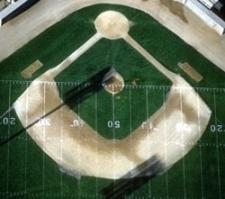 The Observation Deck:
Since it's going to be a short week with the Thanksgiving holiday, it's also going to be a short column.  The good news is you won't have to put up with my typical long-drawn-out rants, but the downside of course being that you may need to read the column at least twice so that you can become drowsy enough to fall asleep. 
In the NFL, the turnaround is underway, where teams that played well at the beginning of the season (Buffalo, New York Giants, and Detroit) will now begin to come back to Earth and either tank completely or barely hold on to their seasons.  Consequently, there will be teams that started the year badly and will try to salvage their seasons (Miami, Denver, and Philadelphia) before it's too late, even if their record says that it is.  Next are the ones that started out well and will seemingly end the season well (Green Bay, New Orleans, San Francisco, New England, Pittsburgh, Baltimore, and Houston). Then we have the true cellar dwellers who started out badly and will end badly (Indianapolis, Jacksonville, St. Louis, San Diego, Cleveland, and Minnesota) and no one can possibly change that, certainly not even those teams themselves. 
What's the best thing that happened to the Miami Dolphins?  Why, it's when QB Chad Henne was placed on injured reserve.  With Henne, the Fish were 0-7, and since his injury, they are 3-0 (does not include Thanksgiving game) with lopsided wins over Kansas City, Washington, and Buffalo.  Replacement QB Matt Moore, formerly a disaster with Carolina, is playing football with stats that are in the neighborhood of Tom Brady and even Aaron Rodgers.  Moore could just possibly save the season for the Fish, as well as coach Tony Sparano's job, as impossible as that may sound.  It's the perfect two-fer.
Kind of like Tim Tebow taking over the starting QB job in Denver when they were 1-4, and they surprisingly now reside at 5-5.  Something funny happened on the way to the end zone.
Houston lost starting QB Matt Schaub, Kansas City lost Matt Cassell, and Chicago lost Jay Cutler--although Cutler may be back this season.  Minnesota lost Donovan McNabb, but not to an injury, although he could get writer's cramp by carrying that clipboard on the sidelines, where he would be listed as 'Questionable'.   
Congratulations once again to Detroit pitcher Justin Verlander on winning the American League MVP award.  This is in addition to capturing the AL Cy Young award last week.  Winning the MVP for a starting pitcher is relatively unheard of and in fact the last time this happened was when Roger Clemens won it while with the Dread Sox in 1986. 
Congratulations also to the Milwaukee Brewer's Ryan Braun on winning the NL MVP award with a .332 BA, 33 HR and 111 RBI.  
The Luck Contest:
With Stanford QB Andrew Luck likely to go with the first pick in the 2011 NFL Draft, we're keeping tabs on who is presently qualifying for that lofty position and likewise, the rights to select what many claim is to be the best quarterback prospect in the last decade, if not the last couple of centuries.
The current Luck Leader field:
Indianapolis Colts
St. Louis Rams
Carolina Panthers
Minnesota Vikings
 
Not every team would necessarily be looking for a quarterback, but this list has nothing to do with need and everything to do with what place you're in.  You can always trade your spot (or your current hotshot QB), if that's how you choose to go.  We've had some slackers fall out of our fun contest, but they could manage to sneak back in because it's never too late to lose. 
Recap:
I went with the hot hand and took the Miami Dolphins over the Buffalo Bills and Miami came through big in a 35-8 win.  Paramedics will need to be called in order to resuscitate Buffalo's season.
Then I had the Dallas Cowboys over the Washington Redskins at FedEx Field and that was a lucky one with the game going into overtime, but Washington managed to miss a game-winning field goal, while Dallas did not and prevailed, 27-24.
Up next was the Cincinnati Bengals at the Baltimore Ravens, where I picked the Ravens, and they came through, 31-24.  Cincinnati's Andy Dalton is a player and their defense is keeping them in games, and they definitely look like a Wild Card team.
From there I picked the Atlanta Falcons at home to beat the Tennessee Titans and they did by a 23-17 margin.
The final game of the day for my picks was the New York Giants hosting the Philadelphia Eagles and the visiting team did the same thing as last year with another big DeSean Jackson punt return, a big game from RB LeSean McCoy and this time, QB Vince Young, taking it 17-10 when Eli Manning was hit from behind and lost the football, ending another comeback attempt.
I had a decent week, last time at 4-1 with my picks and was actually thinking that I may pull off my first unbeaten week, but the Giants slapped me back into reality, so I again went 4-1.   
I'm still holding off on asking my mother for help with the picks. 
The Picks:
The best games seem to be the three being played on Thanksgiving day, but I still think there's plenty happening on Sunday, so let's take a look at those, fellow sports' fans.
The first one is the Houston Texans (7-3) at the Jacksonville Jaguars (3-7), and although this looks like a mismatch on paper, it's actually the first start for QB Matt Leinart who is replacing the injured Matt Schaub for Houston.  What originally looked like a gimme, suddenly isn't.  Regardless, I'm thinking that the rest of the Texan team is still better than all of the Jaguars team, even with Blaine Gabbert.
Pick: Houston
Next, we have the Buffalo Bills (5-5) at the New York Jets (5-5), and the season for both teams seemingly rides on the outcome of this important ballgame for both clubs.  The Jets have lost two in a row, and Buffalo, three, with the first of those being to the hated Jets in Orchard Park (see, they started it).  It may be a different place, but it will be the same outcome.
Pick: New York
Then we have the Chicago Bears (7-3) at the Oakland Raiders (6-4).  The Bears will turn to Caleb Hanie at quarterback with Jay Cutler out, and the Raiders now have Carson Palmer, and although the Bears could handle a loss, here, you can believe they certainly don't want one because their only way into the postseason is via a Wild Card, while the Raiders will likely win the AFC West even with a loss since the rest of the division looks anemic.
Pick: Oakland
We have a good one at the Linc in Philadelphia with the New England Patriots (7-3) at the Eagles (4-6) with the Philadelphia season on the brink because they've got themselves in a bad spot where every game is a playoff game and even one loss can sink their entire season.  When the end of the season rolls around, New England gets hot, but it can be cold in the City of Brotherly Love.     
Pick: Philadelphia
Finally, we have the New York Giants (6-4) at the New Orleans Saints (7-3) on Monday night.  The Giants cannot afford a third loss in a row, but playing in the Big Easy is never just that: Easy.
Pick: New Orleans
Note:  I have the luxury of not caring how I fare with my picks and did I mention that I hate cupcakes? 
And another thing:
As of this writing, Penn State interim coach Tom Bradley has coached two football games: a loss at home to Nebraska, 17-14, and a win at Ohio State by a 20-14 margin.  Both were rather impressive performances with the first one at home immediately following the horror story associated with former assistant Jerry Sandusky and following that up with a tough road game in Columbus.  Neither of them was easy and the remainder of their season won't be either.
When the terrible story was still emerging, along with the release of former coach Joe Paterno, I honestly saw Bradley as nothing more than a fill-in until Urban Meyer (or insert any other top name, here) decided to come aboard.
Having a chance to see Tom Bradley coach and getting a little more background on him, I've come to feel otherwise.
Bradley is a Penn State alum, having played for the Lions in 1978-79 before becoming a coach on Paterno's staff in 1980.  There he remained until he became defensive coordinator in 2000 after Sandusky left. 
Bradley certainly appears to be what Penn State football has been all about having been at the school for over 40 years.  It's a testament to consistency and today, his ability to keep the team focused in the difficult times that the university is currently going through. 
It's becoming more and more evident that what the Penn State football program needs is Tom Bradley.  Will the board of trustees be willing to retain him or will they feel compelled to remove anyone associated at all with the former regime?  It will take some courage and conviction for the board to keep Bradley, but I think it would be the best decision they could possibly make.  A scorched earth policy rarely ever equates to justice and never compensates for the wrong that was done and this would be no exception.
Tom Bradley is about the players, the university, a winning tradition and I believe that he should be named the head coach of the Penn State football program.  
Far out:
In the NFL, the AFC West has become quite the circus.  With the Oakland Raiders currently residing in first place by a slim margin, the remaining three teams can't be counted on to do much of anything.
The Kansas City Chiefs got rolled by the Patriots in Foxboro, 34-3 with QB Tyler Palko making his first NFL start in place of the injured Matt Cassell, but even so, they were headed anywhere but up.  At 4-6, they look worse than that.
Denver is actually the surprise at 5-5, and basically running a good high school offense with fan-favorite QB Tim Tebow directing the show.  It's actually their defense that coach John Fox has playing well that allows them to be competitive and not let the game get out of hand, which can take much of the pressure off the offense that really can't score many points.  Add in the fact that the team just believes it can win and they become a tough opponent.
Then you have the Chargers who look like they don't know where they belong.  Next to coach Norv Turner, their biggest enemy right now seems to QB Phillip Rivers.  He's handcuffing them as evidenced by their performance last week in Chicago when Rivers tossed another two completions to the other team.  For the season, he has 15 TDs and 17 interceptions in just 10 games, which is vastly different from any other season during his career.  When you add in the loss of defensive coordinator Ron Rivera – who left to become head coach at Carolina – then it's tougher to get past offensive errors that put the game in jeopardy and puts more stress on the over-taxed defense.
Norv Turner will never be questioned for his offensive skills, but he has been a less than successful head coach and that's anywhere he's been in that position.  San Diego will likely not get better unless things change and they won't get to the playoffs unless they purchase tickets like the rest of us. 
You heard it here:
What's wrong with Donovan McNabb?  He enjoyed some very successful seasons while with Philadelphia, then was traded to division rival, Washington where he ended up on the bench and finally signed this past offseason with Minnesota. 
His numbers this year are not gruesome: 94 attempts with 156 completions for 1,026 yards and a 60 percent completion percentage.  Those are not bad and he has two interceptions, but only four touchdowns.
The problem is, he can't win.  If you can't win ballgames, then the Vikings decided that they may as well see what first round pick Christian Ponder has going for him.  As it turns out, not much more than McNabb.  The team has a bad habit of blowing leads.
Hope everyone had a good holiday, have a great week and stay out of trouble,
Lee