Lee?s Locks #19
Lee's back for more and he's talking football. See what he's locking in this week.
December 4, 2011 at 12:30 PM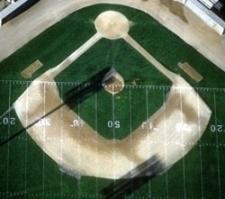 The Observation Deck:
The Boston Dread Sox have announced their new manager for 2012, and it's the eclectic Bobby Valentine.  If you remember, he formerly managed the Texas Rangers and the New York Mets in between two stints also as a manager in Japan.  He's a self-proclaimed expert on everything baseball, but he may be just what the Sox need at this hour.  Hope springs eternal.  If nothing else, he'll be the smartest guy in the room. 
Defensive lineman Ndamukong Suh of the Detroit Lions has been assessed a two-game suspension by the NFL for stomping on the head of a Green Bay Packers player on Thanksgiving Day.  You have to love that he plays with such intensity, but he has a problem with his hearing in that he can't relate well to whistles.  With the Lions currently at 7-4 and tied for second within the division with Chicago, having your best defensive player on the sidelines when you need him most is an affront to those he plays with in my mind.  Call him whatever you want, but this is the kind of mindless play that can derail your team.
The best thing happening in Detroit right now is Chicago starting Caleb Hanie at quarterback. 
It actually doesn't matter because the Detroit Lions won't make the playoffs and Suh won't be the reason: it will be Matthew Stafford. 
I've been rightfully accused of not including our own Erie Otters and have in fact decided that I should try to make amends.  In doing so, I thought that I should attempt to assess where they are and what they have going on.  What I found is very disturbing.  Never known as a juggernaut, the Otters have shown an inability to win, whether it's just scoring or giving up points.  When you start the season at 2-14, you've dug yourself into an enormous hole that can be nearly impossible to climb out of and that's what seems to be happening here.  I'll be paying more attention to them in an effort to gauge what the remainder of the season may hold and get a better feel for trying to pick them in games.  Teams that start badly can many times end the season on a much better note and I can't rule that out, but I'm not necessarily a moron, either.   
In the world of college football, we have former Florida Gators' coach Urban Meyer signing on to run the football program at neighboring Ohio State.  Bad news for the rest of the Big 10 but good news for an ailing program, no doubt.  Meyer is an Ohio native, and it's a coming home of sorts.  The spread offense that he is famous for should be a good fit in Columbus, and I would expect the balance of power will swing back to OSU. 
The NBA is back and there is a tentative agreement between the players and the owners to get a shortened regular season underway.  The new and revised schedule is due out on December 6. 
The Luck Contest:
With Stanford QB Andrew Luck likely to go with the first pick in the 2011 NFL Draft, we're keeping tabs on who is presently qualifying for that lofty position and likewise, the rights to select what many claim is to be the best quarterback prospect in the last decade, if not the last couple of centuries.
The current Luck Leader field:
Indianapolis Colts
St. Louis Rams
Minnesota Vikings
 
Not every team would necessarily be looking for a quarterback, but this list has nothing to do with need and everything to do with what place you're in.  You can always trade your spot (or your current hotshot QB), if that's how you choose to go.  We've had some slackers fall out of our fun contest, but they could manage to sneak back in because it's never too late to lose, although Indianapolis (0-11) seems intent on locking it up. 
Recap:
My first game was between the Houston Texans and the Jacksonville Jaguars, where I went with Houston and although they lost their second starting quarterback in consecutive games, they still won, 20-13.
The second game was the Buffalo Bills at the New York Jets, and although my heart was with Buffalo, my brain was in New York, and they took it by a 28-24 margin with many thanks to Buffalo WR Stevie Johnson, who decided that thinking is not important when playing football.
Next up was the Chicago Bears at Oakland Raiders, and although the Bears came in with a five game win streak, I figured that someone has to win the AFC West and Oakland could possibly be the team to do it.  They rewarded my faith with a 25-20 win at home with field goals and some hairy punting.
I then had the New England Patriots at the Philadelphia Eagles and figuring that Philly beat the Giants in New York last week and the Pats lost to the Giants, why not go with the Eagles with New England coming off a short week (Monday Night Football) and on the road?  Wrong -- New England embarrassed them at the Linc, 38-20, and it wasn't even that close.  The Eagles are toast in 2011 and the 'Dream Team' looks more like a nightmare.  DeSean Jackson is a poster child for the mess.
Finally I had the New York Giants at the New Orleans Saints, and although I went with the Saints, I figured the Giants were desperate for the win and would be dangerous, but that wasn't the case as New York is set for another epic collapse and the Saints took it, 49-24.
It was another 4-1 week and that gives me three in a row now, but I came close to my first ever 5-0, only to misjudge the Patriots as they are rounding into late season form and taking no prisoners. 
The Picks:
In the NFL again, it's a tough week for picks because for games, you either have the cupcakes or the head-scratchers.  I'll avoid the former, go with the latter and take my chances (or lumps). 
Let's first look at the Denver Broncos (6-5) at the Minnesota Vikings (2-9).  Denver wins despite itself, and Minnesota can't catch a break.  It will be interesting to see how DE Jared Allen gets along with QB Tim Tebow, and it looks like a mismatch on paper, especially with Denver's defense playing as they have, but I still can't help myself. 
Pick: Minnesota
Next, we have the Tennessee Titans (6-5) at the Buffalo Bills (5-6) and they have an aura of two teams heading in completely opposite directions to me.  I'll pick Tennessee to beat out the hated New York Jets for the last Wild Card spot, and they could use this win to help them in that particular cause. 
Pick: Tennessee
Then we have the despised New York Jets (6-5) at the Washington Redskins (4-7).  The Jets may have lost their swagger, but not their sense of humor and even though they'll likely crash and burn, it's altogether unlikely that will happen in DC.
Pick: New York
We have to check out the Cincinnati Bengals (7-4) at the Pittsburgh Steelers (8-3) next.  The Steelers pulled out a much-needed in Cincinnati just a couple of weeks ago, while the Steelers were seriously unimpressive in winning at woeful Kansas City.  Roethlisberger could be the primary key to coming up with the much-needed win at home.  If Pittsburgh loses this one, they'll likely be watching the playoffs on TV like the rest of us schmucks, but it's tough to imagine that.
Pick: Pittsburgh
Finally, we have the Atlanta Falcons (7-4) at the Houston Texans (8-3).  The Falcons are starting to play like they were expected to at the beginning of the season and that's bad news for a talented team that's on its third consecutive quarterback in three consecutive games.
Pick: Atlanta
And another thing:
At the beginning of the current NFL season, I went on record to state that Minnesota QB Donovan McNabb would not see the postseason.  I meant that Minnesota wouldn't see it with him directing the offense, but I did not think that he wouldn't make it through the season as their starting quarterback.
McNabb asked for and received his release from the team this week.  He could still get picked up by a contender and yet see the playoffs from somewhere besides his favorite recliner.  Since clearing waivers, he's officially a free agent now. 
Far out:
As in fired and outta there:  After nine seasons at the helm of the Jacksonville Jaguars, coach Jack Del Rio will lead them no more.  With the Jags mired at 3-8, there seemed to be nowhere to go but up, and so owner Wayne Weaver has dismissed the former NFL linebacker with whom he entrusted the team after Tom Coughlin left.  Team owner Weaver fired Del Rio, and it appears that Weaver will also be selling the team to Illinois businessman, Shahid Kahn, who, despite unsubstantiated reports, is not related to famous Mongolian warlord, Genghis. 
You heard it here:
Tell me what you think will happen first, concerning unemployed wide receiver Terrell Owens: A) He will be picked up by an NFL team looking for help at wide receiver; B) He will be picked up by the police for not paying his overdue child support. 
I'm leaning toward selection 'B' myself.
Have a great week and stay out of trouble,
Lee