Lee?s Locks #20
Lee posted a 3-2 record last week, and now he's back with hopes of improving his record. See who he's locked in this week.
December 11, 2011 at 12:30 PM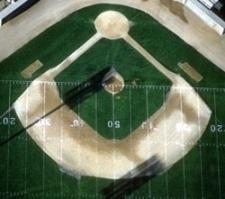 The Observation Deck:
It looks like Tiger Woods' golf skills may be on their way back after all.  This past weekend, Woods came in first at the Chevron World Classic with a three-under-par 69 for his first win in just over two years.  Unable to repair his image, he may yet reconstruct his golf game.  What I found odd was, when watching ESPN briefly on Sunday afternoon, they were showing 'Tiger Alerts' periodically to keep us up with how Woods was doing on the course during the day.  Really?  Were people hanging on to their seats and chewing off their fingernails awaiting the latest word on Tiger?  Now that's pretty far out, isn't it?  You gotta love it. 
The Erie Bayhawks were 1-2 after winning their home opener before heading out to Iowa to face the current D-League Champion, Iowa Energy at Wells Fargo Arena in Des Moines.  The 'Hawks lost on Saturday, 112-108 as the Energy raised their championship banner for the home crowd, although Erie came back on Sunday and beat the champs, 97-87 to get to a 2-3 record on the young season.  Looks like they will be gamers and that's really not a bad start at all. 
Sticking around the house, our Erie Otters have continued their slide, which now stands at 12 games in a row.  The problems as we know, reside on the offensive as well as the defensive side of the ice where they've allowed a league-worst 143 goals and scored just 65.  Regardless, the season has a long way to go and doesn't wind down until March 18th, so there's lots of hockey and consequently, time to get it together and put up some wins.  They'll need everyone's support now more than ever. 
In the NFL, we have the Atlanta Falcons, Chicago Bears and Detroit Lions fading fast down the home stretch.  Atlanta can't seem to beat anyone, especially on the road (Matt Ryan can't hit the deep ball), while Chicago has no quarterback and lost their top offensive player (Matt Forte) for 2-6 weeks and Detroit seems to have no team discipline with a bunch of yellow flag targets on the roster.  After looking good at one point, it's quite possible that none of them even get into the postseason.  That's why it's a 16 game season and not like maybe five or six. 
The Dallas Cowboys passed up a perfect opportunity to put a lock on first place in the NFC East when they lost in overtime to the Arizona Cardinals after their coach, Jason Garrett, iced their own kicker as the game clock was winding down in regulation by calling a timeout (he would have made the 49-yard attempt otherwise) and then the subsequent field goal try was bad, forcing the OT, which ended with an Arizona win (couldn't have wrote it better).  Wonder what the coaching manual says about addressing the team after you personally blow the game?  I'm thinking that: 'Hey, guys, am I just silly, or what?' isn't included.     
Who will finally beat the Denver Broncos?  I don't know the answer to that although their remaining schedule goes like this:
Chicago at home
New England at home
At Buffalo
Kansas City at home
 
They could potentially win all four, although you would think that either the Bills in Orchard Park or the Patriots would provide some tough competition, but the Chiefs are iffy, while the Bears have problems at quarterback and running back and may flat on their muzzles.  Regardless, the Broncos could win the AFC West division after an initial 1-4 start.  It's crazy, baby. 
The Luck Contest:
With Stanford QB Andrew Luck likely to go with the first pick in the 2011 NFL Draft, we're keeping tabs on who is presently qualifying for that lofty position and likewise, the rights to select what many claim is to be the best quarterback prospect in the last decade, if not the last couple of centuries.
The current Luck Leader field:
Indianapolis Colts
St. Louis Rams
Minnesota Vikings
Jacksonville Jaguars (don't laugh, they want in and bad)
 
Not every team would necessarily be looking for a quarterback, but this list has nothing to do with need and everything to do with what place you're in.  You can always trade your spot (or your current hotshot QB), if that's how you choose to go.  We've had some slackers fall out of our fun contest, but they could manage to sneak back in because it's never too late to lose, although Indianapolis (0-12) seems quite serious about getting Lucky. 
Recap:
I picked five again in the NFL for Sunday, but I have to admit that none of the choices made
me feel very comfortable.  I don't like the easy ones and stay away from games like New England – Indianapolis for just that reason, but not one of them made me feel like I made the right pick because all of the teams have serious flaws and games easily could go either way.  That's part of the fun (or frustration), right? 
My first one was Denver at Minnesota and I couldn't help, but think that although the Vikings only had two wins, the Broncos had to run out of magic and this could be the game and so I chose Minnesota to win.  Wrong -- Tebow and the Broncos won it in the fourth quarter, 35-32.
I had the Titans visiting the Bills as my next game and wanted to go with Buffalo, but I remembered how well Tennessee did at Atlanta and picked them for the road win, here and they did just that, by a 23-17 count.
Next, I had the despicable and hated New York Jets over the Washington Redskins and although I wanted the 'Skins to beat them, New York prevailed over a bad team, 34-19.
Then I remembered how tough Cincinnati played Pittsburgh at home and how the Steelers were less than inspiring at Kansas City and after much thought, finally decided to go with the Steelers based solely on who the quarterback was and was handsomely rewarded when the Steelers throttled the Bungals, 35-7.  They were beaten down so bad that even the Cincinnati fans needed to be iced after that. 
Finally I had the Atlanta Falcons at the Houston Texans and figured that with Houston on its third quarterback and Atlanta having Matt Ryan then the Falcons would rise up and put away the pesky Texans and make a statement.  They did just that and the statement was: 'We don't want to get into the playoffs because we have golf vacations booked already and the deposits are non-refundable' and therefore Houston prevailed, 17-10.
This unfortunate state of affairs left me at a paltry 3-2 for the week.  Ugh. Yeah, well, it's back to the drawing board for me.  Three straight 4-1 weeks had me thinking of sugar plums, but I have now come back to earth. 
The Picks:
It's the NFL again and the season is really getting interesting, but remains totally unpredictable.  In that, I'll give it a whirl and make my selections based on voodoo magic, basically using some miscellaneous leftover chicken bones (mainly thighs) from Urbaniak Brothers market, of course.   
New Orleans Saints (9-3) at Tennessee Titans (7-5), while the Saints defense has not been especially impressive and the Titans can't afford to lose with a Wild Card spot on the line for them every week, I still imagine that Tennessee's defense can't easily slow down Drew Brees and even so, the Saints have plenty of talent at running back, so if it does become a shootout between Matt Hasselbeck and Brees, well, you just can't logically pick against Brees, can you?
Pick: New Orleans
Houston Texans (9-3) at Cincinnati Bengals (7-5) will pit a Texan's team that refuses to lose against a Bengals team that can't afford to, especially after the embarrassment at Pittsburgh last week.  Houston has a very good defense, but it was Cincinnati's defense that started the Buffalo Bill's downfall, if you remember.  I'm sorry, but Andy Dalton is just plain better than T. J. Yates and Houston is also without WR Andre Johnson (other hammy now).
Pick: Cincinnati
Kansas City Chiefs (5-7) at the despicable New York Jets (7-5) will have a KC team that's on the rise with Tyler Palko at quarterback (Matt who?) and a New York team that is playing just well enough to not beat themselves.  The Chiefs are mathematically still in it in the AFC West, but the detested Jets need this game at home too badly to squander this seemingly golden opportunity.  Even though the Jets may or may not be aware of that. 
Pick: New York
Chicago Bears (7-5) at Denver Broncos (7-5) seems to have two teams heading in quite different directions even though both quarterbacks have marginal skills.  With that, I'll take the marginal one with the magical play that just can't seem to lose and has faith on his side of the field to beat the other one who likes to throw it to the guys with the wrong uniforms on.
Pick: Denver
New York Giants (6-6) at Dallas Cowboys (7-5) and although the G-Men trail the Cowboys by a game, they still play each other two more times – once here and once in the Meadowlands.  The Giants have lost four in a row and Dallas one, but even when the Cowboys win, they don't look very good doing it and when the Giants lose, they still look competitive, excluding the Monday night game in New Orleans, when they looked like clowns.  That being said, New York must win this game because they can't afford to fall behind the division leader by two games, so they'll approach this one like a playoff game, because, well, it is and it will be interesting to see how the Dallas players respond after their coach gave the game away last week because they may want to beat up on their own coach even more than they would the Giants. 
Pick: New York 
And another thing:
Quarterback Peyton Manning of the Indianapolis Colts is in the first year of his new 5-year contract and will not play this season after neck surgery.  Manning is due a $28 million dollar option bonus preceding the new league year which begins on March 12, 2012.  If he is on the Colt's roster at that time, he'll be entitled to the bonus money and by contract Indianapolis will be obligated to pay it. 
It's entirely possible that when the league year is ending in March, the Colts will have no idea if Manning will be able to play or not.
It's the $28 million dollar question.  If you were betting, what would you do?  The best pure business decision is to draft Andrew Luck and release Peyton Manning, while the Colt's fandom would probably storm the executive offices with torches and clubs and pillage the entire complex, chanting rude obscenities. 
Far out:
Congratulations to Mary S. as she is now the proud owner of the most storied NFL franchise in history.  Her single share of Green Bay Packers' stock entitles her to be involved in all business decisions where the stockholders are concerned.  The stock was offered for sale this week for the first time in 13 years and sold 1,600 shares in the first 11 minutes it became available for purchase.   
If you have any suggestions or concerns about running that particular franchise, just contact her and share your thoughts and I'm sure she'll see what can be done. 
I'd personally like to see the 'Cheesehead' hats get banned from public display and I'll run that by her, first chance. 
You heard it here:
Our Erie SeaWolves are working on a slate of new community events for the 2012 season that will make it quite unlike any other.  There will be cultural attractions throughout the season that will offer something for just about everyone as well as the First Annual SeaWolves' BBQ competition in July.  The cultural events will include African American, Finnish American, German American and Hispanic American heritage themes beginning in April and run all the way through into September and there will also be 'Art Friday' where local artists will showcase their talents right at the ballpark through the entire season as well.   
Darryl Murphy, SeaWolves' Director of Business Development is still working on other promotions and also more heritage events that will bring the community and the ball club together and we're already looking forward to another great season of baseball in Erie. 
Have a great week and stay out of trouble,
Lee