Lee's Locks #23
A new year, a new Lee? You?ll have to read the locks to find out.
January 1, 2012 at 10:00 AM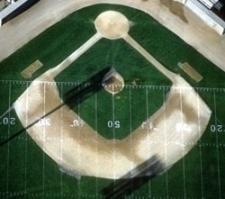 The Observation Deck
Surprisingly, and without a top wideout, the New England Patriots are continuing to break team records on offense.  WR Wes Welker has 1,518 yards receiving, breaking the 2007 team record set by Randy Moss; TE Rob Gronkowski has 1,219 yards receiving, breaking a 1994 record set by Ben Coates, and finally QB Tom Brady has broken his own passing record, also set in 2007 with 4,897 yards and these marks were set after completion of only 15 games.
Speaking of records, New Orleans Saints QB Drew Brees has now broken Dan Marino's 27-year-old record for passing yardage in one season with 5,087 yards on the year.  Marino had 5,084 yards in 1984 and did so in an era when the quarterback and receivers were not protected by the rules as well as they are today. But Brees did set the new mark in only 15 games.  I can clearly remember the Miami Dolphins passing on Drew Brees when he was a free agent with San Diego, but could you imagine how the AFC East landscape would have been altered if he would have landed there instead?   
The San Diego Chargers are now at 7-8 on the season and will close out at the 8-7 Oakland Raiders on New Year's Day.  The Raiders have a legitimate shot at the AFC West division title with the 6-9 Chiefs visiting the 8-7 Denver Broncos on the same day and the Broncos coming off two straight losses.  If the Chargers finish at 7-9, then you could easily envision the 2012 season without Norv Turner on the sidelines.  Since replacing former coach Marty Shottenheimer, head coach Norval Eugene Turner is 48-31 with three playoff wins.  These are not terrible numbers by any stretch, but after finishing 9-7 and out of the playoffs last year, a 7-9 mark is not showing improvement or even consistency.  I personally believe that Turner is not the Chargers biggest problem because that status belongs to GM A.J. Smith.
He's the one buying the groceries with which the cook has to prepare the meal and Norv is just making what's listed on the menu.
The Luck Contest
With Stanford QB Andrew Luck likely to go with the first pick in the 2011 NFL Draft, we're keeping tabs on who is presently qualifying for that lofty position and likewise, the rights to select what many claim is to be the best quarterback prospect in the last decade, if not the last couple of centuries.
The current Luck Leader field:
Indianapolis Colts (2-13)
St. Louis Rams (2-13)
Minnesota Vikings (3-12)
 
The Colts are bucking the trend and have now won two in a row to reach a tie with St. Louis and also keep Minnesota's hopes alive.  Cleveland, Jacksonville, and Tampa get an honorable mention with four wins each.
Quote of the Week
"I wish the 49ers organization the best of luck during the Playoffs. I will be working hard this off season to strengthen my knee and prepare for the 2012 season. Thanks for your continued support and for being such loyal fans."
Former San Francisco WR Braylon Edwards who was released by the 49ers after appearing in nine games with 15 receptions.  Edwards was formerly with the New York Jets and originally with the Cleveland Browns.  He did make good on a rookie promise when he gave out 79 individual $10,000 college scholarships to Cleveland high school graduates that fulfilled a promise to finish high school.
Say what you want about him – negative or whatever – yet it should include this.  
Recap
For my first game of the weekend, I had the New York Giants and the despicable and detested New York Jets and picking the G-Men, I got it right when they pounded QB Mark Sanchez into submission and humbled big-mouthed coach Rex Ryan, 29-14.
I then had the Oakland Raiders at the Kansas City Chiefs and felt good about picking the Chiefs who were coming off a win against previously unbeaten Green Bay just the week before.  Kansas City missed a game-winning field goal at the end of regulation and consequently Oakland won in overtime, 16-13.
Next was the San Diego Chargers at the Detroit Lions and with the Lions going to Green Bay next week, I figured that they would want to take care of business this weekend and needed to beat the previously surging Chargers, and they did, handily, by a 38-10 count.  Norv Turner went to work on his resume immediately after the game and not on their next opponent.
I went to the Philadelphia Eagles at the Dallas Cowboys and figured – wrongly – that Dallas would take care of the Eagles, but in fact it was the Cowboys who got the bird when Philly put them down, 20-7 as Dallas QB Tony Romo was sidelined with an injured throwing hand.
My final game was the Atlanta Falcons at the New Orleans Saints, and I couldn't pick against New Orleans even though Atlanta needed the win – and the momentum – to go into the playoffs, but the Saints beat them down, 45-16 and appear unstoppable, while Atlanta will be a one-and-done.
That left me at another lackluster 3-2 count for the second straight week and therefore 25-10 overall, which is not where I wanted to be.  In reality, I don't really care, but hey, that's the way the ball bounces.
The Picks
It's the final week of the regular NFL season and you have a mix between those teams who won't make it into the postseason, those who might, those who will, and then the final positioning as far as seeding and home field advantage.  There's still plenty to be decided and former commissioner Pete Rozelle would be proud today.  With that, let's get after it and pick six different games for this weekend.
The first game is the Tennessee Titans (8-7) at the Houston Texans (10-5).  The Titans have been up and down, but after clinching the AFC South with a win at Cincinnati, the Texans have been beaten by two also-rans in Carolina and then Indianapolis.  Three straight losses heading into the playoffs is just bad for business.
Pick: Houston
Next, we'll go with the Indianapolis Colts (2-13) at the Jacksonville Jaguars (4-11).  Why, you may ask?  It's simple, because if the Colts were to win, they would possibly be out of the Andrew Luck sweepstakes and that would be huge.
Pick: Indianapolis
Then we'll have the detested and hated New York Jets (8-7) visiting the Miami Dolphins (5-10), who have virtually nothing to play for while the Jets have everything to lose.  The Jets have been so up and down that you don't know which team will show up and when and in the complicated AFC playoff picture, they could win and still not get in.  Just when you start to think that Mark Sanchez is not a very good quarterback, he has a good game, but that may not be today.
Pick: Miami
We'll go and check out the Baltimore Ravens (11-4) at the Cincinnati Bengals (9-6) with both teams having much to play for: The Ravens for first or at least second seed in the AFC and the Bengals for their playoff lives.  When Cincinnati lost at Baltimore, it was a close game and came down to big plays made or not made, but the Ravens have lost four of seven road games this season.
Pick: Cincinnati
Let's go out to Denver for the Kansas City Chiefs (6-9) and the Denver Broncos (8-7) with Denver and Oakland tied for first place going into the kickoff, which is set for the same time for both games (San Diego at Oakland).  The Tim Tebow fairy tale has lost some luster with back-to-back losses at home to New England and last week in Buffalo when Tebow threw four completions to the other team.
Pick: Denver
Finally we'll have the Dallas Cowboys (8-7) at the New York Giants (8-7) and this game will determine the NFC East Championship.  One gets in and the other is out, but to me it all comes down to who's under center.
Pick: New York Giants
And another thing
Locally, our own Bayhawks lost another close one, this time to the L.A. D-Fenders (what kind of name is that?) by 117-112.  They did beat Fort Wayne on Wednesday, 109-94 and are now at 5-9 on the young season.  They hit the road next and head out to 7-5 Canton on New Years' Eve.
The Erie Otters are still mired in a bad stretch of no offense and middling defense and are now quite alone in last place at 5-29 on the year.  With nearly three months to play, it's hard to believe that the Otters will make a go of it, but when you don't truly give up a lot of goals, then getting some offensive pressure on the competition could really make a difference.  When you look at their record, it's hard to imagine that they could be relevant, but the margin between winning and losing isn't that great, they just continue to struggle on defense.  I don't know what the game plans are, but I could vote for scrapping them and letting the younger guys get some ice time.  I mean, what do they have to lose, right?  
Far out
On Christmas Eve, Minnesota running back Adrian Peterson suffered a severe knee injury during the third quarter in their win over the Washington Redskins.  An MRI revealed an ACL tear and MCL damage and a date for surgery was forthcoming, likely within the next 10 days.
Injuries such as this are typical 10-month recoveries, which would put Peterson's return to the field sometime next September or even October.  New England wideout Wes Welker returned to the field in just seven months, but that is an unusual and unlikely time period given that Peterson is a running back and considering the severity of the injury. 
Have a great week and a very happy and healthy New Year.
Lee