LeeS Locks: 7
From the Observation Deck to the Recap to the Picks, LeeS is back for another round.
August 29, 2011 at 6:58 PM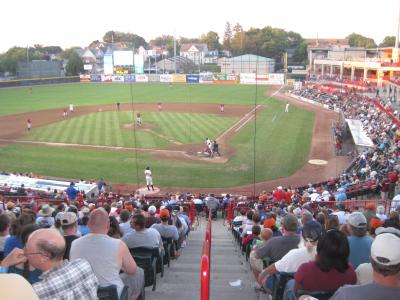 The Observation Deck:
So Terrelle Pryor landed on his feet and was picked in the third round of the NFL Supplemental Draft by none other than the Oakland Raiders.  Al Davis never really had an issue with controversial picks or questionable reputations, so this is a fit if there ever was one.  The QB situation at Oakland is a relative unknown beyond 2011, so he took a chance and went with athletic ability even though the quarterbacking skills are suspect.  Just win, baby.
September is almost upon us and that means the college football season is getting underway.  Penn State opens 2011 first with Indiana State visiting University Park on September 3 and then  they host the Alabama Crimson Tide the following Saturday.  What an awesome way to start the new season.  Go Lions!
Congratulations to the USA team winning the Little League World Series championship with a 2-1 win over Japan.  Those kids must be on top of the world today, and they deserve it. 
Last week, I idiotically (no other way to describe it) chose the five teams in the NFL that, in my opinion, would not make the playoffs following the 2011 season based upon a 12-team field where the averages say that five won?t make it again the following year.  Fearless in my predictions, I opined on whether to throw all common sense to the wind and take it to another step and that would be picking the five teams that did not make the 2010 post season, but that I feel would make it at the conclusion of 2011. 
Since there are six playoff teams in each conference, and I picked three in the NFC to not make it, with two in the AFC, I again have to respect which conference is which and go three in one and two in the other.  In order to accomplish that, it will be necessary to pick not only the controversial five, but division winners as well as Wild Card choice teams.  Since I?m free to do whatever I want, I?ll characteristically reach on a few.  Everyone else is. 
NFC:
NFC East ? Philadelphia Eagles.  Although dubbed this year?s ?Dream Team?, I worry that Michael Vick will not be as successful as last year.  For one, he has a style of play that is not good for his health, and after watching Green Bay dismantle them in the playoffs, I have to wonder if the Eagles are now figured out. Other teams may do the same things Green Bay did to them.  That being said, I like them better than New York, Dallas, or Washington, and their defense should be improved with all of the additions they made. 
NFC North ? Green Bay Packers.  I have a really difficult time going with someone else in this division simply because no one is better or really, even close.  Earlier, I chose Chicago as the team that doesn?t get in, but I expect improvement from both Minnesota and Detroit, especially if the quarterbacks stay healthy.  I see the Bears, Vikings, and Lions all muddled together scratching for second place with Minnesota actually taking that spot.
NFC South ? Tampa Bay.  Note: I originally was looking long and hard at Atlanta in this spot, but the more I thought about, the more I liked Tampa Bay, and so here we are.  Many will be shocked that I?m not picking Atlanta to win the division, and of course I?ve already picked New Orleans to miss the playoffs.  I just have a feeling that the Buccaneers are going to the next level and Atlanta is going to a plateau.  The Falcons are very good, but I expect Carolina to improve under new coach Ron Rivera, and New Orleans will also win some division games as well, and that makes the going especially tough.  I?m thinking that the young Tampa team survives the fray.  
NFC West ? Arizona.  I expect St. Louis to improve in their second year with Sam Bradford under center and make things tough for the Cardinals, Seahawks, and Forty-niners, but if Arizona finally has a quarterback to pair with Larry Fitzgerald, then they will be very tough to overlook.  Let?s say that maybe Kevin Kolb is the real deal, although I don?t know if I?m comfortable with the game experience he?s accumulated so far in his career.  Basically, I have them by default because no one is better.
NFC Wild Card ? Atlanta.  Atlanta is a talented, well-coached and well-run team with coach Mike Smith and GM Tom Dimitroff formerly with New England running the company, but every new season is a new entity unto itself.  Things can and usually do change.  The Falcons are the sexy pick to win the South, I?m sure, but I can?t just go along with the status quo.  I gotta be me.  I?m just not foolish enough to leave them out of the postseason altogether.
NFC Wild Card - Dallas.  I?m actually torn between the G-men and the Cowboys, but because New York could stumble out of the gate, while I expect Dallas to surprise, I have to go with instinct. But let?s not get too carried away with this whole thing.  Dallas should be improved on offense and also on defense with Rob Ryan running a creative, disciplined and attacking style to generate problems for opposing offenses and the Giants are dangerous because it?s unlikely   they would miss the postseason two years in a row.  What concerns me is Eli Manning and I see they lost their best corner, Terrell Thomas to a torn ACL that ended his season. They already lost CB Bruce Johnson, who?s done as well as, to an Achilles injury.  Eli, in my opinion, won a Super Bowl because he rode a wave at exactly the right time and the right place: The Giants got hot at the end of the season and stayed hotter than anyone else through the playoffs, beating New England in the Super Bowl at season?s end.  It was the defense, not Manning, that brought home the hardware.  Look, I know he?s a Rhodes Scholar and scored 39 on the Wunderlic, but I can?t believe that Eli Manning will win another championship.  He?s simply not Peyton.
Back in Dallas, I see a team that quit on Wade Phillips but woke up for Jason Garrett and will win enough games to get into the tournament.  Did I forget Washington?  No, I didn?t-- I just don?t think that this is their year.  I will agree on one thing and that is, I think John Beck will be a successful quarterback in the NFL.      
AFC:
AFC East ? New England.  Is there another team in the AFC that has morphed into something conceivably more potentially dominant?  I know they were embarrassed in the first round of the playoffs the past two seasons, but you can see that Belichick realizes the window is closing on maybe the best quarterback in the league.  They?ve acquired controversial Chad Ochocinco, malcontent Albert Haynesworth and put them in exactly the spots they need to be.  The 3-4 defense that has been their mainstay for the past 10 years will become more of a 4-3 and with Wilfork and Haynesworth both occupying two blockers, the ends and linebackers will murder opposing quarterbacks and halfbacks.  It?s no more ?Mr. Nice Guy? in Foxboro.
AFC North ? Pittsburgh.  Many will look at what happened to the Super Bowl losers the past 10 years and say that the facts don?t lie: they usually won?t have the same number of wins and typically don?t even make the postseason the year following that disappointment.  Sorry, I can?t buy that here because Mike Tomlin will simply not allow that to happen.  They?ve made moves to resign key players, and they can bring back others who were injured last year, which will make this team more complete.  Baltimore will again make things difficult, but Joe Flacco is not nearly as good as Ben Roethlisberger when it comes to making the big play.  They play each other with mayhem in mind and the games are entertaining, but the Ravens are not equal to the Steelers in my opinion.
AFC South ? Houston.  This will get some people riled up since Houston has never made the playoffs, let alone won the division.  I happen to think that Andre Johnson is likely the best receiver in the league and having Wade Phillips run that defense will really get the most from Mario Williams, DeMeco Ryans, and Brian Cushing, which will help keep the games close and give the Texans the opportunity to win those tight contests, instead of historically losing them.  This happens of course, courtesy of Indianapolis where they miss the playoffs for the first time this century.
AFC West - San Diego.  They usually kill themselves with horribly slow starts, while I happen to think that Norv Turner is a one-trick pony (offense) and this team as it exists now cannot win a Super Bowl.  They have a good nucleus and they can get hot, yet in order to win a championship, they will need to become a team that only takes and doesn?t give (read: don?t kill yourself, kill your opponent instead).  This is a talented team that just can?t seem to put it all together, although Phillip Rivers is an excellent quarterback.
AFC Wild Card ? Baltimore.  Not liking this team much, but I also can?t overlook them.  John Harbaugh (his brother Jim is now coaching the 49?ers) is a very good coach and Ozzie Newsome is an excellent talent evaluator.  They have plenty of talent at nearly every position, but plateau at a point where they can?t get through into the next level.  You can count on them to be tough, disciplined and make the playoffs, but I just don?t see them playing on Super Bowl Sunday.
AFC Wild Card ? New York Jets.  Although I don?t like Rex Ryan?s style, it?s pretty difficult to not recognize that he is a creative coach who gets the most from his players.  I also happen to think that the worst player on this team is Mark Sanchez.  The man has a 54 percent and 53 percent completion percentage over the past two years and I don?t care how you spin it that basically stinks.  Kyle Orton is a much better quarterback, but he plays for a lousy team, so he gets no respect.    Gang Green will again make some noise in the AFC, but making the AFC Championship game three years in a row is just a little too tough for this writer to swallow.  I think this is the year where Rex?s championship bus breaks down earlier in the tournament. 
Recap:
On Tuesday, I had to go with Boston at Texas to get an idea of where they are as the season starts to wind down.  I picked the Rangers in this one and although Boston lost the night before, they took this game to remain in a virtual tie with the hated Yankees.  It was Boston over Texas, by an 11-5 count.
For Wednesday, I went with Detroit at the St. Petersburg Rays with both teams making a move in their respective divisions.  I went with the Rays as they are one of the AL?s hottest teams heading into the stretch.  St. Pete clawed past Detroit, 3-2 in 10 innings.
Then for Thursday, I decided to head home again and had the Bowie Baysox at Erie SeaWolves for some EAS AA action.  I picked the home team to take it from the Sox, even though Bowie is fighting for a Wild Card spot in the Western Division.  Mary and I were at the Uht again meeting Karen and Tom, and it was a beautiful night for baseball.  Bowie went ahead early, 3-0 and then it was 3-1 Bowie until Erie put it all together and went up 4-3 in the bottom of the eighth, hanging on for the win.  The game was about as exciting as you could possibly imagine.
Erie won again on Friday, coming up with five runs in the eighth for a 7-5 win.  Getting the SeaWolves? fever, we decided that the Saturday game had to be on our agenda and the home team made it worth our while with yet another win, this time, 6-2.  You had to wonder what the Baysox were thinking at this point because all they had to do was come in and take the series from the SeaWolves and waltz out in good shape.  Too bad Erie didn?t get that particular memo.
Bowie did manage to salvage one game in the series and won on Sunday, 4-1. 
I got off the beaten track for Friday and went way out.  Out to the Pacific Northwest to be exact and had the Chicago White Sox at Seattle.  The Mariners were fervently searching for a pulse, while the Sox have been creeping right into the picture in the AL Central.  I reached and went with Seattle in this tilt.  The Sox would have none of that, taking the floundering Mariners, 4-2.  Seattle may have good coffee, but their baseball team stinks.    
For the week, I was a mediocre 2-2 with my picks.  And I don?t care a teeny weeny bit. 
I did get some mail, so I?ll stop complaining.        
The Picks:
It?s new week and a new batch of reaches, so here we go. 
Tuesday, Aug. 30 ? NY Yankees at Boston Red Sox, with C.C. Sabathia going up against John Lackey for the Sox.  Sabathia, 17-7 has been unable to beat Boston this season, and you would figure that has to change and admittedly, Lackey, 12-9 has been inconsistent all season long.  That being said, I?m picking the Red Sox to beat the despicable Yankees and keep them out of first place in the AL East.
Wednesday has the St. Petersburg Rays visiting the Texas Rangers.  I like this match up, and it should be a very game.  The Rays are 8 ? back in the East, but 7-3 in their last 10, while Texas is three up on those pesky Angels and can?t afford to lose more ground going 4-6 in their last 10.  Texas has to win and that?s why I?m picking the Rays to take it.

For Thursday, I?m again going to get local and take a look at the Binghamton Mets at our very own Erie SeaWolves.  This is the Wolves final home game and I?m picking them to take this one from the streaky Mets and close out the 2011 season at the Uht with class.  

On Friday, let?s go NL and head out to San Francisco for a game with Arizona.  First and second place teams with so much to gain (or lose).  The Giants are four games behind the Diamondbacks and both clubs have cooled off of late, so it can go either way.  I?m going with San Fran to pull out all the stops and win this one at home.  

And another thing:
The Erie Seawolves will close out the season on the road, but will have home games on Monday (Buck Night/Ladies Night), Tuesday (Family Buck Night), Wednesday, and finally Thursday (T-shirt Night).  They may not make the playoffs (mathematically still in it, however), but they?ve been competitive all season long, especially at home.  We plan on being at the Uht on Monday and just can?t miss the Thursday night game either.  The season went so fast, it was almost a blur, but we?re getting in all of the games that we can to see what happens to the Howler?s before it?s all said and done.
If you?ve never been to a SeaWolves? game, or just didn?t make it out this year, you owe it to yourself and your crew to come and enjoy this great ballpark where everyone seems to know someone and you can see tomorrow?s stars right here, up close.  I?ve been to quite a few major league parks, but I probably enjoy the ballpark on Tenth and French as much if not more than any of the others.  To me, it?s a special place to watch baseball.       
Go Wolves!
Far out:
It certainly looks like no one wants to win the NL West.  All along it looked like the Giants would take it, then they were knocked out of first by the Diamondbacks, all the while with the Braves not going away.  Just when you thought someone would seize the opportunity, that team would go on a loss streak to open it back up again.  Many say this is the only race going on and it looks that way, but it?s likely going to come right down to the wire, which is exactly what you want as a fan. 
I happen to think that the AL East, Central, and West will get more interesting before they get boring. 
You heard it here:
The St. Petersburg Rays have virtually come out of nowhere and are now in the middle of the playoff picture and maybe they don?t actually make it because it?s such a long shot, they nevertheless will likely bounce some perennial contender right out of it.  This is the Little Engine That Could and they are about to break some serious hearts.  Stay tuned.    
Have a great week,
Lee