Lee's Locks: No. 6
After a triumphant week and tons of mail, Lee's back for more. 
August 23, 2011 at 2:31 AM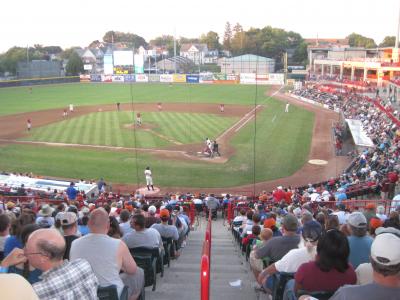 The Observation Deck:
Congratulations go out to Minnesota Twins slugger Jim Thome, who reached an epic milestone when he hit career home run No. 600 last Monday night. Only eight players have reached that lofty summit in major league baseball history, so Thome, the former Indian, is in an extremely elite club. He also did something not done before by homering Nos. 599 and 600 in the same game. Of those eight, there was only one player to reach that milestone in fewer at bats: Babe Ruth.
Note: Those two players who achieved the rare feat of reaching 600 home runs with the fewest number of plate appearances undoubtedly managed it without the benefit of anabolic steroids.
In the NFL and as I alluded to last week, I began looking at the 12 teams that made the playoffs for the 2010 season, and I saw compelling information that on average, five of them do not make it into the postseason the following year. I found this extraordinary because that's essentially a 42 percent turnover. Forty-two percent?
AFC 2010 playoff teams:
Baltimore, Indianapolis, Kansas City, New England, New York Jets, and Pittsburgh.
NFC 2010 playoff teams:
Atlanta, Chicago, Green Bay, New Orleans, Philadelphia, and Seattle.
According to the premise that a total of five will not make it, I then looked at the possibilities of who may or may not get in after this season concludes. Based upon what we know right now (trades, draft, injuries, returning starters, retirements, etc.), I'll first select those teams that I believe will make the postseason and they are:
AFC: Baltimore, New England, New York Jets and Pittsburgh.
Note: The Super Bowl loser' Steelers could very well go in the tank, as the curse goes, but I can't see Mike Tomlin allowing that kind of letdown.
NFC: Atlanta, Green Bay and Philadelphia.
You will notice some key omissions as well as the removal of the usual suspects. I omitted Kansas City and Seattle automatically and that wasn't difficult because they just made it in last year and I don't see evidence of sustainability. But I then decided to delete Chicago and very controversially omitted both Indianapolis and New Orleans.
Pretty hard to imagine that I would leave out the most consistent winner over the last decade, Indianapolis, as well as the New Orleans Saints, the 2009 Super Bowl winner. Some would say that it's rather stunning. Yet others may exclaim: 'you've lost your stinking mind, you moron!' or something equally endearing.
Regardless of either, the law of averages says that five won't make it.
Basically, I don't think that Seattle (Tarvares Jackson at QB?) or Kansas City are capable of getting back there again this year. It's just such a reach.
Out: Seattle, Kansas City.
Chicago has made no moves of real value, unless you count additions like Marion Barber, Roy Williams (him again?) and Vernon Gholston (first-round bust), while no longer having stalwarts, C Olin Kreutz and TE Greg Olsen (Panthers). The leaky offensive line has not been able to protect Jay Cutler, so I can't imagine he could possibly be healthy for 16 games when he's the NFL's version of a piñata. Add in that I expect Green Bay to remain among the top, Minnesota's likely improvement under Leslie Frazier (yes, Donovan McNabb) and even perennial also-ran Detroit taking the next step and that means additional competition within that division and someone, like the Bears, will likely pay. Typically, if you want to make the playoffs, you need to win your division, and I don't see them being able to do that.
Out: Chicago.
The New York Jets can only live on bravado for so long, and their defense didn't get better-- they only got older. That defense, however is still good, and Rex Ryan knows defense (blood line-thing), but I happen to think that Mark Sanchez is not an elite NFL quarterback and can't win tight games when everything's on the line. Losing Braylon Edwards, Brad Smith, Drew Coleman, Shawn Ellis, Damien Woody (retirement), and Jerricho Cotchery, while acquiring Plaxico Burress didn't do anything to improve the team-- it actually set them back, even if Plax stays out of the slammer. Unless you count Buffalo's former first-round disappointment, Aaron Maybin, but Ryan didn't turn around Gholston, so I'm not sure what you can expect, here. Regardless, I believe they just make it in as a Wild Card again.
In: New York Jets.
With the Indianapolis Colts, I see a different situation where they can't count on 52 players to make up for a less than ideal situation for one. That one is the most important player on that team and is essentially their offense. Peyton Manning will not throw one pass in the preseason and may not start the regular season due to his neck surgery and recovery. The Colts start the season in their division with an important game against Houston. Curtis Painter, Manning's backup at QB, would not appear to be the answer, and maybe that's why Colts' owner Jim Irsay is currently in Hattiesburg, Miss. Hattiesburg, if you remember, is where Brett Favre lives. If and when Manning is behind center, he will likely not be in an ideal circumstance not only because of his surgery, but he's had no help from trainers because of the labor lockout and no benefit of any preseason play. He's great, but he's not Superman. I'm saying that Indy will miss out on the playoffs, but still come on and make a run at them, failing at the end. The window is closing.
Out: Indianapolis.
In the case of the New Orleans Saints, it's not so much just them as it is having Atlanta and up-and-coming Tampa Bay in the same division, and you would have to figure that Carolina, with new coach Ron Rivera, would improve upon the league's worst record in 2010. No matter what, wins will be hard to come by. Don't get me wrong, I think a lot of Drew Brees, and the team is talented, but I still think they captured lightning in a bottle during their Super Bowl season, and I see a team with some distinct flaws and some rough neighbors.
Out: New Orleans.
In an upcoming column, I'll idiotically pick the five new teams that will make the postseason for 2011.
Had an opportunity to check out some action from the Little League World Series in year No. 65. I see they still have the 10-run rule (California versus Kentucky), and since I coached Little League in another life, I have a feel for what you can expect in Little League play. I'll say this: they have some excellent pitchers hitting in the 60s on the radar gun and some slick hitting as well, but the fielding still remains a mystery. When a ball is in play, anything can and will happen. It's good to see not much has changed since my days of chewing countless Tums while watching baseball games.
Recap:
On Tuesday, I had Arizona at Philadelphia, and I went with the Diamondbacks on a pure reach. That paid off because not only did Arizona win, they beat Roy Halladay (15-5, 2.53, complete game) with a 9th inning RBI double by none other than Pittsburgh castoff Lyle Overbay for a 3-2 final. This was Halladay's first home loss of the season, while Overbay drove in all three runs. The sellout crowd at Citizens Bank Park was not only dazed but confused as well.
Went with Trenton at Erie on Wednesday, picking Erie ,and although the 'Wolves took the doubleheader on Tuesday, the Thunder won on Wednesday night by a 9-6 count. I had gone with the 'Wolves, here. As of Sunday, Erie remained nine games out in the EAS, Western Division.
For Thursday, we saw Texas at the LA Angels and the Rangers were on a six-game road win streak coming in. LA won the game in dramatic fashion, 2-1, when Mark Trumbo bashed a two-run homer in the bottom of the ninth. I had the Angels in that one. Uh, thank you, Mark.
Then on Friday, we had Cleveland at Detroit, with yours truly going with the Tigers thinking retribution was in mind for the visit to Cleveland last week. Detroit took that one handily, 4-1, with former Seawolves' player, catcher Alex Avila going deep for the Tigers.
First time I'm above .500 for the week, posting a 3-1 record and the only loss happening in Erie. Too bad that I don't care, otherwise, I'd be like happy-happy and then some.
I did get some mail, so I will stop complaining.
The Picks:
For the week, we've got some goodies as the pennant races heat up. I'm almost trembling in joyful anticipation and excitement.
Tuesday, Aug. 23 has Boston at the Texas Rangers. The Red Sox have not been dominant and that makes them dangerous because they won't stay down for long, but Texas needs to make a statement and this series is where it needs to happen, so I'm picking the Rangers.
On Wednesday, we have Detroit at Tampa (St. Pete, remember?). The Tigers need this and The Rays can't afford to lose any games if they want to stay relevant, even though it's unlikely that Boston and New York will fall apart. Going with the surging Rays in this one.
It's Thursday and I'm going home -- the road-weary SeaWolves will host the Bowie Baysox and they are virtually tied with Harrisburg atop the Western Division. Bowie can't afford to lose and I'm taking Erie to not let them win.
For Friday, we have the Chicago White Sox at Seattle. The Mariners have been non-existent in terms of who's who and Chicago has been quietly creeping right into the thick of things in the AL Central. I'm picking the morbid Mariners to take this one from the Sox just for good measure.
And another thing:
The Indians had an opportunity to gain some ground on frontrunner Detroit this past weekend but instead got swept by the AL Central leading Tigers. The Tribe's curtain came down with a thud when the tying run was called out at the plate in an 8-7 ballgame that manager Jim Leyland watched on TV. He was thrown out earlier on a bad call at 3rd when he questioned its suspect validity.
I miss the days when managers (Billy Martin, et al.) would kick dirt on the umps and then head back to the dugout in time for the next pitch. Now, when a manager departs the dugout and is not headed to the mound, he's immediately ejected. What the hell is that, I ask you?
The romance has left the game-- likely it was at the same time that Elvis left the building.
Far out:
During this past week, the Tampa Bay Rays – who this writer counted out a few weeks ago – visited the Boston Red Sox, who were in and out of first place with the hated and utterly despicable Yankees. Boston, second in the majors with a .277 average, succumbed to the Rays starting pitching, but did so by managing only three hits in each of three games at Fenway. The Elias Sports Bureau stated this had never happened to the Red Sox in their history. Oddly, Boston is hitting .168 for the season against Tampa pitching. The Rays, still somewhat alive, must have read recently the famous Yogi Berra statement about it not being over until it is actually over. Although they may not get close enough to the AL East leaders or even a Wild Card, they could potentially ruin it for either the Yanks or Sox because they still play them 14 more times this season. I'm here to tell you that the St. Petersburg Rays (hey, they play there, we saw them) are going to cause some trouble in the AL East before it's all said and done. The bettors will be hot.
You heard it here:
Big, big home stand coming up this week beginning on Thursday for our own Erie SeaWolves. Having been out of town, I am really looking forward to seeing some good baseball at the best time of the season. Hope to see you at the Uht and don't forget -- it's your turn to buy.
Have a great week,
Lee