Lee?s Unlocks # 8
It's that time of the week. Time to pick up what Lee is layin' down.
September 6, 2011 at 12:18 PM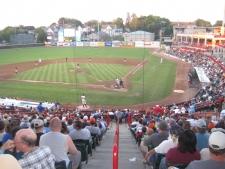 The Observation Deck:
Thinking about the NFL and looking directly at the Peyton Manning situation in Indianapolis and also how it relates to the other teams in the AFC South division.  There is an amazing correlation here.  You have Jacksonville, Houston, and Tennessee in the division and their fate (or fortune) is directly linked to how well the Colts play--and not just against them specifically but the overall win-loss record.  If Manning isn?t his old self after the neck surgery and subsequent lack of a preseason to get ready to play, wouldn?t every one of those teams directly benefit?  I suspect that it would change the balance of power.  The entire division could be upside down in terms of where teams finish this year as compared to 2010.  Now chew on that one. 
Note: The Indianapolis Colts? first four games - at Houston, Cleveland, Pittsburgh, and at Tampa Bay.  Holy Bob Sanders, Batman. 
Speaking of dilemmas, the Tennessee Titans and running back Chris Johnson were at long odds over a new contract and a settlement was a serious bone of contention.  Who is behind Johnson on the depth chart, you ask?  Why it?s Javon Ringer, Jamie Harper, Herb Donaldson, and Stafon Johnson.  I could smell a trade coming if something didn?t give.  Holdout Johnson went on a Twitter rant telling ?fake Titan fans? to ?shut up? when they said he was being greedy.  Johnson greedy?  C?mon, seriously?  Update: Evidently Johnson and the Titans did agree to a $53 million deal with $30 million guaranteed.  Can you say ?up against the cap? because I sure can.
In College, Texas A&M absolutely denies that they are going to withdraw from the Big 12 Conference and pursue a spot within the SEC.  This of course means that this is exactly what?s going to happen.  Update: A new report has A&M withdrawing from the Big 12. 
What exactly is an ?Aggie? anyway?   Now a ?Banana Slug? I can picture but not an Aggie.
With the talent-laden SEC, you could envision a .500 team being conference champ someday and don?t laugh. 
Cincinnati Bengals? running back Cedric Benson has begun to serve his 20 day jail sentence for a charge of assault where he pleaded no contest earlier this year.  Wonder what NFL Commissioner Roger Goodell will give him next because he can?t ignore stuff like this.  That Cedric--now isn?t he just something?  
Sadly, ex-fighter Oscar De La Hoya admitted to thoughts of suicide and had also been unfaithful to his wife during his period of drug and alcohol addiction.  On the unfaithfulness, he said: ?we are obviously not talking a Tiger Woods here?.  This likely caused his wife to breathe a big sigh of relief as Woods evidently set the bar quite high for adultery in the modern era.  Silly me, I always thought that whether you rob one bank or 100, you?re still considered a bank robber. 
The Penn State Nittany Lions opened the new college football season with a 41-7 shellacking of poor Indiana State on Saturday.  The Alabama Crimson Tide will arrive at University Park for a game this coming Saturday and that contest will be the true gauge for what the season holds for the Lions. 
How about Notre Dame?  They were being beaten 23-13 by none other than South Florida (now that?s a powerhouse for you) and with 4 minutes and 21 seconds left, officials suspended play for a second time during the game when a storm front approached.  The game resumed some 43 minutes later and the Irish almost pulled off the comeback, but fell, 23-20.  It was Skip Holtz now coaching South Florida and who is also the son of Lou, who was responsible for Notre Dame?s last national championship back in 1988.  Is this an odd one or what?
Recap:
I like getting mail.  Mail is fun.   
For the record ?
On Tuesday, Aug. 30, I went with the hated Bronx Yankees at the Red Sox with C.C. Sabathia on the mound for the Bombers.  For the first time this season, Sabathia beat the Sox 5-2, but he didn?t look great doing it, allowing 10 hits in just six hard earned innings.  I had Boston in this one, so I went to 0-1. 
For Wednesday, I had the St. Petersburg Rays at the Texas ?Hold ?em? Rangers.  Going with the sizzling Rays, they managed a solid win behind James Shields and prevailed, 4-1.  This got me to 1-1.  Oh, joy. 
On Thursday night, I went for another one at home and picked the SeaWolves to beat the hated Binghamton Mets for the final home game of the season for Erie.  We were there, and it was a good game to watch--although Erie?s Drew Smyly and his 10 strikeouts didn?t hold down the Mets quite enough as the visitors won again, this time by 2-1.  The game had its moments and the home crowd did their best, especially in the bottom of the ninth when almost everyone was on their feet.  I was now 1-2.
Then on Friday, I had first place Arizona at second place San Francisco, taking the Giants to win, place, and show, even though they could potentially do none of these things.  San Fran did win, 6-2, which left them five games back in the NL West.  I got back to .500 this time around.
For the week, I was a mediocre 2-2. 
 
The Picks:
Tuesday, Sept. 6 ? it?s the Detroit Tigers at Cleveland Indians.  The tribe made it interesting all season long and now the White Sox are involved, but it sure looks like its Detroit?s division to lose and I just don?t see that happening at all.  Picking the Tigers in this game to make sure the Indians stay out of the picture.
For Wednesday, the Atlanta Braves will visit the Philadelphia Phillies, and although Atlanta can?t overtake them, they still need a playoff spot and won?t go down without a fight, clinging to the top spot for the Wild Card.  Picking the visitors to once prevail again in this one. 
On Thursday, let?s go with Cleveland at Chicago White Sox.  Both teams are trying to stay relevant and fighting for second place in the AL Central although a Wild Card is out of the question.  I?m going with the Pale Hose, here.
Friday has the Boston Red Sox at the St. Petersburg Rays.  What a perfect test for both clubs.  Going with the home team Rays in this one because you just can?t seem to put this team down and keep them there for very long and the Sox do not look like championship material, I?m sorry.  Someone mentioned that Joe Maddon could coach and they may possibly have something there.   
And another thing:
The final out of the 2011 home season was called in Thursday nights? SeaWolves game and all of the players stayed around for quite awhile, signing autographs and talking with the many fans who remained at the park.  It was the right way to close out the home stand, as you typically don?t get to see as much interaction with the players after a game, and it sadly signaled the end of another season at the ballpark on 10th and French.  You clearly sensed that these professional ballplayers appreciated the support that they received throughout the year.  We find ourselves already excited and looking forward to the first pitch at the park next April.
When we were departing Jerry Uht Park, I met up with Darryl Murphy, who is the director of business for the Erie SeaWolves organization, and we had a rather long conversation about the ball club and its relationship with the community.  Darryl has plans that will include doing some new things at the ballpark, and you can sense that his fresh perspective will be a welcome addition to the organization.  Darryl arrives in Erie having been involved with teams in Washington, D.C. and most recently, Philadelphia.  His enthusiasm and energy are quite apparent, and I personally wish him the best and at the same time can easily see that he will be successful reaching out to the fan base and to the region and making a difference. 
You heard it here: 
As many likely know by now, former SeaWolves pitcher Luis Marte was called up to parent club Detroit, and he?s likely left the ballpark on 10th Street for good.  We last saw him come into a game this past Monday night in Erie, where he was called upon to put out a fire and put it out, he did, striking out 10 of the 11 Mets? batters that he faced and even that eleventh hitter didn?t reach base safely.   That particular performance can only be labeled as dominant, and we?re especially glad we could see it in person.  We would like to wish Luis the best of luck in the Motor City. 
Go get ?em Category:
Grandson David S. will be playing football for the Tri Boro Longhorns in the Lake City Little Gridders league this year.  He simply came home one day and announced that he was playing football and that was that.  You may just see him out there patrolling center field playing in the defensive backfield as a Safety, proudly wearing the No. 1.  Let the other team know you were there, David, and the best of luck.
Have a great week,
Lee