Lower State Street and Millionaires' Row Historic Walking Tour
Take a self-guided tour through Erie's West Sixth Street Historic District
You have caught us, here in Erie, in the midst of a renaissance. Our downtown and neighboring areas are going through a significant amount of renovation, restoration, rebuilding, and rebranding. While there are many parties at play, one major contributor to our refreshed look is the Historic Erie Preservation Trust (HEPT), helmed by our city's benefactor Thomas B. Hagen, as he has taken on a staggering number of historic properties in the Lower State Street and West Sixth Street corridors (generally referred to as Millionaires' Row) and given them a full top-to-bottom restoration. Many of these buildings sat in peril from years of deferred maintenance or otherwise faced demolition due to their desirable locations, but can now stand as a shining reminder of our city's history.
So take a walk with us and get a glimpse at the grand homes of Erie's past and note their remarkable restorations which will aid in their continuing contribution to Erie's future. 
1. The Troy Sterrett Building
414-416 State St. Built in 1820
This was once the home of Erie's first newspaper man, Joseph Sterrett. Built in the Federal style, the oldest building on State Street has been recently restored by the HEPT.
2. The Cashier's House
417 State St. Built in 1839
Built in the Greek Revival style, this building was constructed to be the headquarters of a new bank in Erie and the home of its CEO or "Cashier" William Benson and family. It has been recently restored by the Erie Downtown Development Corporation and currently houses an upscale steakhouse, Bricks at the Cashier's House.
3. Old Public Library
27 S. Park Row. Built in 1899
This building, constructed in the Italian Renaissance style, served as the Erie County Public Library from 1899 until 1996 and is currently part of the Federal Courthouse complex.
4. Charles M. Reed Mansion
524 Peach St. Built in 1848
Grandson of one of Erie's founders, Charles M. Reed was one of Erie's wealthiest citizens and was a brigadier general in the Pennsylvania militia. In 1905, after the death of Charles's wife, the home became the Erie Club, which it remains to this day.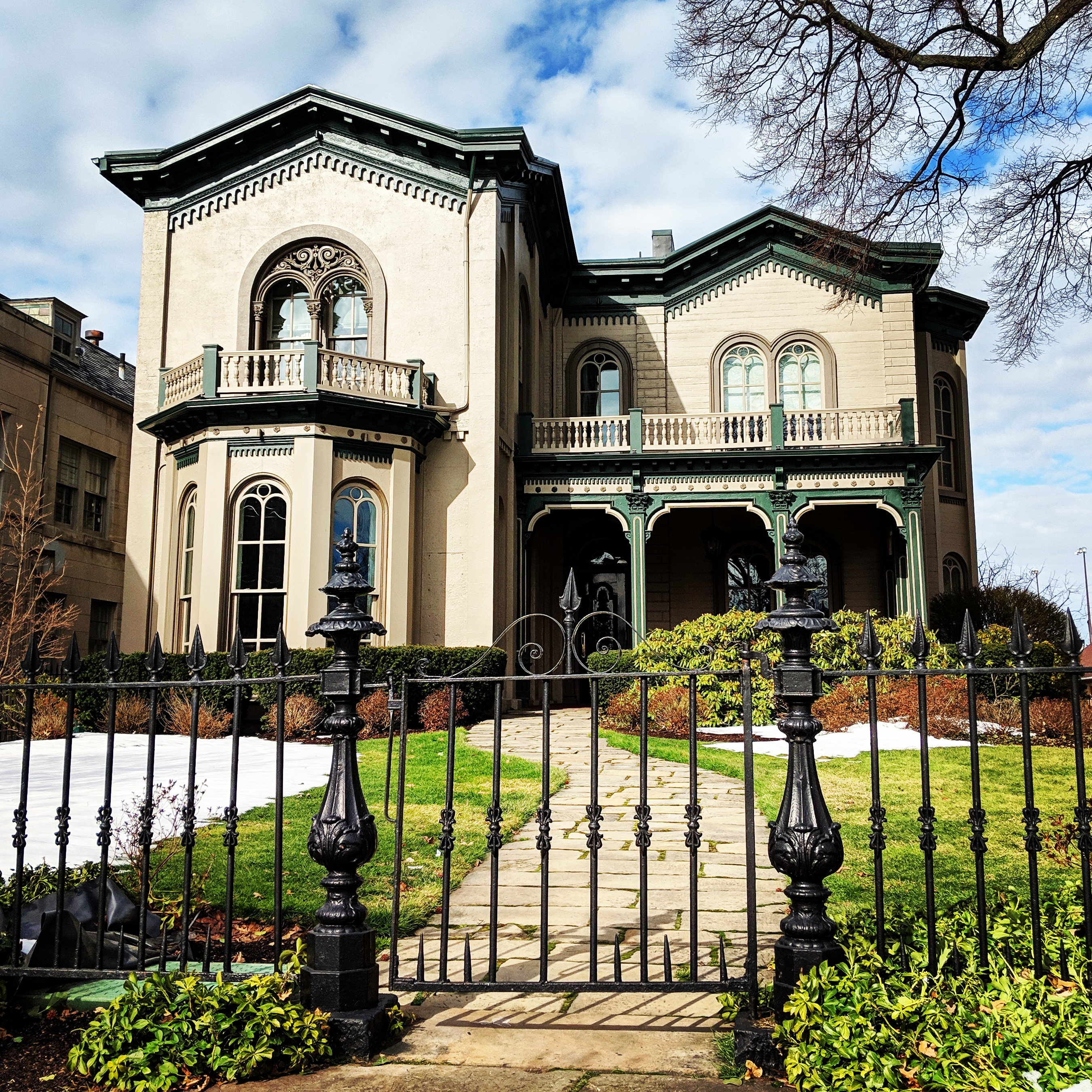 The John Hill House at 230 W. 6th St. (Photo: Erin Phillips)
 5. John Hill House
230 W. 6th St. Built in 1836
Unique in style and preservation, this home was built in a transitional style between Greek Revival and Italian Villa. Originally owned by P.S.V. Hamot (of hospital repute), John Hill was a renowned architect and contractor in Erie.
6. Downing Galbraith House
259 W. 6th St. Built in 1892
Richardsonian Romanesque in style, this immense structure was built at the request of J.F. Downing, a prominent business and civic leader, as a wedding gift for his daughter Winifred. This is now home to the Women's Club of Erie.
7. Alexander Jarecki House
305 W. 6th St. Built in 1913
Architecturally unique and taking influence from a number of styles, this period revival home was once the dwelling of Alexander Jarecki, whose family were prominent manufacturers in Erie. This home was recently restored by the HEPT.
8. Selden House
318 W. 6th St. Built in 1892
This home was constructed in the Victorian Eclectic style for the Selden sisters. The Selden family were prominent manufacturers who started (among others) Selden and Griswold Manufacturing (later known as Griswold Manufacturing), which made the famous cast iron cookware. This home was recently restored by the HEPT.
9. Canalside Rowhouses
328-330 W. 6th St. Built in 1875
Built in the Second Empire Style (note the signature Mansard roof), these homes were built in the space where the Erie Canal would have flowed only a few years earlier. The canal was closed over in 1871. These homes were recently restored by the HEPT.
10. Wood Morrison House
338 W. 6th St. Built in 1849
This Italianate style house was once home to two pivotal people in Erie's history: Dr. William Wood, who was the first Surgeon General of the United States, and William Morrison, who was the last captain of the U.S.S. Michigan/Wolverine. This home was recently restored by the HEPT and is part of the Hagen History Center's campus. One can tour inside with the purchase of museum admission.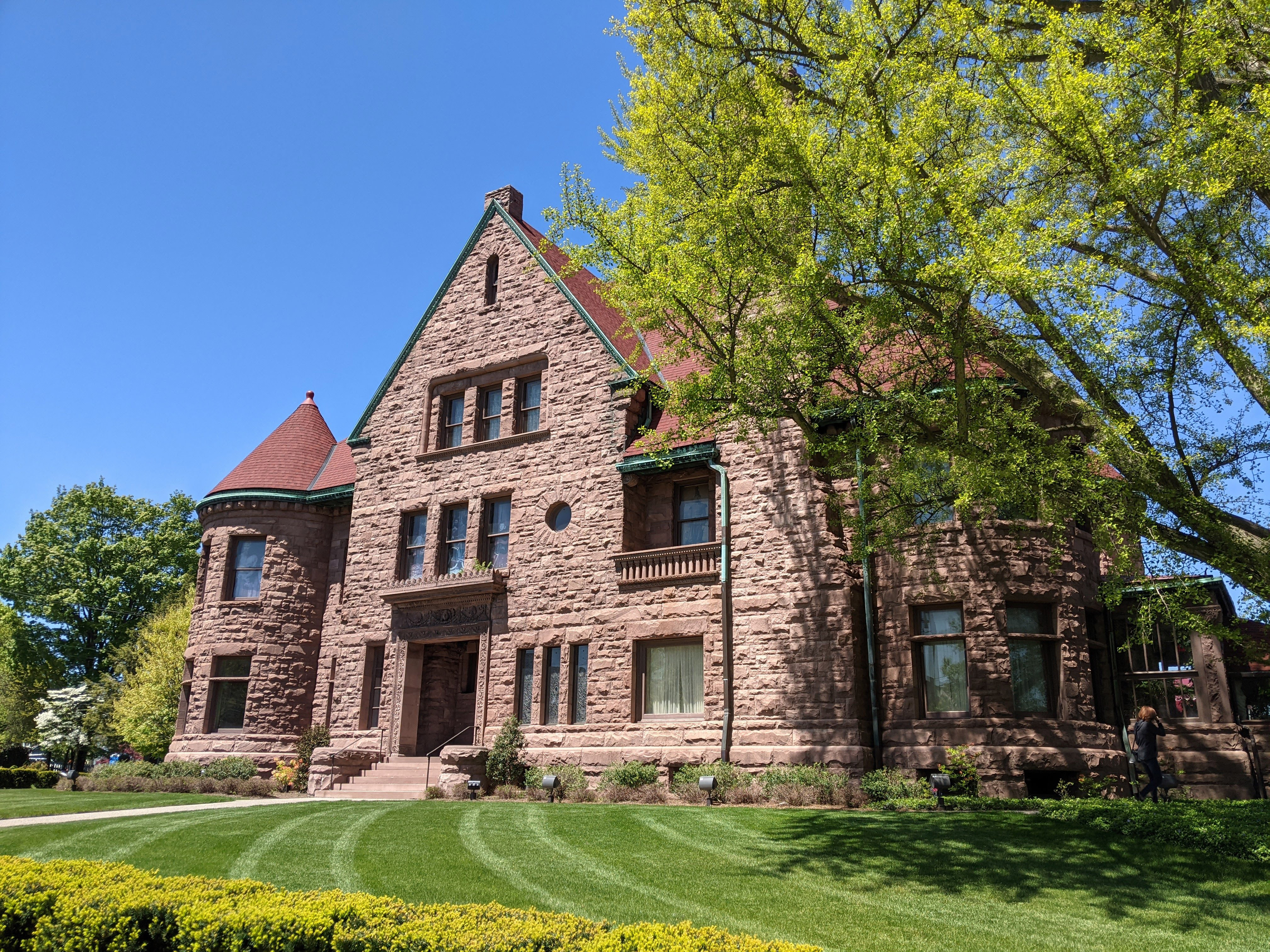 The Watson Curtze Mansion at 356 W. 6th St. (Photo: Erin Phillips)
11. Watson Curtze Mansion
356 W. 6th St. Built in 1891
Two families (the Watsons and the Curtzes) lived in this mansion from 1891 to 1941, after which the building was donated to the people of Erie as a museum. The home was built by local manufacturer Harrison Watson (roofing and industrial supply). This building is now the home to the Hagen History Center and is open for tours.
12. Albert Scheidenhelm House
456 W. 6th St. Built in 1925
This Craftsman style house was designed by the same architects who designed the Old Public Library building (Alden & Harlow). Albert Scheidenhelm worked for the William Scott Coal Company and lived in the home until his death in 1960. This home was recently restored by the HEPT.
13. Julius Siegal House
459 W. 6th St. Built in 1906
This well preserved house was built in the Beaux Arts Classicism style by Julius Siegal, who was a partner with Erie Oil Works. This building (as well as what was known as a "barn" in the rear) is now home to the Erie Community Foundation.
14. Addison Leech House
462 W. 6th St. Built in 1872
Another great example of the Second Empire style of architecture, the namesake of the Addison Leech house was a real Renaissance man. Dabbling in farming, real estate, milling, civic duties, management, the Civil War major ultimately landed in the grain elevator business. This home was recently restored by the HEPT.
15. William Spencer House
519 W. 6th St. Built in 1876
This home was built by prominent Erie banker Judah Colt Spencer for his son William in 1876. It is a great example of Stick Style architecture, and has been well preserved. Note the roof cresting, decorative exterior woodwork, and brickwork. This building is currently a bed and breakfast.
16. Jarecki Collins House
620 W. 6th St. Built in 1923
Right across the street from Erie's first planned subdivision in Garden Court, this home was built as a wedding present for Alexander Jareki's daughter and is a great example of Tudor Revival architecture. This home is currently a private residence and was recently restored by the HEPT.
We would like to thank Preservation Erie for providing the historical information on the properties listed. They are a non-profit dedicated to preserving the built history of Erie and can be found at preservationerie.org