Pennsylvania's "Most Dangerous Cities" -- Where does Erie fall?
Sometimes we all need some perspective from the outside to understand the inside.
October 8, 2014 at 9:44 AM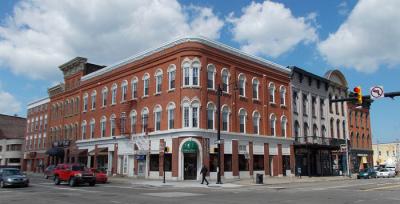 BREAKING NEWS: Erie is not one of Pennsylvania's "most dangerous cities."
According to Home Security Shield -- a company that, as stated on its website, "combines top level surveillance and the best equipment in the business to ensure superior protection" starting at the low, low cost of just one dollar per day -- Erie didn't make the cut when it comes to calculating both violent and property crimes. The data the organization used to compile its list -- perhaps in hopes of encouraging the residents of the various cities listed to purchase its services to be/feel safer -- came from the most recent FBI Uniform Crime Report. The ordering of the top-ten, though, as they note, was based solely on violent crime.
You can check out the findings for yourself here, with Chester taking the No. 1 spot, the Keystone State capital ranking at No. 5, the City of Brotherly Love coming in at No. 8, and Reading closing out the top-ten.
But there's no Erie, Pa. listed.
The takeaway? On the simpler side: Compared to other Pennsylvania cities, we experience less crime; ergo, we're safer. Easy to get, right?
On the more complex side: Perspective is good for us, because looking at the outside can often help us better understand the inside. So maybe we're safer than we thought, right? 
The even more complex side: We shouldn't look to this as the single answer to or report on Erie's recent rise in crime problem.
Anyone looking at the numbers will see that 80 percent of that list includes cities with a population fewer than 50,000, with Duquesne having the lowest at 5,586. The 20 percent higher than 50,000? Reading with 88,557 and Philadelphia with more than 1.5 million, which makes Reading the only comparable city by population.
The bottom line: It's not all doom and gloom when Erie makes the list for unhappiest, most drunken cities in America, because we're also not making lists like this regardless of population (the FBI data took into consideration cities with a population greater than 5,000). But it also means that if we want to stay off lists like this one, we need to keep working to address crime everywhere throughout our city and continue to embrace, support, and encourage our success stories that find national audiences.
Because like I've said before -- and I'll say again -- Erie has a bright (read: safer, less impoverished, more vibrant, promising, overall improved) future if we take note, pay attention, and roll up our sleeves to get to work. 
Ben Speggen isn't a crime expert. He saw the original post from Home Security Shield on Facebook and thought it worth sharing in the context of Erie's future -- something he believes in, fights for, and encourages you to do the same. You can email him at bSpeggen@ErieReader.com and follow him on Twitter @ERBenSpeggen.