Q & A: Kopecky Family Band
Alex Bieler headed out to the Beachland Ballroom and Tavern in Cleveland to check out the on-the-rise, instrument-sharing, harmony-loving indie sextet.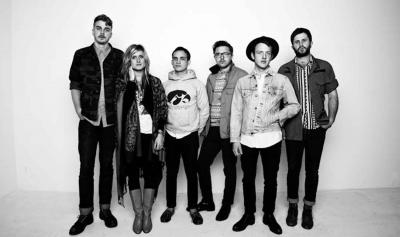 On a rainy Friday night in Cleveland, my trustworthy part-time photographer/full-time girlfriend Carly Lyons and I went to a sold-out family gathering. No, not a Bieler family get-together, but a reunion of sorts with Kopecky Family Band.
As some of you Reader readers remember, the Nashville, Tenn.-based band has graced our pages before, with member Gabe Simon dropping a few lines in last summer's Summer Music Festival cover story and our review of their debut LP "Kids Raising Kids." Well, I decided to head out to the Beachland Ballroom and Tavern in Cleveland to check out the on-the-rise, instrument-sharing, harmony-loving indie sextet on the stage and snag an interview with them about Ty Pennington, Tony Packo's in Toledo, Ohio, and being a family.
Alex Bieler: Recently you guys signed on with ATO Records, the same label as My Morning Jacket and Alabama Shakes. What's that like?
Corey Oxendine: It's pretty surreal man – it's awesome. We're on a roster with bands that we've respected for a long time.
Gabe Simon: We're just getting started, too, so the sky's the limit right now. We have no idea what to expect, so we hope for great things.
AB: My girlfriend was actually creeping on you on Twitter, because, like me, she's also good at it, and she saw that Ty Pennington is a fan.
Kelsey Kopecky: Yeah, he came to our show when we were playing in this festival called the Savannah Stopover. He is a musical friend of ours through the guy who produced "The Disaster." Long story short, he got our music awhile back, so when we met it was really funny, like, "Wait, you're on television." He was just like, "I just love your band, I can't wait to see you guys." And the whole time, he's just snapping pictures of us, and I was like "Move that bus!"
AB: So,  are you all originally from Nashville?
Steven Holmes: None of us, actually. We all went to university there. Most of us met freshmen year at Belmont, and it blossomed from there. We all came from different parts of the country – I came pretty much to Belmont from the Philippines. My family's all based in South Carolina. Gabe's family is originally from Ohio, but he grew up in South Carolina.
AB: Where at in Ohio?
GS: Toledo.
AB: Ah, Tony Packo's. I'm originally from Cleveland.
GS: I was just at my brother's house and we open up his fridge, and he's just got jars and jars of Tony Packo's pickles. My dad ships them to my wife and me.
SH: Kelsey's from Minneapolis, Minnesota and Corey is from North Carolina; our drummer David [Krohn] is from Denver, Colorado…
AB: So you all can pretty much draw a big circle around Belmont and just came right to the middle.
SH: Literally, we were all drawn to the same school, the same city, state, but I don't think any of us were going there to start a band.
GS: All of us came there for different reasons. I never thought I'd be in a band. I was moving to Nashville to be done with playing music and start being in business. Kelsey had been a solo artist; Steven was looking to get into the music industry.
CO: Markus [Midkiff] and I wanted to be session players. I was a country guitarist before I joined this band.
GS: Look at how hip he is now! [Laughs]
CO: I was hip back then – I was the hip country guitarist.
GS: We made him throw out his Affliction T-shirts.
CO: Ha ha ha…
AB: So you all come together and created this family. It's very inclusive and your music comes off that way. I've heard a couple of people describe your music as a modern take on Fleetwood Mac and another as rousing folk-pop.
KK: I would love to say a modern version of Fleetwood Mac – that's such a compliment, but the Stevie Nicks is a little much to say of yourself. What I love about our band and the way we've progressed over the years is the ability to really let the ownership from yourself as an individual be put on the table and let's just really write songs together. Let's share the bass, let's share the lead vocals, let's share harmonies.
GS: Let's share the music.
KK: Yeah, just really letting it be whatever it is. I think the writing process, with each record from "Embraces" to the new record, it's been little time capsules of where we were as people and as songwriters and what we were learning and thinking about. I love that freedom.
AB: So, how do you write together? Is it collaborative or do you different things?
CO: It's definitely changed over time.
SH: The way that I've been viewing our writing is like a really cohesive amalgamation, like everybody's strengths and weaknesses. Like Hungry Hungry Hippos, just shooting their food back out at everybody. Honestly, everybody in this band is a really unique musician.
GS: It's vulnerable. It's not saying no to anything right off the bat and that's hard for some of us. Like me, when we come forth with that first initial grain of a song, it's hard to realize that that song can turn into something completely different when you grow to care about it so much. Now when we've been doing it for so many years, we're able to just throw it out. Yes, there is still some discomfort, but letting it go and knowing that the song is going to be way better with these six opinions, it's part of the whole family aspect.
SH: We're business partners, yeah, but we know so much about each others struggles and desires. We annoy each other, we get into fights, but at the end of the day, we all love each other and we're working toward the same goal.
GS: A picture in my head that's very beautiful is that when I got married back in September – [Corey] is running the camera, [Steven] is ushering people, David is ushering, [Kelsey's] greeting people and welcoming people, [cello player] Markus [Midkiff] is up on the balcony playing cello with my uncle. These guys are the first people I go to for everything. For the most important day in my life, who else do I want to share it with? 
Want to be part of the family? Check out Kopecky Family Band Thursday, May 9 when they swing through Club Cafe in Pittsburgh.
Alex Bieler can be contacted at aBieler@ErieReader.com, and you can follow him on Twitter @Catch20Q.