Q&A with The Romantic Era's Connor Kimball, Plus the Video for New Song "Forever"
The Romantic Era's Connor Kimball talks about the band's musical direction, lineup changes, and having a team mentality. Plus, be one of the first people to check out the video for new song "Forever."
December 19, 2014 at 9:00 AM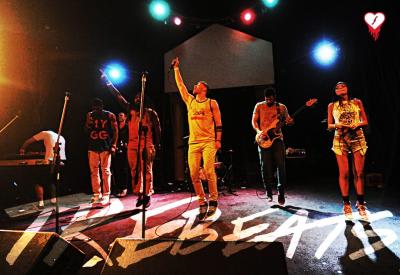 The Romantic Era has been treating its fans this holiday season, putting out new music for the first time since the release of 2012's Even if Your Voice Shakes. We have already seen the release of first single "Alone," but now The Romantic Era has a new track out entitled "Forever," and you can be one of the first people to see the video. We caught up with TRE singer Connor Kimball to chat about the band's latest direction, a new lineup change, and to celebrate the release of "Forever."
Alex Bieler: What sort of direction is The Romantic Era taking with the new songs?
Connor Kimball: We bridged the gap a little bit with our last album Even if Your Voice Shakes going from pop-rock to more of a pop sound. We started with a lot of elements of rock and the newer material is even more pop and it has more of the electronic and hip-hop feel to it that we were going for with Voice Shakes and we finally have culminated with that sound in the new music. We were excited about the "Alone" single coming out and the new song "Forever" [Ed. note - it's embedded below!] and making in the standard of a pop song.
AB: Did using all of those elements come naturally to you and the band, or was it something you had to get used to?
CK: It's definitely a natural thing. Being that there are eight members in the band, there are a lot of ideas there. We all have this vision of making a pop song and centering it around the vocals, but everyone adds their own vibe to it. Some guys are interested in hip-hop, other guys are interested in electronic stuff, and it really helps to bring that together.
AB: It fits with the fact that seven out of the eight of the members were NCAA college football players. Does the band have a team mentality?
CK: That's exactly it. That's really helped us with work ethic and how much time we put into it on top of working jobs. This really has to be a full-time part of your life and that's added to the energy of it. We have that team mentality where we're doing this together and we don't have that many egos involved. It's like "let's get the best product that we can get togther," you know?
AB: You have three new elements with Christa Schonthaler, Levar Goff, and Rakim Ellis. What have they added to the dynamic?
CK: We had a female vocal feature on the last album and we were interested in exploring that, and Christa has really brought her own flavor, her own writing style, and a pretty amazing tone to our music and it's allowed us to do a lot more experimenting with different keys and raising the bar on certain runs, so it's allowed us to search outside of Parris [Williams] and my vocals which we had on the last album and do a lot more. We can almost write any type of song because we know that one of us are going to be able to sing it, so that's been a cool thing to explore writing-wise. Levar does all of the emceeing and he brought his own flavor. On the last album, we did a bunch of features where we send the track out and get something back, but now that's in-house, so we have a little more control over it. And Levar is on the same page as us, so it's very thematic with the song as opposed to throwing a song out there and hoping to get something back with a feature, so that's really developed the hip-hop aspect. Rakim also has that vibe, too, where he writes a little bit of the hip-hop stuff as well, so we have two guys there that are bringing that flavor and style, so that's really helped to gain control over that part of our music.
AB: Given all of the lineup changes, have there been any issues, such as you being used to working with a certain crowd and bringin in a new team.
CK: You mean with our fanbase?
AB: Either with the fanbase or in-house.
CK: We've always had a good relationship with the guys who have been in and out of the band. We've had several different lineup changes and we're still really close with the guys who have left. It's definitely a different vibe, but we're still bringing that same energy and doing the same things, but it brings a different personality and a different mindset to our approach to music, which pushes us to be more creative at that point. It's been a nice step in the right direction for us. There's a little different of a vibe, but it's been a nice thing as far as I'm concerned.
AB: Have you ever been tempted to change the band name to something like The Baroque Era whenever you have a big lineup change?
CK: [Laughs] No, I think we're pretty set with The Romantic Era, but who knows? It could go into something classical like baroque. I love that.
AB: One thing that is intriguing to me is how the new songs have a lot of different elements to them. How does that translate live? Do you write with the live show in mind or do you worry about that after writing a song?
CK: Sometimes when we're working on something, we'll be think "Oh, this will be really cool to do in a live performance," but we go into song writing to make a really awesome record and then we figure out how to translate it when we finish the product in the studio. We always like to perform our high energy stuff; it's just how we like to perform. We have material that is slower and we have material that will be more ballad-like, but we've always performed our high-energy stuff and we like to write high-energy. That's just the people we are and the personality that we have, so I think it just translates naturally and we don't have to think about it.
AB: You have the new song and video for "Forever" that just came out and then you'll have a few more coming out in the future as well, correct?
CK: We're planning to do two or three more through January and February. We have a lot of unreleased stuff that we've been itching to get out there and we're working on stuff constantly. We're excited to finally be putting stuff out and seeing the reaction and get some feedback.
AB: Is there a date for a new album?
CK: Right now we're just going to release them as singles and then if we package them late, that will be a decision we make in a couple of months. Like I said, we have a lot of unreleased stuff that we're going to put out as singles with a video for each one, so we're excited about marking it a little bit differently than an album.