Street Corner Soapbox: The Case of Bubba Startling and MLB?s New CBA
A good deal for baseball or profiteering at its worst? Jay Stevens takes a crack at Major League Baseball's new CBA.
December 8, 2011 at 9:00 AM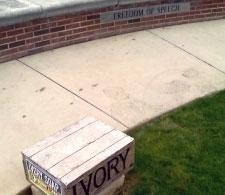 Maybe you've heard of Bubba Starling. At 6-foot 5-inches as a senior at Gardner Edgerton High School in Kansas, Starling led his team to a 33-4 record over his three seasons as starting quarterback, racking up over 8,000 yards in total offense, including 97 touchdowns. He was ranked as one of the 10 best high school quarterbacks in the nation by ESPN, and this summer signed a letter of intent to play quarterback for the Nebraska Cornhuskers.
But don't look for Starling at Memorial Stadium in Lincoln. He's not there. Instead, he was drafted and signed by the Kansas City Royals. He's playing professional baseball. Why? A $7.5-million signing bonus lured him from college. And baseball fans should be excited. Baseball Prospectus' Kevin Goldstein called him a "monster athlete," who, if "every tool actualizes...becomes the best player in baseball."
Enjoy watching Bubba Starling because he may be one of the last multi-sports athletes you'll see in baseball for some time thanks to the new MLB collective bargaining agreement, or CBA.
The CBA has put a cap on expenditures on draft signing bonuses – essentially limiting the money teams can pay top draft picks to forgo college or a different sport.
The idea behind a cap on draft picks is to make small-market teams more competitive with the sports' 700-pound gorillas, like the New York Yankees or the Boston Red Sox. The problem is that small-market teams have been using higher signing bonuses to lure higher-ceiling talent to the sport. Two of the bigger players in the draft market this year were the Washington Nationals and the Pittsburgh Pirates. And it was Kansas City that lured Bubba Starling from his glamorous quarterbacking future.
Those small-market teams pay out more in signing bonuses precisely because they can't compete with the big-revenue teams on the big-league free agent market – instead of paying the Carl Crawfords of the MLB $20 million a year to play, they gamble on the draft and hope to develop talented players instead. Meanwhile, high-school players will now more likely opt for college baseball programs, where they risk injury playing for free in order to pad the coffers of university athletic programs.
Worse still than the cap on draft signing bonuses is the CBA's cap on international signings. That cap's biggest victims are the amateur players, especially in places like the Dominican Republic where players have few options besides professional baseball. Certainly not college.
But don't look to the players' union for sympathy. They're already in the big leagues and making decent money. By agreeing to curtail money spent on amateur players, they're ensuring more money is at play in the major-league free-agent market. They're protecting their own turf.
In short, the CBA is a kind of modern-day profiteering at its worst. It benefits those at the top – especially the owners – at the expense of those with the least amount of power in the transaction: unsigned amateur players, especially in Third-World countries. The owners get richer, and the rich players get richer, but the game gets poorer.