Street Corner Soapbox: The Kill List
There?s a panel. Allegedly, a subset of the White House National Security Council. It meets in secret. Operates outside the law. And it has Jay Stevens concerned.
October 13, 2011 at 9:00 AM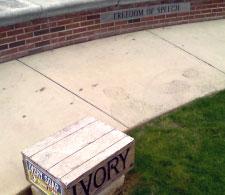 Last week, it came to light that a secret panel made up of government officials creates a ?kill list? of US citizens for targets of CIA assassination. The panel ? allegedly a subset of the White House National Security Council ? meets in secret, operates outside the law, and deliberates on no known set of rules or guidelines.
It's this panel that recently approved the killing of US-born Anwar al-Awlaki, who allegedly recruited American-born Muslims for al-Qaeda and the Taliban, including Fort Hood shooter, Nidal Malik Hasan, and Christmas Underwear bomber, Umar Farouk Abdumutallab.
I write, ?allegedly,? because al-Awlaki never faced a prosecutor, never had a day in court, and the evidence against him was not judged by a jury of his peers, as is his right as a citizen of the United States.
al-Awlaki may have been guilty of the crimes he was accused of. He may have been as terrible and malicious as depicted by government terror experts. But we'll never know because he was convicted and sentenced to death by a secret panel of Washington, D.C. bureaucrats.
But was his killing unconstitutional? Not according to the legal advisers of President George W. Bush. John Yoo ? author of the infamous ?Torture Memo,? which argued the government has the right to torture terror suspects ? wrote that the Fourth Amendment, which protects Americans from unreasonable search and seizure, ?had no application to domestic military operations.? According to Yoo, in time of war, no Constitutional amendment prevents presidential action to defend the nation from a threat ? and, conveniently, it's up to the president to define when we're at ?war? and what a ?threat? is. In short, Yoo argues that a president can do anything he wants whenever he wants to, as long as he can justify his actions as war-time measures.
It's this legal reasoning Obama has adopted from the previous administration to set up the secret death panel and assassinate al-Awlaki.
According to current legal precedence, however, Yoo's way off base. In Youngtown vs. Sawyer in 1952, the Supreme Court ruled that the president had no power to seize and operate striking steel mills during the Korean War. ?The President's power, if any, to issue the order,? went the majority opinion, ?must stem either from an act of Congress or from the Constitution itself.?
?The experience through which the world has passed in our own day has made vivid the realization that the Framers of our Constitution were not inexperienced doctrinaires,? wrote Justice Felix Frankfurter in the ruling, ?These long-headed statesmen had no illusion that our people enjoyed biological or psychological or sociological immunities from the hazards of concentrated power....?
It would seem, then, that the president, even in time of war, must obey the law.
But, of course, the current crop of conservative justices in the Supreme Court live to overturn decades- and centuries-long precedence. It was this same court that bestowed personhood and the right of unlimited political spending on corporations; that approved voter registration photo identification laws while acknowledging it targeted a particular, partisan demographic ? the poor and elderly; and upheld the centuries-long practice of habeas corpus by a single vote in a 2008 case.
If Justice Anton Scalia is any guide for how the Supreme Court would today rule on a secret administration program to assassinate Americans, the republic is in deep trouble. In a 2008 60 Minutes interview, Scalia was asked if the nation's torture program represented ?cruel and unusual punishment? ? which is unconstitutional under the Eighth Amendment.
?No,? said Scalia. ?Has anybody ever referred to torture as punishment? I don't think so.? Scalia elaborated: ?When he's hurting you in order to get information from you, you wouldn't say he's punishing you.?
Pretty ugly semantics, isn't it? Grabbing people and torturing them is constitutional because the government isn't arresting and prosecuting them for breaking a law. It's easy to see how this would apply to the government's real death panel, isn't it?
al-Awlaki was not a citizen accused of wrong-doing, his death not a prosecution, but a government response to a ?threat? in time of ?war.?
?The accretion of dangerous power does not come in a day,? wrote Justice Frankfurter in 1952 in war-time conditions much worse than today. ?It does come, however slowly, from the generative force of unchecked disregard of the restrictions that fence in even the most disinterested assertion of authority.?