The Big Trade a Winner for Detroit
The Tigers made a big trade. Which was good.
November 22, 2013 at 3:28 PM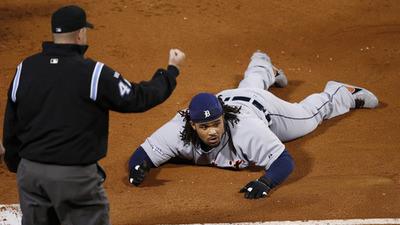 Did you see the big trade? The Tigers swapped first baseman Prince Fielder and $30 million for Rangers second baseman Ian Kinsler.
I'll let you mull that one for a minute.
Done? Hell, yeah, that's a big trade, with millions in contracts swapping teams, and a good-old-fashioned trade of need for need, and transforms both teams.
But before I get ahead of myself and talk about the trade and the teams' transformations, there's the Tigers' 2013 season to think about. Which is as important to this trade as is the future of both clubs.
To wit: the Tigers had an amazing season in 2013. A really remarkable, crazy season.
For starters, Detroit took home the big two awards when Miguel Cabrera won the AL MVP and Max Scherzer won the Cy Young. That last time one team contained both the Cy Young winner and the MVP (that weren't the same person) was 2006, when Minnesota's Justin Morneau and and Johann Santana won the awards.
Okay, it's a feat that has happened with surprising frequency. This year marks the 19th time it happened in baseball, starting in 1957 when Hank Aaron and Warren Spahn won the awards while with the Braves. Heck, in 1990, it happened in both leagues, when Oakland (Rickey Henderson/Bob Welch) and Pittsburgh (Barry Bonds/Doug Drabek) won the awards. Well, it's not all that surprising considering that narrative, not merit, wins awards – especially the MVP – but that's a topic that's been beat up plenty. Heck, I wrote a column about this last year. But still, it's pretty cool when a single team has both the best pitcher and position player in the league. Even if maybe they aren't.
Led by Miguel Cabrera's amazing .348/.442/.636 batting line (and, look, we know he wasn't the best player in the AL in 2013, but as Pos points out, it wasn't as if he didn't have an MVP-quality season), the Tigers led the AL in batting average (.283) and hits (1625), and were second to Boston in runs scored (796), OBP (.346), and SLG (.434). They were well-rounded, too, and had better-than-average hitters at first, second, third, short, center, and right.
But also, and more importantly, Detroit in 2013 may have had the best starting rotation in baseball – of all time. Anyway, that was the chatter in May, and even though things normalized between then and the end of the season – the Tiger rotation's home-runs-allowed rate rose, for one – the rotation of Justin Verlander (3.46 ERA, 1.31 WHIP, 8.9 K/9), Max Scherzer (2.90, 0.97, 10.1), Doug Fister (3.67, 1.30, 6.9), Anibal Sanchez (2.57, 1.15, 10.0), and Rick Porcello (4.32, 1.28, 7.2) was one for the ages in its run-prevention ability. And this coming in a home part that's slightly hitter-friendly, and with a defense that...well, with a bad, bad defense. And that's with Verlander's worst season in a half-decade.
It was a historic year by most standards! An amazing year.
And yet...
The Tigers won only 93 games in 2013. They won a division largely because of the happenstance of geography. The AL Central is arguably the worst division in baseball, and the Tigers, despite their hitting and pitching beat out Cleveland – Cleveland! – by a single game. A game or two added to the losing column, and the Tigers might not have even made it to the postseason.
Well, there are a lot of reasons for this, but you don't have to look far or deep to find some fatal flaws on Detroit's squad last year.
There's that defense. By UZR, the Tigers were 20th in baseball. Their corner infielders – Cabrera and Prince Fielder – were by many measurements the worst defenders at their position. Imagine how effective the rotation would have been with Jose Iglesias at short for an entire season!
There's the bullpen. Beyond Joaquin Benoit and Drew Smyly, the Tigers' relievers were poor. Were terrible, atrocious, bad.
There's the baserunning. No Tiger stole10 bases in 2013. But then baserunning isn't just about stealing bases – and stealing successfully at a high rate. In baseball games, taking extra bases matter, as does avoiding double plays, and pickles and getting picked off. All that follows under baserunning, and in 2013, the Tigers were by Fangraphs measurement, worst in all of baseball at running the bases.
In fact, if you had only six Tigers' games to watch this year to see all of Detroit's baseball skills and flaws, you'd watch the ALCS against Boston.
In that series, Detroit starters were good. Scratch that. Great. No, scratch even that. What adjective to you use for the Detroit starters' accomplishments in that series? In six games through 39 and a third innings, Detroit starters gave up only nine runs -- that's good for a 2.05 ERA. In that same span, they struck out 55 Red Sox batters -- and that averages out to slightly better than 12.5 strikeouts over nine innings. The Red Sox could do almost nothing against Scherzer, Fister, Sanchez, and Verlander -- and they had the best offense in the majors last year.
But the Red Sox won in six. Thanks mainly to piss-poor Detroit relief pitching, poor defense, and very poor baserunning. Remember Miguel Cabrera running through a stop sign at third? Remember Prince Fielder's belly flop on the third base line? Detroit in large part beat themselves.
So what does this have to do with the Fielder-Kinsler trade? Everything.
A big reason Detroit's defense was so bad in 2013 was that the Tigers signed Prince Fielder before the 2012 season. That signing pushed Miguel Cabrera off of first base and to third. That in turn blocked Nick Castellanos -- the former Erie Seawolves third baseman and one of the top prospects in the game. Fielder's signing prompted the Detroit organization to groom Castellanos for the outfield, which is where he's been playing for the past year or so.
So now it's all unjammed. Fielder is gone. Cabrera will slide back to first -- where he's a much better fielder. Castellanos or someone else will slide to third -- maybe they'll sign Jhonny Peralta to play third? And Kinsler is a decent defender at second.
This one trade has transformed Detroit's infield defense. In 2013, Fielder-Infante-Peralta-Cabrera was the worst in the AL, and that's with an above-average Omar Infante at second base. Next year's offense looks like it'll be Cabrera-Kinsler-Iglesias-Castellanos/Peralta/?: a dramatic upgrade in defense. Jose Iglesias may be the best defensive shortstop since Ozzie Smith, and is a major upgrade from Peralta. Anybody is an upgrade over Cabrera at third.
By projection systems, the defensive upgrade in the infield makes up for the loss in offense that accompanies Fielder to Texas. But with the money the Tigers save, the bet they're making that Kinsler's decline from age will be slower than Fielder's, and the suddenly unjammed infield, you got to think the Tigers made a good deal here...
...and you know the Tigers' pitchers are salivating at more than the thought of their Thanksgiving turkeys this year.