Theater Review: ?Sweeney Todd?
?Sweeney Todd? is now playing at the Erie Playhouse and runs through October 23.
October 19, 2011 at 1:00 PM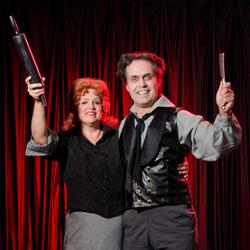 With only so much time left to celebrate Halloween (what, you don?t celebrate it for an entire month like I do?) the thrilling production of Stephen Sondheim?s "Sweeney Todd: The Demon Barber of Fleet Street," must be put on your to-do list.
The show opened last weekend at the Erie Playhouse, and the set could have been staged by Charles Dickens himself. Bring yourself to London, circa 1846. Life is bleak, poverty is rampant, and corruption is the rule?not the exception. With what I perceive to be inmates of an asylum?the musical opens as pale, emotionless faces, dressed in tattered clothing shuffle across the stage down the stairs toward the audience?one lone man in a straight jacket slowly hobbles out behind them, pauses in front? turns back, climbs over the ledge, and into the orchestra pit?where he picks up his baton.
A foreboding way of introducing us to a serial killer and his pie-maker accomplice?even the orchestra plays a role in this wicked culinary work. The masterpiece itself tells the tale of the unjustly exiled barber who returns to London seeking revenge?and will kill anyone in his way.
Residents of a mental institution run rampant chanting ?the tale of Sweeney Todd?, throughout the production. Sweeney, a role completely etched in song, which demands?and receives?a true vocalist, is played by Ken Brundage. His presence?glazed over eyes and a shadowed complexion?most likely from the years of haunted nightmares that have plagued his life?is as dark as the production itself.
Mrs. Lovett, played by Trisha Yates, mirrors the life of Jekyll and Hyde ? by developing two distinct personalities in one role. She?s the bubbly, caring, and sweet?yet cannibalistic pie-maker who ultimately becomes Sweeney?s accomplice. She definitely stole most of the scenes through her wit, presence, and her vocal stylings. Collaboratively, through their diction and mannerisms, Yates and Brundage create a blissful/horrible relationship that seems too true to life.
Each cast member, from the beggar woman played by Amanda Hurd to Judge Turpin (now played by Bill Kemp), is intensely intertwined with each other ? more than they ultimately, and sadly, realize. [Interesting note ? Kemp was actually injured a few days before the show and Richard Davis, the Director stepped into the role for the opening weekend ? with only two days before their debut.]
The youngest actors on the stage, the angelic Johanna, played by Ellise Chase, and the mentally handicapped yet devout and loving Tobias Ragg, played by Luke Weyand, each went beyond expectation in their mainstage debut, giving riveting performances that could rival any actor with decades of stage experience. Tobias also becomes the unlikely hero at the end.
Overall, the production is sinister, mischievous, and intense, a piece riddled with humor and completely covered in blood. The show runs Thursday through Sunday through October 23. For a list of times and details, go to: www.erieplayhouse.org.
Sweet dreams, Erie.