Tyler Titus Is Listening to Erie
A talk with the candidate for Erie County Executive on their plans for office
September 1, 2021 at 12:00 PM
In December of 2020, Erie County Executive Kathy Dahlkemper announced that she would not be seeking a third term in office. This was big, as it opened up the field for both Democrats and Republicans across Erie County seeking the top office. The May 2021 municipal primary had weight to it. On the Democrat's ballot were Carl Anderson, Rita Bishop, Dylanna Grasinger, and Dr. Tyler Titus. When all the votes were counted, Titus bested Anderson (who seemed the likely favorite) by just over 200 votes.
It was a well-earned victory. Over the last year, Titus (they/them pronouns) has built up a strong grassroots campaign, knocking on doors and talking one-on-one with the voters of Erie County. Most of all, Titus is listening. They want to know what the people want, not just the voting Democrats, but everyone, especially those who have been historically underrepresented and left out of the conversation.
That conversation is, of course, getting more and more divided. After besting Shawn Wroblewski in the primary, Republican Brenton Davis won the other nomination for the role. Davis represents the other side of politics, an outspoken, Trumpian candidate who has built his platform on small government.
At no time was it clearer just how important the role of Erie County Executive was than in 2020. Because of the pandemic, Kathy Dahlkemper began a series of daily video conferences informing the public about the presence and spread of COVID-19 in our area. With the Erie County Department of Health as one of the major wings under her purview, Dahlkemper's leadership, involvement, and transparency helped guide Erie through unthinkable times. Erie needed that.
A 40 Under 40 honoree from the class of 2017, Titus rose to national prominence two years later by becoming the first openly transgender person elected to office in Pennsylvania. They were elected to the Erie School Board, later being named vice president, then president.
Titus is a Licensed Professional Counselor in the State of Pennsylvania, a trauma-informed leader, and public speaker. They have worked with the Erie County Office of Children and Youth (ECOCY) since 2007. They have a doctorate from the University of Southern California and hold a Masters degree in community counseling from Edinboro University, as well as a Bachelor of Arts in Marriage and Family Studies from Mercyhurst University.
Titus' prior experience in local government, both the city and the county, make them uniquely prepared to address concerns that might otherwise go unheard. As a social worker, Titus has a firsthand understanding of what Erie's government programs do, and how they can change lives for the better.
Titus knows the importance of bringing jobs to Erie and having them stay here. Titus knows the important infrastructure needs of the county, and how to properly allocate state and federal funds to make sure they go to the best possible places.
They know this because they've listened. They've heard your voice and will continue to listen to the needs of our population.
A recent poll by GQR showed Titus leading Davis 46 to 43 percent. While they are leading, that difference is well within the survey's 4.9 percent margin of error, making this a decidedly close race.
We talked to Titus about their campaign, and what's important to know before election day on Tuesday, Nov. 2
Nick Warren: Let's start with the basics. What made you want to run for Erie County Executive?
Dr. Tyler Titus: So, my story starts 45 miles south of here. And that's really where the seed was planted, that I was eventually going to run for something like this office. Being born into rural poverty, having my parents become foster parents, watching how much they struggled to get those kids' needs met through service providers because we were in a rural area. There just was nobody.
NW: And this is technically outside of Erie County?
TT: Yes, that was Crawford County. But my stepfather, being a logger, my mom working at the WIC office, and taking in these foster youth, watching them fall through the systems with schools and resources, it was frustrating. And then, this little five-year-old boy came to our house. We were around his 12th placement, he swept us off our feet, very quickly. And that was the first child my parents adopted. I still have his picture — I keep it by my desk — when he was on this boat that we were renting. And he's looking at us, he's got a smile. But I told him that I was going to do whatever I could to make sure kids didn't have to go through what he went through. And that literally started me down this trajectory. I became a case aide at Venango County and would transport youth. I learned the family systems from that angle. I would help break court reports starting at age 19. I then came up here for college to Mercyhurst, got an internship down at the Erie County Office of Children and Youth, and jumped in it from that angle. From an intern, I worked my way up to becoming an administrator over there. And it just solidified this understanding that systems work for some, and systems leave many behind. And I needed to do whatever I could to have a positive impact on changing those systems that were designed to help but were often causing harm.
NW: And this ties into your whole background in social work, which is not exactly the most common trajectory. How do you think that directly plays into it?
TT: I realized that there were so many barriers that prevented the families from moving forward and healing. Lack of access to gainful employment, because of crimes of property, lack of access to quality education, because they don't have great transportation, or again, crimes of poverty preventing them from getting loans. So you start to see that there were so many barriers in the way, for families to get up. Then as a social worker, I realized that I had to move from the microwork where I was at OCY [Office of Children and Youth] working at that administrative level, up to the macro work and really affecting the policy and the procedure that are keeping these systems in place that were holding people locked in.
NW: How did your role at the Erie School Board shape your positions?
TT: What it did was solidify my love for local politics. Serving on the school board allowed me to dive in and help address problems that people I work with, people that I know, that my neighbors are facing right now. And I can bring together real-time solutions for that. I saw this possibility that unfolded, being appointed vice president unanimously, then being voted in as president unanimously, that not only was I able to create solutions, but I was being seen as a leader guiding some of those solutions. And so that helped me forge this path forward. Being the president of a school board during a pandemic, there wasn't a lot of guidance. And we were really having to come together and navigate through things that no one ever has navigated through, making sure we were keeping the most vulnerable protected and safe, and making sure they still had access to education. What we learned during this pandemic is that there are huge inequities that we already knew about, but now that you can't unsee them, you can see what we saw during the pandemic. And that laid out that A) I wasn't backing away from politics, that now I was in it for the long haul. And B) That I needed to do even more to help more families. And so taking what I learned as the school board president, at that city-level and moving that into a county-level — being able to bring that same passion, that same momentum, that same commitment to building the Erie County we all deserve.
NW: You talked about how the position on the school board has evolved during the pandemic. Can you talk about how the Erie County Executive role has evolved? Because Kathy Dahlkemper in 2019, she wasn't on TV every day addressing a national crisis.
TT: Absolutely. So what we saw transpire right in front of us was the county executive who oversees public safety, which includes the Health Department that had to become the face of where we were getting our knowledge; the face of setting the tone, the vision, the mission, the face of bringing together those collaborative efforts. And we've now moved into this role, where the county executive is really leading at a much higher level. On the economic side, on the human services side, on the public safety side, and being a strong advocate down in Harrisburg, we've always had to do that. But now, even more than ever, that there's this funding that's coming out, there's the Infrastructure Bill. We've got to make sure that Erie County isn't just seen for the ways that we're behind, but the ways that we can move forward, and that we aren't being left out of conversations, and that we get to the money that we've been long overdue. One example being the Erie Public School District, which has been severely underfunded for decades. And it took a long time and a lot of people championing that movement to get passed through to Harrisburg. We can't let that happen at a county level. We can't sit this through. So if you're Kathy, and this role is moved into being the leader here in your county, but then also being a leader at the state level, you're fighting, because if you're not, another county is going to step up, another region is going to step up and they're gonna get it.
NW: If you were to win, what would your leadership look like there?
TT: My leadership would be one that is 110 percent behind the community college.
NW: And how would that differ from your opponent?
TT: So my opponent has been the opposition when it comes to the community college, single-handedly funding and starting a PAC against the community college and making that be the single point of his platform when he ran prior, as he launched his campaign that no county tax dollars or county money would go to supporting this community college effort. And where we vastly differ, is that we have needed a community college since we heard what community colleges were. We have been behind the eight-ball, we have lost millions, tens of millions of dollars because we don't have a community college. Businesses don't come, students don't stay. We don't have the access to immediate on-the-job training because a community college can pivot in ways that universities can't. Our universities here have lost out because the community college prepares the person who might not be ready to jump into that four-year university. It's a direct feeder system. We have tremendously failed the county by not having this already here. And what this brings in the level of possibility is literally only limited by our imagination.
NW: So, election-wise, how are things looking? Are you optimistic?
TT: I'm optimistic, and we're realistic. This has historically been a very close race. And we don't expect this one to be any different. And so we put in 200 percent every day. We wake up, and we go immediately to work. It's all strategizing, it's organizing. But most importantly, it's engaging, and it's listening, and it's following the message that we've heard throughout the primary, through now.
NW: So, if the polls weren't surprising, I think the primary may have been. I think some people expected different results. Can you tell us your thoughts on that night and beyond and how things have evolved since then?
TT: We were definitely written off by many who have been involved in politics for a long time here in Erie, saying that we were too young, we weren't ready, and that people weren't ready to hear our message. As we moved through the primary, that's not at all what we were finding when we were going out there knocking on doors. We did upset the system. We have shown that when you listen to voters, and you share the message that voters deliver to you, and you speak to the things that matter most to them, they respond. And that's exactly what we saw happen back in May, is that the voter showed up because we were showing up for them. We were listening, we were engaging. What is most historical and exciting about this, is the progressive forward-thinking message of this campaign was embraced, and people got excited about it. They're excited about the change.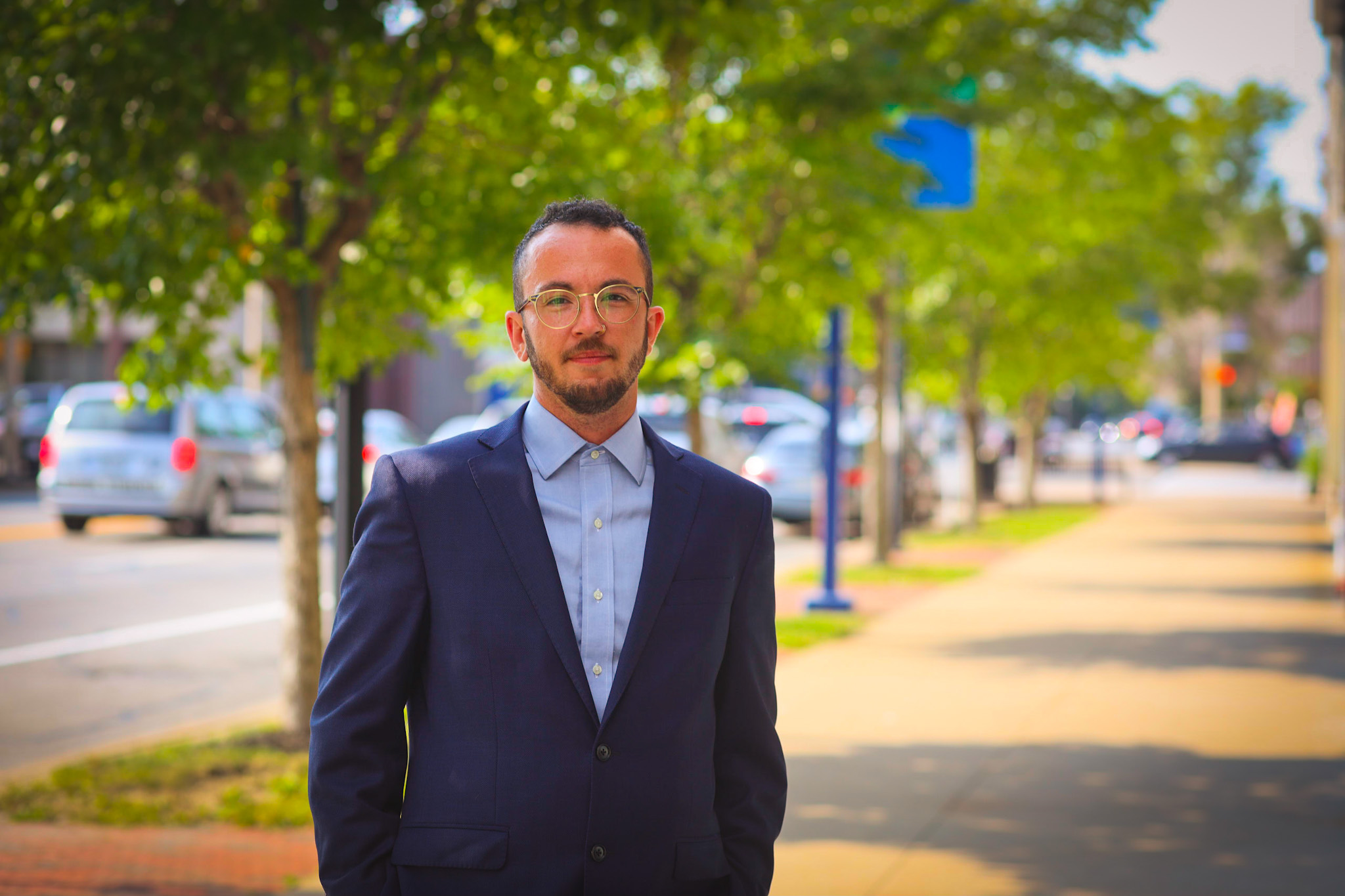 NW: If you win, what are the first three things you do?
TT: The first three things we do is to take a genuine look at the ways Erie was hurt during the pandemic — we have people who are still mourning the loss of loved ones. More loved ones will be lost during this pandemic. Jobs, dreams, small businesses who had to close their doors — how do we elevate those people? You have to look across the board, we're seeing drug use on the rise, mental health is declining. People are leaving, we just lost 3.9 percent of our population. Those are the things we have to immediately turn to. How do we improve the health of our community and our economy? Because we're hurting, we are a hurting county right now.
NW: Let me just directly steal this from one of my colleague Ben Speggen's favorite questions. If you had to sum up your campaign in six words, what would it be?
TT: [thinks] Creating good jobs. Fighting for everyone.
NW: Can we talk a bit more about the Infrastructure Bill and what that could mean for Erie County?
TT: What we see here now is an opportunity to invest in broadband internet, in transportation that connects — let's look at high-speed rail. We're in the hub, we're in the thick of it. So let's capitalize on that. Let's look at bridges and roads and urban design that promotes and creates walkability and usability. We don't have a downtown that's super friendly to bike riders, or to the millennials who want to call this space home. Talking to local groups, there are so many perspectives here and so many great solutions here.
NW: What do you think is the most forgotten department in Erie County?
TT: Public safety. Just looking at, you know, the radio system, the dispatch, how we respond. When we are in a state of crisis, the first place we call into is 911. And we have not done a phenomenal job of caring for the people who care for us. And then the Department of Human Services. There's been a lot overlooked there. We're seeing how those systems have inequitably affected Black, brown, and immigrant populations.
NW: What would you do directly, for those populations, and how would that be different from what we are doing now?
TT: A lot of this is advocating at the state level. Because what people don't understand is that so much of the legislature that dictates mental health services, drug and alcohol services, or OCY comes from a regional and a state level. But there are policies within those on how we hire, how we promote, and how we provide resources to the families that we're serving that we do have a lot of control over. What programs are we going to continue to utilize through all these organizations? Are they working? Are they helpful to people? Or are they causing more families to be broken apart? I think taking a genuine and serious look at that has to be done. That's absolutely a priority. Because when you're talking, again, when we're out there talking to families who interact with these systems, that's what we're hearing, that their voices aren't being heard or that their voices are being forgotten.
This interview has been edited for length and clarity. Nick Warren can be reached at Nick@eriereader.com.To learn more, visit www.tylertitus.com 
From the Archives: