Visual Experience: The Heart of Art: Recent Works by Fran Schanz
Francis T. Schanz is one of the most important artists in Erie. There, Luke said it. And he says a lot more. Read on, dear Reader readers, read on.
February 8, 2012 at 4:56 PM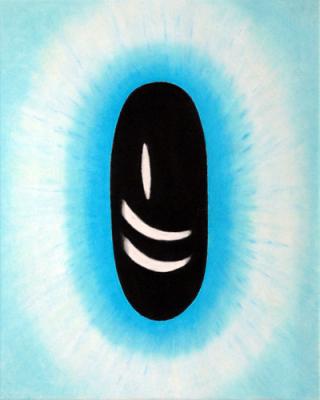 Francis T. Schanz is one of the most important artists in Erie. There—I said it.
He has been in more juried shows than just about anyone, and in awards he has is second only to Dan Burke. However his influence runs far beyond his own art. The Schanz Gallery, founded in 1986, was one of the premiere places to show locally, when it was an open venue to guest artists and the one place that you could see fresh up-and-coming experimental work without the establishment worrying about salability. He also is an accomplished art teacher, having taught at the Martin Luther King Culture House and having served as children's art instructor at the Erie Historical Museum in the mid to late '70s.
In 1977 Fran taught a painting class at the Erie Art Museum as a personal favor to John Vanco and then continued on for 34 years. Frankly, letting him go from his teaching position was arguably the single biggest blunder that the Erie Art Museum has ever made. I know several people who maintain that they have learned more about art from listening to Fran ramble than by any other means. Knowing that his avant-garde work would be a stumbling block to beginning students, he taught the fundamentals of art with an enthusiasm that is well-remembered by his former students, showing his own work to them only at the end of term illustrating that an artist can go in any direction once the basics of good composition are known and understood.
And go in other directions he does, from more classically recognizable drawing, to non-objective (works which have no reference to the real optical world) painting, to found objects even seeing the artistic potential in dryer lint. There is seemingly nothing in which his unbridled imagination will not find artistic potential. "Something as simple as red rust or a dark shadow may hold your interest," he observes.
What puts some people off, I think, is that his work is often just so darned playful and it flies in the face of the stodgy conviction that art is a serious endeavor relegated to dusty archives where the timid need never venture.
I believe that the essence of this work can be found in his early life. Fran was home schooled during first grade due to a childhood illness, and his Aunt Mary supplied him with pencils and crayons and his mother with white dry-cleaning bags to draw on to keep him occupied. Fran found that art was play, and it was the one thing he wanted to do. "I find it odd that without any negative connotations people play music, play sports, write plays, and play act, but art is artwork," he states.
And play he does.
Similar to a child making a squiggle pattern on a paper and then filling in all the shapes in different colors, Fran created his "Curiosity." Though the color palette is distinctly Fran, it is bridled by earth tones, which then makes certain shapes and colors more important and vibrant, though still a horror vacui (a composition filled with no empty spaces).
In the painting "Way Out," however, he creates a similar pattern, using it as kind of a chaotic tunnel with an opening to a peaceful space, like a gentle cloudy sky, inviting the viewer through to the other side. In "Eye Dazzler," the color is divided by chains of white running diagonally through the composition. Changing medium here, this is a silk screen, with the added fascination that the ink is not only Florissant, but glow in the dark as well.
This particular color sense, and playfulness can be seen again in "Vunderland," with similar, though softer edged shapes and a plush toy dog attached to the painting.
Fran cannot be restricted to one medium or color scheme. "Nozone" is a wood assemblage the type that he became known for early on and copied by others later. This is a composition of horizontals of differing kinds cleverly fitted together, off set with a strong circle, which then is repeated in a smaller sunburst and flower, all relating together as a harmonious and warm monochromatic whole. Another foray into limited color is "Vanishing Breede," a collage of dressmaker patterns in subtle tones, with strong lines and arrows placed to take your eye around the composition. There is just a hint of color, and time, to offset earth tones and complete the piece.
Many artists have a particular theme that they return to repeatedly. For Fran, it is an oval shape, variously described as a pill, a bomb, or, when bent, a kidney bean. This can be seen in such works as "Black Beauty," where the black oval gives off a blue aura; "Fleet," where four larger and one smaller black oval on a white background has a minimal Zen feeling; and "Soft Spot," where the now-bent shape resembles a blue and violet pickle on a bright red plate.
And there is more, so much more. But please do not get caught up in the trap of thinking that Fran's work must necessarily "mean" or "represent" anything. It is to be experienced, felt, and enjoyed. So go to Glass Growers Gallery to play (I don't think they'll mind).
This show continues until February 29 with a reception 7 to 9 p.m. February 17 at Glass Growers Gallery, 10 E. Fifth Street, Erie. Hours: Monday to Saturday 10 a.m. to 5 p.m. For more information call 453.3758. The book signing of "Francis T. Schanz: The Heart of Art," by Bob Hagle will be at the Erie Art Museum on February 17, 7 to 9 p.m.