Visual Experiences: The Art of Healing
Art heals. That?s no news to artists, but it may seem an audacious claim to others.
August 8, 2012 at 9:30 AM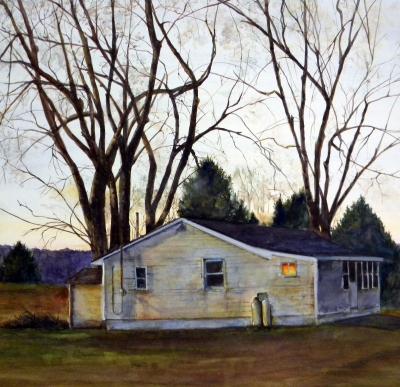 Art heals. That's no news to artists, but it may seem an audacious claim to others.
This healing happens on a number of levels. In part, it occurs because in creating art, one goes into a self-hypnotic state; time is suspended, pain subsides, positive suggestions enter, and one becomes hyper-aware of beauty. Art is also a means of discussing a trauma, and by doing so, it weakens trauma's hold.
There are as many stories of art-induced healing as there are artists. Take for example the artist who finds peace by painting a landscape out in the woods. Or the cancer patient who, as part of treatment, draws the cancer cells being destroyed and goes into remission. Or the abused child who opens up to talk about the abuse by drawing pictures. Or the rape survivor or the Post Traumatic Stress Disorder patient who is better able to work through the trauma when artistic self-expression is introduced as part of the treatment.
This healing is also not restricted to the artist. At the Minneapolis Institute of Arts, there is a bench in front of Rembrandt's "Lucretia" because so many people come for the express purpose of gaining a catharsis by sitting and being enveloped by Lucretia's sad gaze. Picasso worked through his feelings of the bombing of "Guernica," which became an anti-war rallying cry by those who have become enveloped by its message. Kathe Kollwitz created images of grieving and loss, and Gustov Potthoff paints his experiences as a POW in Indonesia exclusively, both transforming those who come in contact with their work. And it must be mentioned that there are a number of images from a number of religions that have the reputation of direct healing.
Having an art show for the express purpose of the healing nature of art seems natural for LECOM, which has as its base "integrative medicine." On my first visit to the building, I was given a tour by Kathy and Tyler Travis (mother and son) where I saw a lot of blue, certain shades of which have a calming and even joyful effect, and the "Zen Garden"—pretty though not very Zen looking—which has lighting alternating between pink, shades of which have a quieting effect, and green, which caries the connotation of life and healing. "You'll notice the size of our building in comparison to the hospital," Tyler said to me. "We have more people in our wellness center than in the illness center. And that's our goal, to keep people well. Here at LECOM, we're about the well-being of the whole person, mind, body, and spirit."
Kathy told me she discovered that she needed a procedure while her husband was terminally ill, and like many caregivers, postponed her own care, opting to manage pain through acupuncture treatments, a component of which is talk therapy. This was so successful that she became a believer in integrative medicine. After her husband's passing, her art gained renewed importance, and when Dr. Silvia Ferretti contacted Tyler with an idea for an art show, the thought of placing it in the hands of his mother was both natural and logical. "This may end up being the most important thing I've ever done," Kathy told me.
The process was unusual. The artist was required to submit three images, the artist's résumé, and a statement about the healing effect of art on the artist. Then a juror would select the artist and only then would the artist receive the three-page contract. "We are finding that the artists' stories are as important as the rest of the show and plan to put out a small book with these stories for purchase because we think that they will be important to the viewers," Kathy said. "We want this to be a serious show of serious artists for serious collectors, and hope to make this an annual event benefiting our scholarship fund."
Submitting to an inaugural show is always a scary thing because the bugs have not been worked out. Take for example that it took weeks after the stated date for me to receive notification of acceptance, and I was accepted provided I didn't bring any of my actual submissions, which addressed the theme of the show. Instead they suggested other of my work they had seen, which they thought more suitable – though not to the theme. Though unstated in the call for entries, appearing only in the contract, this is, unfortunately, a censored show using the rationale that it is a "family-oriented exhibition." They also, unfortunately, drew upon a local juror.
But there are several things to commend this endeavor. LECOM is a beautiful facility (outdoor bike rack being in an illogical and hard to find location notwithstanding), there is no entry fee and they will be taking a 40 percent commission rather than asking artists to give up their work without compensation.
However, it seems to me that a "serious" but censored show offering "serious collectors" unchallenging work is something of a contradiction. To have a facility dedicated to health of body forbidding the beauty of the nude, health of mind while dictating what is "good taste," "vulgar," "libelous," or "scandalous," and health of spirit, while contractually muzzling the artist, is hypocritical on the face of it.
In response to my misgivings about a censored show and the three-page contract, which is the single most anti-art document that I have ever read, Tyler Travis responded: "I completely understand where you are coming from with regards to your concern about censorship. Your artwork is very well done, and I appreciate your passion for expression. The only reason we are limiting artwork that depicts nudity is that the exhibit is inside our Wellness Center that serves patients, members, and others that may not necessarily be here to observe the exhibit."
This begs the question of why, then, have an art show at LECOM at all? It is pretty hard to be both pro-art and pro-censorship. Nor is it just the issue of nudity. By the letter of the contract, you could not enter a still life unless you had legal rights to everything portrayed in it, nor would collage—an entire art form—be allowed because it is largely dependent on the work of others used under fair use laws, nor any work actually used in emotional self-healing, which likely also would be construed as controversial.
Under these conditions I, as an artist, have no interest in exhibiting, and I think any artist would be foolish to accept this contract. So while, unfortunately, because of the schedule of collection and hanging of the art work versus the Reader's publication schedule, there is no way for me to see the show, or even know precisely who and how many will be represented, I think it safe to say that with no option for contemporary Michangelos, Goyas, or Picassos, this is likely to be a watered-down and comparatively lifeless show relegated to a few inoffensive landscapes.
If it is deemed that the LECOM patients and members may not be mature enough for a truly serious exhibition for serious collectors, then perhaps a different way to raise funds should be found in the future. As Wallace Stegner once said about censorship, "Art must be left to the artists."
The "Art of Healing" exhibition runs from Aug. 18 to Aug. 25 on the first floor of LECOM Medical Fitness & Wellness Center, 5401 Peach St. Opening Reception, Saturday Aug. 18 from 6 to 8 p.m. Public viewing days: Saturday, Aug. 18 and Sunday Aug. 19 from noon to 6 p.m., Monday, Aug. 20 to Friday Aug. 24 from noon to 7 p.m., and Saturday Aug. 25 from 10 a.m. to 4 p.m. The show is accessible other days only to LECOM members during business hours.