Watch GWAR Cover Pet Shop Boys
Veteran metal band GWAR gives Pet Shop Boy's "West End Girls" a heavy dose of rawk while offering up a nice tribute to fallen friends.
October 29, 2014 at 5:04 PM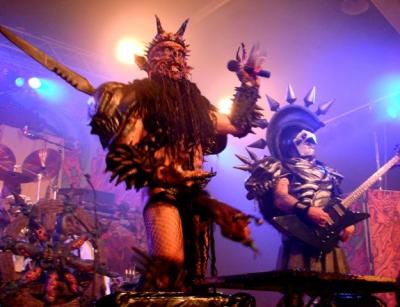 It was a sad day back in March when I saw the news that Dave Brockie, the frontman of over-the-top thrash metal band GWAR, had been found dead in his home. Brockie, known as Oderus Ungerus when decked out in his trademark alien warrior costume, was the sole founding member that was left in GWAR, a group beloved by fans for an elaborate live show that would typically include copios amounts of blood being sprayed into the crowd, graphic violence, and plenty of jokes.
Despite Brockie's unfortunate passing, the scumdogs of the universe continue to march on, adding two new members and giving Brockie a proper viking funeral, complete with a flaming boat. The members of GWAR provided yet another tribute for Brockie and Oderus Ungerus in the latest entry of A.V. Club's A.V. Undercover, when the band added a touch of thrash to "West End Girls," the 1984 hit of English electronic pop duo Pet Shop Boys, and adding in a cover of The Jim Carroll Band's "People Who Died."
As regular Reader readers may know, the Reader staff has some big fans of A.V. Undercover, and GWAR is no stranger to ongoing series, having already provided a pair of stellar, as well as NSFW, entries with Kansas' "Carry on My Wayward Son" and Billy Ocean's "Get Outta My Dreams, Get Into My Car." But this latest cover has a much different feel to it, with the loss of Brockie and the altered lyrics to "People Who Died," which gives a hearfelt shoutout to the man behind Oderus Ungerus and other performers included in the GWAR family like Pantera guitarist Dimebag Darrell. Even if you take out the touching aspects of the performance, GWAR's version of "West End Girls" flat out rocks and is very worthy of a listen, so check out the video (NSFW warning, because it's GWAR, after all) below or at the The A.V. Club.