Watch Run the Jewels, Sleater-Kinney, and Sharon Van Etten Rock TV Appearances
Daytime musical performance can be hit or miss, but Thursday provided us with a trio of great performances.
January 16, 2015 at 7:32 PM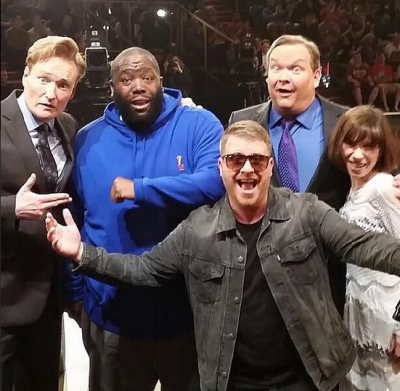 For every great TV musical performance, we usually get one that just misses the mark. You wouldn't know that based on Thursday's slate of small screen appearances with Run The Jewels, Sleater-Kinney, and Sharon Van Etten all giving their respective show's audience something to legimately worthy of applause.
You've already heard me praise Run The Jewels and the hip-hop duo's excellent 2014 album, so it shouldn't come as a surprise that Killer Mike and El-P's visit to the Conan set resulted in something awesome. Yesterday's performance was a lot simpler than Run The Jewels' visit to Letterman last fall when they killed the emotional "Early" with the help of some backup singers with sugar skull facepaint, but that didn't mean Mike an El didn't bring plenty of thump to the Conan stage. The duo whipped out the blistering "Lie, Cheat, Steal" last night, an absolutely killer song on an album so stacked with bangers that it's still only my fourth or fifth favorite number on it. Mike and El completely own it, ripping through the track with the ease of a pair of MCs on the top of the game. Check it out below.
Much like Run The Jewels, Sleater-Kinney slayed last night, except the riot grrrl legends had a David Letterman's Late Show audience as gleeful victims. The band is playing in support of its excellent upcoming album No Cities to Love (check out the official Erie Reader review when the Jan. 21 issue drops) and whipped out the Carrie Brownstein-sung "A New Wave" with style, not a surprise for a band with Sleater-Kinney's pedigree. See Brownstein high-kick her way into the audience members' hearts below.
Late-night talk shows weren't the only programs featuring great performances, however, as Sharon Van Etten performed new single "I Don't Want to Let You Down" during the day on The Ellen DeGeneres Show. Unlike Run The Jewels and Sleater-Kinney, Van Etten's visit wasn't as much of a thumper as it was a nice job on a pretty, rootsy tune, although certainly some grit in the guitar solo at the end. Once again, check below for Van Etten's daytime talk show appearance. 
Oh Thursday, you sure spoiled us.