Watch They Might Be Giants Cover Destiny's Child
The veteran band puts their own twist on the Destiny's Child track "Bills, Bills, Bills" for A.V. Undercover.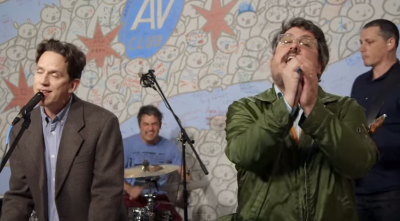 Going into the latest season of the A.V. Club's A.V. Undercover, I knew that They Might Be Giants would make an appearance, thanks to an Instagram photo that band co-founder John Flansburgh posted back in [insert month here]. It wasn't long after that when I saw the veteran group perform at the Beachland Ballroom in Cleveland that I realized which song they'd cover for the series, treating the crowd to a electrified version of Destiny's Child's "Bills, Bills, Bills."
After a couple of months - and some excellent A.V. Undercover episodes in the meantime - They Might Be Giants made their expected appearance on the series today, and the results are as enjoyable as I expected them to be. Granted, the band wasn't joined by the A.V. Club staff like they were when they unleashed their terrific take on Chumbawamba's "Tubthumping," but it was plenty good, regardless. Plus, there's something so wonderful about hering the Johns from They Might Be Giants sing things like "scrub," "automo' bills," and "perpetrating to your friends like you be ballin'." Just glorious.
It's been a pretty impressive start to the Undercover year so far - including quite an awesome intro mash-up courtesy of Jeff Rosentsock and Andrew Jackson Jihad - and "Bills, Bills, Bills" might be the best yet. Slight NSFW warning for a pair of naughty words at the beginning of the video below, but people who do not fear such four-letter words shall be fine. Enjoy!