You Ought to Know: Adam Holquist
I'll take "Brilliant people from Erie, Pennsylvania for $2,000 please, Alex."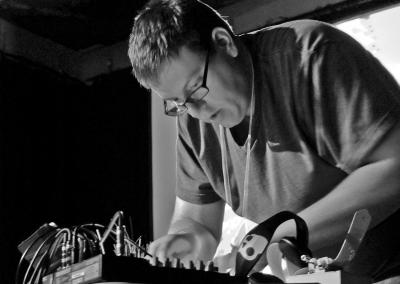 When it comes to intelligence, there's quite a few ways that people can measure the gifts of the mind. There's the IQ Test, brain imaging, or even that good ol' fashioned personal judgment of a person's street smarts. What's the best way to judge how sharp a person's grey matter is, you ask? I don't know, I'm not smart enough to tell you that.
Still, not everybody can be the brightest crayon in the shed, which is always evident when driving downtown on a snowy Monday night in March, a situation I found myself in on my way to U Pick 6 Taphouse. I make my way in and ask the server if it matters what table I take in an empty section. After a deserved smart-ass comment of "I don't know, we're so busy" from my server, I took my seat to await a man gifted with quite a bit of smarts and less of the traits of an ass.
It's not too long before Adam Holquist ambles in from the biting chill of State Street, cheeks rosy from the cold. He greets me and shakes my hand before settling down, removing his jacket to reveal a "King of Limbs"-era Radiohead T-shirt. He's got youthful features – the aforementioned rosy cheeks, short haircut – but behind those black rectangle-framed glasses lays a veritable treasure-trove of information, accumulated through the years, which began back in his earliest times in Titusville.
Between sips of Founders Brewing Company's All Day IPA, I learn that Adam graduated from the University of Pittsburgh with a major in chemical engineering and a minor in petroleum engineering. He now works as an air quality engineering specialist for the Department of Environmental Protection down in Meadville.
"It sounds fancier than an engineer, but is actually one less fancy," he quips. Despite his profession, Adam doesn't quite fit the stereotypical quiet personality of his science-loving brethren.
"I've always kind of been the exception to that," Adam says. "Yeah, I'm and engineer and I grew up loving math and science, but that's not the only thing that I care about. I grew up loving music and words and all that stuff too."
He's kept up with those passions. Originally a bass player, Adam started toying around with the electronic arts after he graduated, eventually starting up an experimental music venture of his own.
"The first onewayness project that I did was in 2002 right after college, and then I kind of set it aside for a long time," he says of his ambient electronic music moniker, to which Erie Reader's Managing Editor Ben Speggen has given a pair of favorable album reviews. "I was just out of college and broke and unemployed, and spent about a month staying up late every night playing with software. At the end of that, I kind of had an EP."
It wasn't until years – and one job, marriage, and daughter – later that he revisited onewayness after a musical collaboration reintroduced him to software synths and ambient sound. Eventually, he went out and started performing live as onewayness, travelling as far west as St. Louis for a show, although he's got people interested all the way out in California.
"I don't think [Alex] Trebek is going to become a fan or anything, but he seemed kind of intrigued about it," Adam says.
While you try and wrap your head around "Jeopardy" host Alex Trebek knowing about the person you ought to know's experimental electronic music project, this would probably be a good time to remind you that Adam is a very smart man – so much so that you can catch him on an upcoming episode of "Jeopardy" Tuesday, April 9. Of course, he may be on more episodes than that, but he's under contract not to discuss the results until that episode airs, so good luck getting that information out of him.
Adam is a very smart man – so much so that you can catch him on an upcoming episode of "Jeopardy" Tuesday, April 9.
Much like most of the rest of us, Holquist grew up watching "Jeopardy." Unlike some of us, he actually remembered most of the stuff he learned while growing up. It was part of an absorption process where Adam just wanted to know more.
"Some of it is trivia, but a lot of it is cultural literacy," he says. "There's stuff that I happen to know that people go 'Well, how do you know that?' I don't know – I heard it at some point. It's keeping tabs on popular culture, what's going on in the world. I care about everything – sometimes to my own fault."
Adam finally got the call to go on "Jeopardy" late last year, but this wasn't his first time going through the show's process. Previously, he'd moved on past the online test, heading to a regional qualifier where he, and other participants, took another test and played in mock games set up on a projection screen. But he never got a call inviting him to L.A.
"The numbers are something like 100,000 people a year who take the online test," Adam explains. "Of those 100,000, they'll see 2,000 or 3,000 for live auditions, and of those 2,000 or 3,000, they'll use about 400 a year on the show."
After going through the regional qualifiers for a third time last year, the bespectacled brainiac wasn't getting his hopes up again. Instead, he was focused on working on a collaborative album with a fellow musician when he finally got the call.
"I was at Charles' [Shriner of dRachEmUsiK] house, his studio, out in Indianopolis. I was sitting at his kitchen table when my cellphone rang, and it was a 310 area code," Adam says mimicking his bewilderment at the time. "I think some people wait by the phone when they've had their audition, like, 'Oh, I better wait for "Jeopardy" to call.' I tried to just completely put it out of my head, like, 'They're not calling.' I'm like '310? I'm not answering this,' and I put it down and went back to eating my soup and they didn't leave a message."
Later that night, his phone rang again. But he still didn't answer.  When they called again the next day, they finally left a message and Adam realized someone in Los Angeles desperately wanted to contact him. When he called back, he finally received an official invite to the west coast.
"To their credit, they don't mess around," Adam says of the contact process. "If they want you, they will find you. They will track you and find you."
A month later, Adam and his wife were on their way to California, heading out west on Black Friday. When they arrived at their hotel, Adam started sizing up the competition.
"One guy who was checking in right in front of me somehow made it clear he was one of the ['Jeopardy'] people and he couldn't figure out how the elevator worked, and I thought that was a good sign," he says, laughing.
On a fateful Tuesday, the new contestants and the returning champion took the 8 a.m. shuttle to the studio. While the whole experience felt almost like a dream, there was one moment that really took our local possible-champ for a spin.
"Walking onto the set for the first time was the most surreal part of the whole thing, because it looks exactly like it looks on TV and nothing like it looks on TV," he says. "Everything is just a little bit heightened, and there's nothing fake. All the colors are brighter, all the edges are crisper, it feels like your life is a little more HD."
Luckily for Adam, he got some bonus time to adjust to the experience, as he wasn't called to play during the Tuesday filming session. The next day, however, it was time to take his place at the podium and to finally come face-to-face with the host. "You literally don't meet Alex until he's at your podium to do the little chat after the commercial break," Adam says, explaining that it's in large part to help prevent any visions of impropriety. "The only interaction you have with him is what you see on the show. You don't get to hang out with him, you don't get to know him, but he's cool."
While he couldn't talk about how he did on the show, Adam was happy to say that he did get to chat with Alex about onewayness, something that the at-times magnificently-mustachioed man was intrigued by enough to bring up during the end credits banter.
And now that he's been on "Jeopardy," Adam can't go back.
"It's your one shot at it," Adam explains. "If you've ever been on 'Jeopardy' in the time that Alex Trebek's been host, you can't come back – unless they invite you back for some reason."
Still, even with his sudden "Jeopardy" ineligibility, the engineering specialist by day, musician by night still won't curb his appetite for information.
"Whether there's something that you're preparing for or not, I still try to keep up on things and be aware of the world around me," Adam says, although his "Jeopardy" viewing habits have changed a bit since his experience last year. "There are little things that I notice, like technical things. I notice little details, like the way people hold [the buzzer], strategic decisions. I still watch it, and the biggest thing I think about is, 'Do I know this?' It's like being an ex-high school football player – you want to stay at your playing weight."
For a smart man like Adam, it shouldn't be too hard to stay sharp, and he won't need an IQ Test to prove it. After all, the guy is an engineering specialist by day, musical wizard by night, and, to top it all off, he gosh durn thunked his way onto national television. Even better, the multi-faceted Radiohead-shirt-donning thinker from Titusville is simply a guy who enjoys good conversation over tasty brews, which is the most lovely parting gift of all.
Alex Bieler can be contacted at aBieler@ErieReader.com, and you can follow him on Twitter @Catch20Q.