2011 NCAA Tournament Bracket
Hey bracketologists! Do you have the mind powers to win our first NCAA Tournament bracket?
March 15, 2011 at 3:25 PM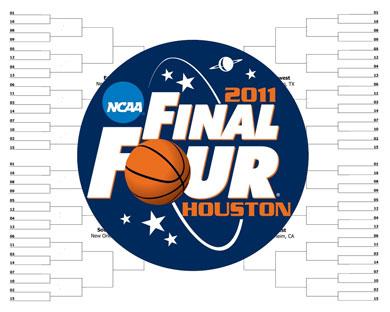 Forget Christmas and New Year's, March is the most wonderful time of the year for myself and the rest of the Erie Reader staff.
With the brackets being put together, we're just days away from the start of the 2011 NCAA Tournament – or what most people call the most exciting basketball of the year.
We'll all be glued to our TV's here at the Erie Reader, so what better way to get our readers involved in the action?
We proudly introduce our first Erie Reader bracket.
Everybody fills out at least one bracket per season, and we would like yours to be through us. The winner will receive a $25 gift certificate to the Millcreek Mall. And just like the tournament itself, there is no prize for second place, so make sure you fill out the best bracket you can.
How to play
*Dowload a bracket -->
*Enter your picks
*Save a copy
*E-mail your picks to asibley@eriereader.com
Rules and guidelines
*Only one bracket per person
*All brackets must be sent via e-mail
*Please include your name, age, city and
a phone number in the e-mail
*All brackets are due by 10:30 a.m. on Thursday, March 17
*Also, in case of a tie with the point system, please include the total number of points you think will be scored in the championship game
We will score the bracket in a very easy way. For each win you collect, you will earn one point throughout the tournament. The person with the highest score when the tourney concludes will be our first winner.
We can't thank you enough for making the Erie Reader as successful as it's been thus far. This is our way of giving back, and of course, the bracket you fill out is free of charge.
Good luck and remember, pick wisely.
~Alex Sibley covers sports for the Erie Reader. You can contact him at ASibley@Eriereader.com, you can follow him on Twitter @ErieReaderSport.