Monday Morning Locks -- Fan Edition
Sibley vs. Simmons: A battle of the locks
April 3, 2011 at 10:59 PM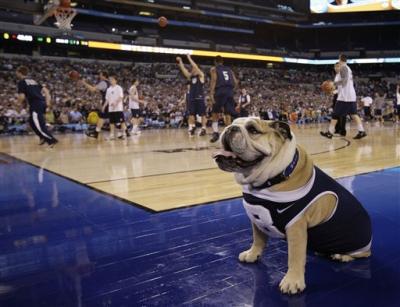 By ALEX SIBLEY
ASibley@Eriereader.com
Ladies and gentleman, we have another first for Monday Morning Locks.
For those of you who didn't read the stream of comments at the bottom of last week's edition, I was accused of picking so-called 'cupcakes' to push the amount of wins up.
I take no shortcuts. And I especially don't try and pad the stats, as my overall record indicates. After a 3-2 week, I'm resting uncomfortably at 38-34.
I must have picked a lot of 'cupcakes' for that beauty of a record.
The biggest chirper on the site came my way from a gentleman by the name of Lee Simmons, who I have never met. But he sure did have a lot to say.
That's fine with me; I can roll with the punches and take the criticism.  All I did was issue a challenge to someone who, with all the comments, appears to be my biggest fan.
I simply told him to pick five games and give me the winners. And to his credit, he didn't back down.
Kudos to you, Lee. You backed up your words, which I'm not going to lie, got me a little rattled on the inside.
But you stepped up. But now in the words of Drago from Rocky IV 'I must break you.'
Lock No. 1 – The Butler Bulldogs
My buddy Lee picked the UConn Huskies in Monday's National Championship Game.
Little does he know that Butler has been the only sure thing in Monday Morning Locks.
But either way, this should be a heck of a ball game. The never-say-die, Cinderella, underdogs and whatever-else-you-can-call-them Bulldogs are back in the title game for the second time in as many years.
Their 2011 opponent – the Kemba Walker-led Huskies.
Each team has had incredible runs to make it to the biggest game of the season. UConn won five straight to win the Big East Tournament and have got it done in the tournament against some of the best.
Butler on the other hand is an eight-seed. They're coming off a huge win over Virginia Commonwealth and have shocked the world to get to this point.
It's a mid-major taking on the Kings of the Big East.
This is a toughie to pick. Neither team seems to have the word 'quit' in their vocabulary. Both teams are hot and both do all the small things right that win games.
But I have to stick with my Bulldogs. They haven't done me wrong yet.
So I'll ride the wave out. I still think Walker is gassed. Only 18 points in his last game and looked winded late in the game.
There is no week off this time around. If they stop him, they'll be cutting down the net.
Take Butler.
 
Lee's pick: Uconn.
Lock No. 2 – St. Louis Cardinals
I picked the Pittsburgh Pirates last week, and surprisingly, they didn't let me down as they beat the Chicago Cubs in the first game of the season April 1.
I'm not going to go with the Buccos again. There is a pretty cut and dry reason they haven't had a winning season since Jack and Rose met on the Titanic.
They're a bad baseball team. The bullpen is going to be a problem all season, and they just don't have the lineup to make a run for the N.L. Central.
All the trades from two seasons ago never panned out and the starting rotation is comparable to a Triple-A squad as far as talent goes.
Lee picked them to beat the Cards.
I just don't see it happening, even with St. Louis losing Matt Holliday.
Kyle Lohse is on the bump for the birds, while some guy named Charlie Morton goes for Pittsburgh. Morton is 11-29 in his career.
Take St. Louis on that note.
Lee's pick: Pittsburgh
Lock No. 3 – Boston Red Sox
It's really hard to find a team that has started 2011 out worse than the Cleveland Indians. Despite scoring 20 runs, the Tribe has allowed 24 as the pitching staff has struggled, and that's being kind.
But it could be worse, they could be 0-3 like the Boston Red Sox.
The Texas Rangers' offense feasted on what is supposed to be one of the best rotations in the American League, while an all-star caliber roster has produced just 11 runs.
It's all good, Boston. You got Josh Beckett going Tuesday, and you're playing in Cleveland.
A city that also holds the Browns and Cavs, both of which are terrible franchises.
Winning streaks start in Cleveland; just ask Lebron James and the Miami Heat.
No way Boston gets off to an 0-4 start.
Take the Bo Sox.
Lee's pick: Cleveland.
Lock No. 4 – Chicago Bulls
We're seeing the last run of the Big 3 in Boston.
Aging starts Kevin Garnett, Paul Pierce, and Ray Allen legitimately have one last shot this year to capture a title.
They're not getting any younger in Beantown, and while Chicago and Miami have not exactly young but younger talent, the window of opportunity is closing fast.
Chicago is starting to pull away in the Eastern Conference.
On Thursday they meet up in Chicago.
This one is simple.
Chicago is on a mission to win the conference, while Boston is just trying to stay healthy heading into the playoffs.
Boston is built for the playoffs, so it's a smart plan. They just turn it up that time of year, no question about it.
But they won't be able to match Chicago's intensity Thursday.
Take the Bulls.
Lee's pick: Boston
Lock No. 5 – Tampa Bay Lightning
Lee's stepping into my turf now. He's picking a hockey game.
Rookie mistake.
On Tuesday, the Buffalo Sabres will host the Lightning at the HSBC Arena. Buffalo is in a battle for a playoff spot, while Tampa will likely face Pittsburgh in the first round.
Lee's going with the Sabres. Usually picking a desperate team playing in its own barn is a smart move. But not in this case.
The Sabres have won just 19 games at home, while the Lightning have racked up 20 wins on the road.
Plus, the netminders in Buffalo are as predictable as the Erie weather.
Go with the Lightning.
Lee's pick: Buffalo
~Alex Sibley covers sports for the Erie Reader. You can contact him via e-mail at ASibley@Eriereader.com, or follow him Twitter @ErieReaderSport.