The Last Victor
With the Villa baseball program closing, Dave Marnella is the last Victor.
April 5, 2011 at 11:21 PM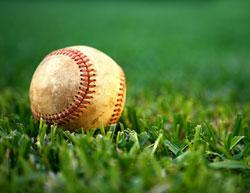 It took some time, but the colors of white and gold are starting to look right on Dave Marnella.
For the previous three seasons, Marnella was a fixture on the Villa Maria Academy baseball team, where he started all 55 games since he was a freshman.
Now the school is closing its doors on male sports—a decision that was made prior to Marnella's junior year, which was based on the decreased number of male students at the school.
With that, Cathedral Prep and Villa merged into one campus, with the boys having the option to complete their time at Villa or transfer to Prep. The girls will remain at the West Eighth Street school, as the merge didn't affect their athletic programs.
Instead of staying at Villa for his senior year, Marnella, 18, decided that it would be in his best interest to transfer to Iroquois High School to play his final season of high school ball. That decision made him the last remaining thread to a Villa program that won four District-10 Championships—and to this day, is the only school from Erie and all of D-10 to play for a State Championship in 2006.
He was a Victor at heart before he even graduated from elementary school. Even with a number of his friends choosing to take the next step in their academic life at Prep, Marnella knew where he wanted to not only study but begin his high school baseball journey: Villa.
"I always was a Prep fan," Marnella said. "But something about Villa just caught my attention in seventh or eighth grade. I liked the educational system, and it looked like it would give me a lot of opportunities on the field."
Another big factor was the coach of the program, Joe Lunger. Marnella and his parents, Phil and Daria, felt a great connection with Lunger, who was the only coach in the programs 15-year history.
"Joe was the main factor of him going (to Villa)," said Phil Marnella, who knew Lunger, as both of them went to the same schools from kindergarten until they graduated from Prep. "We gave him the option of Prep, Villa, Mercyhurst (Preparatory School) or Collegiate Academy. But he chose Villa because of Joe."
Marnella, along with the many other players Lunger coached, believed he had a fair shot of playing immediately for Villa, a program that historically played freshman at the varsity level.
That move couldn't have turned out better for the young Marnella, who plans to attend Penn State Erie, The Behrend College in the fall. The undersized yet scrappy infielder took over the starting role at Villa's second base midway through his freshman season.
With arguably the best fielder in D-10 in Tyler Fisher at shortstop, the duo quickly became a threat in the infield, as double plays became part of the routine for Villa as the team won the first of two consecutive D-10 titles in 2007.
In 2008, it was in the state playoffs against Clarion where Marnella made a name for himself.
In a back-and-forth thriller against Clarion High School, the Victors battled back on several occasions in the 11-inning classic.
Down by two in the 10th inning, Dave Marnella, who was already 3-for-5 on the day, got a pitch he could handle and drove it down the left field line. The moonshot carried before falling over the fence for not only a game-tying blast but also his first and only high school homer.
"I was just trying to get on base," Dave Marnella said. "I was just looking for a first-pitch fastball or anything that I could really drive. I didn't even think it was going out at first, but it did. It was one of the best feelings I've ever had."
Villa would eventually fall to the Bobcats 11-9. But the experience he got from that epic contest would carry into his junior year, which happened to also be the hardest year of his life, on and off the field.
Prior to the start of the 2010 season, Lunger began suffering from an illness that eventually hospitalized him in the UPMC Hamot Medical Center's Intensive Care Unit. He lost the battle March 18, 2010.
For the first time in his high school career, Dave Marnella would be without Joe Lunger, a person who he considered a second father.
"That was the hardest thing I ever had to deal with," he said. "He was my favorite coach; he was just always there for you. He was one of those guys that you could go to with anything. Losing him, it definitely hurt, but I think it made me stronger."
Not long after losing his coach, Marnella started a Facebook group titled "In loving memory of Coach Lunger." Within a day, it had more than 800 group members. In a way, it was his last way of honoring his friend and coach...
---

Grab a FREE copy at one of our distribution points to read the rest of the article.