Fans Ruin Game
Alex Sibley weighs in on fans and respect for the game.
April 5, 2011 at 11:18 PM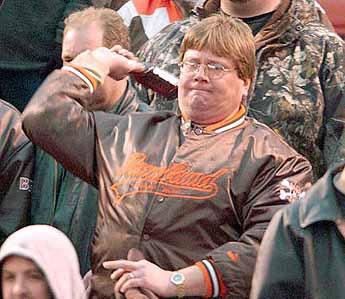 Resting neatly in the corner of my closet on a brown and white hanger lies what used to be one of my prized possessions.
I remember the day I got it. It pretty much broke my checking account, which back in my early college days, I knew ants that weighed more.
We got the tickets. The truck was filled with hot dogs and sodas. Finally I slid it on—my very own authentic Cleveland Browns jersey that I wore to my favorite team's game.
Yeah, I know they're terrible. Different subject for a different day.
But I wore the Braylon Edwards jersey with pride as we tailgated and amped ourselves up for the upcoming game against the Steelers. What could be better? Browns-Steelers on opening day with the sun shining and the thoughts of the Brownies making a deep run into the playoffs. Life was good my friends, real darn good.
But what I quickly learned and have come to realize since is that when you put a jersey on, you become a target. My first trip to the bathroom at Cleveland Browns Stadium I was greeted with middle fingers, swearing, and jeering from lines of Steeler fans.
For the rest of the game, I was forced to hold my bodily functions for fear of becoming a victim of a beatdown by a drunk fan. Along with that, fights were popping up left and right and there were more beers being thrown in the stands than footballs on the field.
What a joke. I was lucky that day. Somewhere else, someone else wasn't so lucky. A gentleman wearing a San Francisco Giants jersey in Los Angeles was beaten so severely by a Dodgers' fan on opening day that he lays in a coma.
The individual or individuals who dished out the beating still haven't been found.
When did sporting events become a life and death situation for a patron who wants to wear a jersey? Soccer has its hooligans who throw toilet paper on the field in celebration and has had its fair share of riots. But that's overseas. America seemed to be a safe place to take the family to a game and enjoy it. Apparently those days are long gone.
I've seen some of the worst acts of my life at sporting events. On one occasion, my old roommate wore a Flyers T-shirt, not a jersey, to Mellon Arena for a Sunday afternoon game. We weren't more than 20 feet away from the car before he was greeted with a chorus of 'A-Hole' chants and middle fingers.
Same thing in Cleveland years later when a group of us were walking to the stadium when one of the guys was wearing a Raiders jersey. But this time it wasn't just the chants and middle fingers; he was also greeted with a flying can of Bud Light that nearly missed his skull...
---

Grab a FREE copy at one of our distribution points to read the rest of the article.