AK's Take
A Roar on the Shore Alternative
August 7, 2013 at 8:11 AM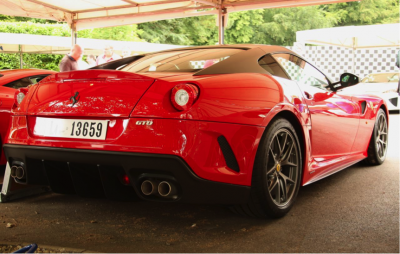 While Erie was home to a massive motorcycle celebration July 18 to 21, I took a trip down to the 31st Annual Pittsburgh Vintage Grand Prix and Auto Show (PVGP).
Here's some Need-to-Know Info about a day spent at PVGP.
Pittsburgh played host to a race and a massive car show, which began July 11 and ran through July 20 at Schenley Park Golf Course. The car show featured Mini Coopers, Ferraris, and everything in between. In fact, my brother's Subaru was part of the car show.
The race featured vintage, go-cart like vehicles that sounded like supercharged lawnmowers. Needless to say, I was far more interested in the car show part of this event.
My brother and I made the trip down to Pittsburgh on July 20, the last day of PVGP.
The day started when my brother and I left a stormy Erie at 5 a.m. to meet about 100 or so Subarus in a downtown Pittsburgh parking lot. From there, we took a police-escorted convoy across town to Schenley Park. Luckily, the sun was now visible and the weather was in our favor.
The streets were riddled with Subarus. Think of Roar on the Shore, except with people that watch too much "Fast and the Furious" instead "of Sons of Anarchy."
Subarus weren't the only police- escorted vehicles, though. After we arrived at our destination, there was a line of Mini Coopers—yes, even the quirky Mini Coopers, being directed by police into the car show. Like the Subaru squadron, the Mini Coopers arrived at a destination full of much nicer and more expensive automobiles.
There were Porsches, BMWs, Corvettes, Mustangs, Ferarris, and Lamborghinis just to name a few, and they were all lined up on the fairways of this golf course. I walked around and examined these cars with a "look, but don't touch" mentality that drove me crazy. How am I supposed to "just look" at a Ferrari F40? How can I "just look" at a Lamborghini Gallardo?
My favorite car at the event can only be described as a BMW El Camino. This was a custom-made BMW with a flatbed on the back of it, much like the old Chevrolet. I couldn't help but appreciated how unique it was and how much time and skill it must've taken to make such an odd vehicle. It's a shame that such a cool car will never see the production floor.
Here's My Take on PVGP and how it compares to Roar on the Shore.
While Roar on the Shore definitely has its appeal, I think the Pittsburgh Vintage Grand Prix was a great alternative. It doesn't take a car enthusiast to appreciate some of the great cars at PVGP just as it doesn't necessarily take a motorcycle enthusiast to enjoy Roar on the Shore. So, fun can be found at either event.
However, in light of the accident-gone-viral and the questionable entertainment at Roar on the Shore, it can be easily argued that that PGVP is a more family-friendly event. Other than a few drunken tailgaters, there was nothing at PVGP that could be considered unsuitable for minors.
If the kids at PVGP were anything like me when I grew up, they were thrilled to see the cars they've used on their Hot Wheels tracks or video games in person. If they simply like the roar of loud engines, there was the vintage car race happening, as well.
The point is: Pittsburgh Vintage Grand Prix is a great event that anyone can take his or her family to and have an exciting and worry-free time.
Erie's Roar on the Shore is also a great event, but it's not for everybody. Not everybody wants to feel like they could be run over at any minute or have to hold hands over a child's ears when incredibly vulgar live music is being played.
I think it's also easier for folks to appreciate cars because most people drive cars every day, as opposed to motorcycles. You're really going to have some problems if you try driving a motorcycle on a February day in Erie.
That being said, Roar on the Shore is great for a city that could certainly use an economic boost, so support Erie and see some cool bikes. Make a day-trip down to Pittsburgh during this week next year if you want to have a better time, though.
Adam Kelly can be contacted at aKelly@ErieReader.com, and you can follow him on Twitter @akAdamKelly.