'As we grow, we learn.'
Johnston's Evergreen Nursery brings family business ideals to life.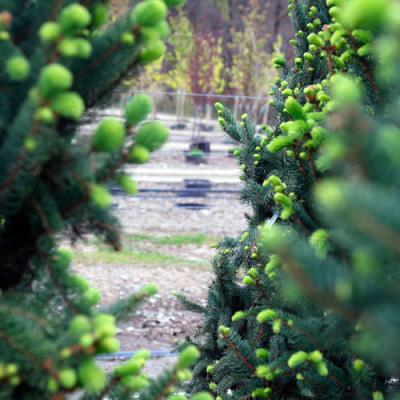 Last May, we were in the market for a few arborvitae to line the back fence. Birds love them, and they quickly transform a backyard into a woodland sanctuary. So we took a ride out to Johnston's Evergreen Nursery on Wales Road.
The moment we arrived, we were offered assistance. And not that, "Oh, wait while I go and get someone who knows something" kind, either.
Started in 1953 by Richard and Jean Johnston, the business is still helmed by their sons John and Gary Johnston, now in their mid-70s and going strong. Several other Johnstons who've grown up in the business comprise the workforce.
Johnston's website proclaims, "We only started with evergreens!" The nursery since expanded to its now extensive array of hundreds of landscape plants, shade and flowering trees, shrubs, perennials, vegetables, and ground covers.
Discovering the enormous variety of tomatoes and peppers available at Johnston's – all started from seed on site and chemical-free – had me pretty giddy. (That's an understatement.) They grow all of the reliable favorites, plus hard-to-find heirloom tomato varieties with delightful names like "Cosmonaut Volkov," "Boxcar Willie," and "Mortgage Lifter"; plus, highly unusual peppers. Even the fabled Carolina Reaper, a world record holder rated at two million Scoville Units. Other extremely rare varieties listed on Johnston's website have gotten them calls from unconventional gardeners as far away as California, begging them to ship.
Home gardeners are catching on about the value of starting with quality plants. You can get overly-hybridized, mass-produced varieties of tomato plants from a lot of sources. That is, if you're willing to settle for something red with a tomato-like mealy texture that's probably carrying chemical residue into your dinner.
But if you're interested in a fruit (technically) that delivers the most succulent taste, with the highest nutritional content and the fewest chemicals, you have to be pretty picky. Luckily, the folks at Johnston's are just that.
I met recently with John's son, Richard Johnston, the garden center manager, at a picnic table in what I imagine is a rarely-used break room. He'd been up since 4:30 a.m., fostering the nursery stock through a light frost. So by the time we sit down, it's been a 14-hour day for him. But you'd never know it from his easy smile and the contented countenance of someone doing what he loves.
He tells me about his grandparents starting the nursery in the 1950s, and expanding into a wider array of plants in the 1980s. All along, the business has been "resizing to fit the needs of the people," he says. "We're always watching the market, and there's always something new."
I ask Richard what was it like to grow up in the business. "When we were young, we had to do everything," he replies with an air of gratitude, not burden. "So I was fortunate. There's nothing in this business that I haven't done. That makes me feel good."
Back in high school, he thought a bit about heading into a different career. He can read people easily, and an aptitude test confirmed that he'd make a great judge. "But I loved being outside," he says. "Once you've worked outside, you get the bug and you're hooked. There's something earthy and right about being outside."
Here, Richard and I share a kindred moment, as I tell him I've recently returned to the soulful work of weeding. "I love weeding!" he says excitedly. "I do the weeding here, and my wife does it at home. I let her have that," he jokes.
I've often heard fellow garden geeks talk about how "Johnston's says it was a hard year for butterfly bushes," or the like. It's clearly a first call for many folks in the region seeking to understand and solve horticultural issues.
Talking with Richard, I soon understand why.
"We are plant nerds!" he exclaims. "We live and love plants. We're reading books about plants when we go home at night. And we love to teach. That's a big part of what we do."
Everything at Johnston's except annual flowers is grown on site. That means anything you buy there is particularly suited to the unique growing conditions of our area.
And the tomatoes and peppers, as well as the wide variety of other veggies and herbs, especially benefit from those beginnings.
"We don't do millions of plants," Richard explains, "and because we're not as high production, we can be more natural."
They're not as high production. But they're still sowing about 7,000 to 8,000 veggie seeds. By hand. And they save their hot pepper seeds from year to year, which further ensures that the best qualities of each variety are carried through the generations.
"You know how when you have an idea to start a job, someone has to lead? I'm the guy who loves the veggies, so I make it happen," Richard explains. "We're not making much on them. We just have them for fun. We love it. We even hate cutting varieties if they don't sell."
Richard's face lights up just talking about the edibles.
"Life's about enjoying. It's still a farm, and farmers don't make much money. But if you love what you do, and you're supporting all of these workers – there's a lot to be said for that."
"We do a garden every year, and everything that's left over goes to Second Harvest Food Bank," he says. "We've literally donated tons of food to them. My uncle, Gary Johnston, does it out of his own charity. He doesn't want recognition, but he's going to get it because I'm proud of him. It's two or three acres of plants, and it also feeds the workers here. A nice perk."
Johnston's donates to and participates in numerous local events. And on Palm Sunday, they hold a "blessing of the fields," to honor their understanding of themselves as stewards of the earth.
"We've been doing that for at least five years," says Richard. "We thank God for the earth's soil and for the sun and rain."
I have to disclose here that I'm getting a little emotional, just writing this. I look again at part of Johnston's mission statement, "Always remembering: The nursery is our way of life, but our family and friends are what make our lives worth living."
I'm tempted to get all preachy; to go into a rant about how you're not going to find that at a Lowe's or a Walmart. How every dollar we spend creates the world in which we live, and supporting a from-the-heart family business like this one is a lot more in line with our essential American values than tossing our money to the corporate entities bleeding our downtowns dry.
Richard likewise wishes smaller nurseries and garden centers had a bigger hold of the market. Obviously. But his view of big box retailers is surprisingly pragmatic.
"I don't mind big box," he says. "They don't sell the same as we do. The product they're getting is the end of most nurseries' plants. Smaller garden centers get them first, then big box stores get what's been picked through: plants that are root-bound and stressed. Some customers will tell me they can get the same varieties of trees for $20. But you're getting a $20 tree. You really do get what you paid for."
He then launches into a litany of growing problems that may arise from those so-called bargains. It's exhausting even to listen to, let alone to deal with. Suffice it to say, again, that investing in a quality, locally-grown product at the outset is the truly economical choice.
There is one misconception Richard would like to clear up for folks in the area. "You can plant all season long," he asserts. "People think you can't. But up north, we're very special because we have no excessive heat or dry times."
It's refreshing to hear our oft-belittled local climate celebrated by someone whose livelihood depends on it. But honoring nature – and its variables – is also part of Johnston's mission. As is not letting the fear of failure hold them back.
"We're always trying new things," says Richard. "We love to experiment. That's part of the fun of the job.
"Life's about enjoying," he philosophizes. "It's still a farm, and farmers don't make much money. But if you love what you do, and you're supporting all of these workers – there's a lot to be said for that."
Nursery crop cycles last about seven years, and Richard admits that sometimes, as he's starting a new crop, he wonders how many more he'll get to steward. Nevertheless, when his time eventually comes, he quips that "my goal is to fall over dead in the garden."
But if loving what you do is as much of a key to longevity as it's purported to be, that day won't arrive anytime soon.
For more information, contact Johnston's at 739.2820 or johnstonplants.com.
Katie Chriest can be contacted at katie@ErieReader.com.