Baseball Thursday: Harshin' on A-Rod
Does anyone else besides me think the A-Rod suspension a little odd? Also, the Tigers are not in trouble, and New York comes to Erie.
August 8, 2013 at 8:45 AM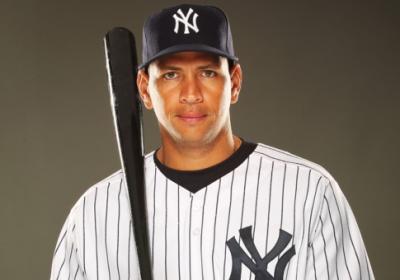 You won't see anything like this from me –
At this point, you have to figure that his real name isn't even Alex Rodriguez, right? And he probably isn't even really a member of the human race.
-- a column so lazy and unimaginative and self-righteous it makes my skin crawl. Is this the hackery that lands you on CBS Sports?
That is, I think the way the scandal unraveled, the way baseball has gone after its players, the way it's looking like MLB might be operating suspensions to give baseball clubs salary relief, the way…Well. It's strange. It's like watching a snake eat itself.
For William Rhoden, MLB's actions make him root for A-Rod, a sentiment I find myself agreeing with. Not because I don't think PEDs are a big deal, and not because I think A-Rod should duck punishment, or that the Yankee third baseman is a model citizen. But I agree mainly over a single question: why does A-Rod deserve a 211-game punishment, when all the others get 50 games?
I questioned the Yankees' motives in the A-Rod suspension last week, a sentiment echoed by the Orioles manager, Buck Showalter:
Getting Rodriguez's $25 million salary off their 2014 books would effectively reset a Yankees payroll projected to exceed a $189 million luxury tax threshold the club hoped to slip under. And if they're freed from the $86 million owed Rodriguez from 2014 to '17? Showalter fears Commissioner Bud Selig's zeal to ban Rodriguez might turn the Yankees into free agent predators again.
"If Bud lets them get away with that, they're under the luxury tax," Showalter told USA TODAY Sports. "If they can reset, they can spend again and I guarantee you in two years Matt Wieters is in New York."
How convenient, eh? Based on the way baseball owners have colluded on free agents in the past, I wouldn't be surprised in the least if MLB's outrageous suspension for Rodriguez was in part a favor for the New York ownership. After all, it was MLB commissioner Bud Selig who pushed through the current revenue sharing rules that have cost the Yankees millions in luxury tax payments over the years.
It's pure speculation, of course. But read Howard Bryant's brilliant synopsis of how PEDs have split major leaguers themselves and created a willingness from the players' union to go along with ownership on the issue of PEDs – including a willingness from many players to void contracts of those caught doping. I read this, and I think owners are salivating at the idea of setting a precedent for voiding contracts. And I think – again – at how convenient this 211-game suspension for A-Rod is…and then you read that MLB is targeting agents next in its Biogenesis investigation…
The Tigers are not in trouble ….
Okay, so last week I posed the question about the Tigers, and I wrote, "So it's not impossible to imagine a scenario where Cabrera misses significant time to injury, Verlander continues to pitch poorly, Peralta is suspended for PEDs, and the Tiger bullpen implodes, allowing the Cleveland f***ing Indiansto take the AL Central."
Hahahaha.
Verlander won his twelfth game, his velocity was the highest since 2012, the Tigers have won their eleventh in a row, and have extended their lead over the Indians to six games. Their chances of making the playoffs, according to ESPN.com, is now 97 percent.
Nothing is certain, but things look up for Detroit, even with Peralta's suspension. They acquired Jose Iglesias from the Red Sox, a light-hitting but wizardly fielding shortstop that should do wonders for the Tigers' pitching staff.
Seawolves vs. New York
This week, the Erie SeaWolves take on both New York affiliates – first, the Yankees' AA affiliate, the Trenton Thunder, and then the Binghamton Mets.
There's only one game left before Trenton leaves town, but the Thunder feature some of the Yankees' brightest prospects, including outfielders Slade Heathcott (Baseball America's #2 Yankee prospect, according to its preseason list) and Tyler Austin (#4, currently on the DL), and catcher Gary Sanchez (#3). Sanchez is also a top-50 prospect in all of baseball, potentially a productive-hitting catcher in the bigs.
Binghamton also features a top-50 catching prospect in Travis d'Arnaud, one of the key players that the New York nationals swapped Cy Young winner R.A. Dickey for. D'Arnaud fractured his foot to begin the year, and he's now just a few games into his recovery, but rumor has it he'll be moved to the New York Mets sometime soon – apparently Mets catcher John Buck is expecting his third child, and might soon take paternity leave.
But while d'Arnaud was the big name at the time of the trade, it's the other piece from the Blue Jays – pitcher Noah Syndergaard – who's really making a splash this year for Binghamton. The starter for Team USA in the Futures Game, Syndergaard blazed through high A, and is now 5-0 with a 1.98 ERA for the Binghamton Mets. Right now, Syndergaard looks like he'll round out a Mets rotation with Matt Harvey and Zach Wheeler…and possibly spark a Mets' resurgence.
Former SeaWolves infielder, Hernan Perez, had a quick trip back to Erie. He was optioned to Erie late last week, but before he had a chance to report to the SeaWolves, he was recalled to Detroit in the wake of the Jhonny Peralta suspension.