Brite Winter Provides a Festival Experience in the Snow
The one-day music and arts festival provides a cool experience in colder temperatures while providing a blueprint for potential Erie events.
February 23, 2015 at 9:25 PM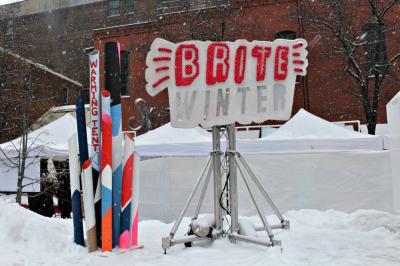 It's been rather chilly outside in recent days. Hell, it's been so cold, double-digit degrees Fahrenheit seems practically wonderfully. Still, Mother Nature shouldn't dictate whether or not we stay inside during our weekends, prime time for fun and excitement after the work week. Unfortunatley, a lot of people would rather stick to spending a Saturday inside, where it's warm, safe, and boring.
Luckily for music and arts fans, the people that run Brite Winter aren't content to camping out in their living rooms. The free one-day music and arts festival drew thousands of people to Cleveland's Ohio City neighborhood Saturday, Feb. 21, providing the region with an outdoor event that defied the cold.
Erie Reader Managing Editor Ben Speggen joined me and a small crew [including Carly Lyons, who took some lovely photos for you kind folks to enjoy at the bottom of this article] to see just what Brite Winter had to offer. After a short trip to the West Side Market for some various meats and crepes, we learned that there was plenty of fun to be had, even with the wintry conditions.
To be fair, Saturday was much more pleasant than the week that had preceeded it, with tempatures ranging int the mid-20s and big, fluffy snowflakes falling gently from a blue-grey sky. Sure, our feet would eventually start to get cold and traction wasn't perfect, but the snowy setting made Brite Winter more notable than your typical summer event. In a sense, a special snowflake in the festival world.
Brite Winter featured roughly 60 bands from 4 p.m. onward, with shows going long after the sun went down. Cleveland acts Midnight Passenger and The Commonwealth impressed on the fire and ice stages, respectively, garnering cheers as the bands' songs echoed past the nearby Great Lakes Brewing Company. Art installations and hand-built games were scattered across the Brite Winter grounds, which took up just over a block and incorporated several Ohio City businesses into the fold. 
If you ever got cold, you could either try and find a space heater or simply step inside one of several available establishments, some of which even hosted additional musical acts. Really, there wasn't anywhere that you could turn without finding something else to do. In one direction, you could find local food trucks dishing out delectable edibles. Turn around and you could be playing ping-pong in the snow. Hell, Brite Winter even had a raging fire encased in an ice sculpture. It was cool.
"The environment [is cool]," said Maps & Atlases frontman Dave Davison shortly after the Reader-approved band finished its headline set at the fest. "It's good to see so many people doing something outside at this point in the winter. Right now is the point of winter where everybody is the most fed up with it, so it's cool to have something like this."
It was cool, both in terms of the event and the general weather. In fact, it was pretty awesome to watch a band pump out original music while snowflakes fell on the stage, part of a whole event that tells winter to kiss its metaphorical keester, because people still want to have fun regardless of the wind chill. In fact, it made me think about how cool it would be if Erie had something like Brite Winter.
Of course, Erie's version would have to start out smaller than the 60-band bonanza that was expected to bring in roughly 20,000 visitors, but Brite Winter had its own humble beginnings, featuring three bands and a crowd that was just a fraction of the mass that gathered in Ohio City this past weekend.
Just think if Erie's Brite Winter featured 10 acts, nine of which could be plucked from Northwest Pa.'s impressive talent pool. Then you could go out and snag a great band for a not-so-crazy price. I've already got a potential lineup featuring Cloud Nothings, Falling Hollywood, Potwhole, C. Brown, and plenty of others in mind, and it's hard not to get excited.
Of course, this would all take money. However, with proper backing and a little love, perhaps it's not so crazy. Brite Winter is completely funded by partnerships, grants, and a small Kickstarter, and it's grown into a pretty big event. Perhaps some organizations - as well as members of the general public - could see value in an event that appeals to 20- and 30-something Erieites instead of bringing in the typical Classic Rocker After Prime fare that some of region's summer events do.
At the very least, perhaps an event like Brite Winter in Erie could have people coming to The Flagship City instead of seeing people leave it to go check out the actual Brite Winter. And who knows, maybe people will enjoy it so much that they'll go to both. Perhaps I'm being a bit optimistic here, but maybe an alternative one-day festival isn't such a crazy thought, whether it's set in winter or not.