Buffalo-based Band Brings Eclectic Sound to Erie
Progressive-rock band Aqueous plans to rock the crooked i Saturday, March 5. Twin City Kings will open the free show, so if you're up for a night of live music, you better get yourself down to the crooked i.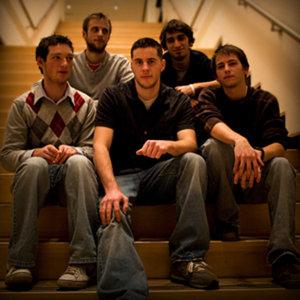 With any artform, you are what you eat, so to speak. That being the case, creating something truly unique can be a challenge. And some artists are more successful at it than others.
In many cases it seems that the dead horse has been beaten beyond all recognition. In the music world there's a plethora of run-of-the-mill bands, simply regurgitating the same old formulas, styles, and sounds that have been done over and over again. But then, like a breath of fresh air, a band hits the scene and what they're doing makes you stop in your tracks and forces you to take notice.
This is certainly the case with Aqueous, a Buffalo-based jamband that has all but dominated the regional music scene. Thankfully, they seem to be building a second home here in Erie. The band will be making their seventh local appearance on March 5, a free show set to take place at Erie's premier concert club the crooked i.
"Erie has been fantastic to us," said percussionist Nick Sonricker. "We've made a lot of really cool fans and we're always amped to come back. And the crooked i provides the perfect environment for our fans and music."
Since forming in 2006, this five-piece progressive rock ensemble has been successfully melding what they've learned from a vast range of influences including classic rock, reggae, '70s era funk, thrash metal, and '80s pop into something unique and new. Tack on ravenous obsessions with jamband titans such as Phish, moe., and Umphrey's McGee and the end result is sound played with such ferocity and musical prowess that it couldn't possibly be made by a group of twenty-somethings.
However, that's exactly what you get from Aqueous. Their sound is huge and chockfull of blistering dual guitar work by guitarists Mike Gantzer and Dave Loss, a driving backbeat delivered by drummer Brad Darrall and flavored with Sonricker's percussion work. Bassist Evan McPhaden provides a gut rumbling low-end that draws listeners onto the dance floor to create a sweaty, writhing mass of jubilation. Over the course of any one of Aqueous's extended compositions, one will find themselves awestruck at Gantzer and Loss's technical interplay. By the song's inevitable climax they'll be eyes closed in a state of bliss, bobbing their head, shaking their hips, and stomping their feet.
Original songs such as "Marty," "Aldehyde," and "Dave's Song" feature upbeat tempos with lyrical melodies and hooks catchy enough to stick with you and find one singing along even with the first listen. Others like "Mosquito Valley" and "Uncle Phil's Parachute" have multiple lengthy instrumental sections that weave in and out of each other, each of which could be a song all in its own.
This ability to craft such well-written music is a trait not often found in the jamband world, and according to guitarist Loss, the end product one of two processes. "Most of the time Mike or I will have the song pretty well panned out and will know how we want it to sound," he said. "Between the two of us we figure out the guitar parts and try and piece things together the best we can before we show it to the rest of the band. Once we play it as a whole band, things continuously change until we get it just right."
Sometimes that experimentation period can take quite awhile. "One of our songs, 'Dave's Song' was a work in progress for almost a year or more until we found the right ingredients," said bassist McPhaden. "It's since become a fan favorite."
Other times, as Loss pointed out, song writing can be more of a group effort. "Sometimes we will just be jamming and come up with something interesting that we later use in a song."
However, the true beauty of an Aqueous performance is the improvisational journeys they take within and between their songs, inviting the audience on an exhilarating ride. Although destinations may be planned, the road is never truly known. To be able to play totally in the moment while remaining cohesive and musical is no easy task and is something Aqueous works on intensely.
"We practice once a week for about two hours," said percussionist Sonricker. "An hour of that period is spent jamming, which is helpful for a live setting." Yet, when it comes to jamming at the level Aqueous does, it's not just practice that makes perfect: "It's all about knowing the people you're playing with really well, being able to almost predict their next move."
Although Aqueous takes what they do seriously, the band has a lighter side that they interject into their shows. Each set is peppered with well-chosen and precisely executed cover songs that serve to not only break up the intensity of the live shows, but also have fun with their audiences and provide more of a party atmosphere. Their covers run the gamut of their many favorite songs and bands. "We try to cover songs that we like and we think the crowd would like," said McPhadden.
Some of those songs you might expect from a band like Aqueous, such as "In the Flesh" by Pink Floyd, "Shakedown Street" by Grateful Dead, or "Down With Disease" by Phish. Others might come as a surprise but in the end make sense, like "Safety Dance" by Men Without Hats, "Godzilla" by Blue Oyster Cult, or "Fame" by David Bowie. Yet Aqueous will shock audiences with songs they'd never expect to hear from a progressive rock band. Songs like "Gin and Juice" by Snoop Doggy Dog, "Gettin' Jiggy With It" by Will Smith, or the theme music to Super Mario Brothers bring smiles to the faces of surprised audience members and are met with hoots, hollers, and whistles. "We try not to leave out any style," McPhadden said, "so there's anything from rap, to '80s new wave."
Many different elements make up Aqueous, and people are apparently starting to take notice since their fanbase has been increasing on a show-to-show basis. Recently they were given the opportunity to play at legendary Buffalo concert venue The Tralf as the supporting act for one of the jamband scenes current hottest bands Tea Leaf Green. They have a brand new full-length album set to be released in April and are currently planning an extensive summer tour.
With a wealth of talent and a growing fanbase taking notice, it won't be long before the days of free bar shows are a thing of the past for this young group of supremely talented musicians, and they'll be taking the summer festival scene by storm. If you haven't had the opportunity to see Aqueous yet, Saturday, March 5 is the time. The show is free and fellow Buffalo band Twin City Kings will be kicking things off at 10 p.m. with Aqueous taking the stage at 11 p.m.