COPE and The First Street Heat Bring Sizzle to the crooked i
Florida-based band brings warmth to Erie music scene.
March 16, 2011 at 1:34 PM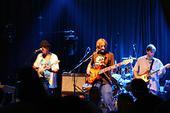 It was like a beach party in March when Tampa, FL-based jamband COPE brought their funky reggae dance party to the crooked i stage Saturday, March 12. Bar owner Marty Schwab has been a fan of the band for years and was stoked to finally have them rocking his stage in Erie.
"COPE is just amazingly tight and good," Schwab said. "They're in their 30s now, but have been playing together since they were 16 years old and it shows. They rocked my club in Florida, and it's time Erie got a taste."
COPE was joined by openers The First Street Heat, an 11-piece funk band from Athens, Ohio that featured a horn section, multiple vocalists, and MCs Hil and Schwartz better known as The Dysfunktional Family. The two bands went together like sweet and salty.
As The First Street Heat's saxophonist Jack Gould put it:  "Both of our bands have that funky, party band sound and focus on having strong vocal harmonies so we go well together that way. But the contrast is that our sound is more pop-soul and hip-hop driven."
That's exactly the way it went down. The First Street Heat took the stage and immediately had the room bouncing.  Folks in the back of the room and folks sitting at the bar were bobbing their heads, abandoning whatever conversations they were in the middle of to focus on the sounds coming from the stage. 
The First Street Heat's music brought to mind Sly and The Family Stone and Cee Knowledge and The Cosmic Funk Orchestra.  The rhythm pulsated and bounced along, accented by the horn section comprised of Gould, Nick Weckman on trombone, and Zach Pontzer on trumpet. Vocalists Ben Kain, Eden Lee, and Eric Turner blended harmonies while The Dysfunktional Family got on the microphone and took The First Street Heat to a whole new level, spitting lyrics on songs, such as "That Sound," and dropping lines with depth, reminding you that: "This is hip-hop, this ain't rap, cuz rap is on the radio and this ain't that…"
The First Street Heat warmed the stage, getting the crowd in the dancing mood and ready for COPE to take the stage. The band set the night off with a bang with their smart cover of Kool & The Gang's "Get Down On It." From that moment on the dancefloor was packed and the crowd kept moving until last call. This was the only cover the band played during their two hour performance, making the bold move to play original music before an Erie crowd that was unfamiliar with what COPE was all about.
Over the course of the night it became clear that COPE are genre jumpers. Each original song has its own sound and influence. Be it reggae such as the case with Babylon Man, which had a deep skank sound and featured keyboard and saxophone player Juan Montero holding the crowd in the palm of his hand as got on the microphone and broke the song down with lyrical quickness. Other songs like "Goin' Home" kept a slight reggae feel but were much more pop-oriented, with catchy, sing-along choruses.  There was even a taste of bluegrass when guitarist and lead vocalist Dennis Stadelman picked up a banjo for the song "Take Me Over."
"The fans seem to really enjoy the diversity in our songs," Montero said.  "These days, with iTunes and MySpace, kids are able to discover and familiarize themselves with so many different forms of music. It's important that a band have a lot of different material that fans can relate to."
However, this diversity isn't exactly a planned thing as bassist Kenny Stadelman explained: "Dennis and I write in a similar way where we let each song find itself. We'll have an idea and try different things while we're working the song out, but for the most part we find if we let it just flow naturally, we end up with something that we're all happy with."
Quality songwriting isn't the only thing that defines what COPE brings to the table. Many songs featured quality jams, with guitar and saxophone playing point and counterpoint, producing some awe-inspiring textures.  Each extended instrumental section was well placed and driving, never spiraling off into oblivion, something that can be an issue for many jambands. This was obviously something COPE has worked on.
Bassist Stadelman confirmed: "Our jams have evolved and become more focused. We've created space within the structure of the song so that although we're doing a lot of free-form jamming, we have more of an idea of where each jam is going end up."
Although the 400-person capacity room wasn't exactly bursting at the seams with people, the 100 or so in attendance at the crooked i that night proved to have been won over by both bands, judging by the slew of smiles and the full dancefloor. Both The First Street Heat and COPE got to show Erie what they had to offer and Erie drank it all in, down to the last drop. 
Those that didn't make it to the show missed out on a good time.  But it's safe to say that both bands will be making return appearances at the crooked i in the not so distant future.
In the meantime, both COPE and The First Street Heat can be found on Facebook and MySpace.