Festarini struggles as Erie loses 6-5 to Peterborough
Chris Festarini struggled once again in net as the Otters saw their eight-game win streak at the Tullio Arena coming to a sudden and suprising end.
February 25, 2011 at 11:31 PM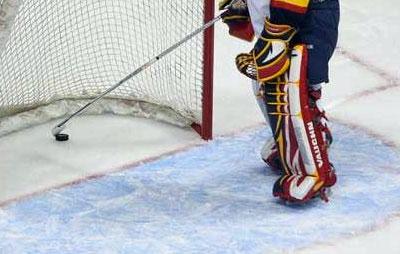 By ALEX SIBLEY
Asibley@Eriereader.com
Chris Festarini had his best opportunity to earn his first career Ontario Hockey League win with the Peterborough Petes in town for their lone game in Erie.
The Petes came into Friday night's game at the Tullio Arena with just 18 wins 58 games this season, while scoring just 168 goals, the third fewest in the league.
Instead, the rookie goaltender had his worst performance to date.
Festarini allowed five goals on 14 shots, four of which came in the second period, as Peterborough snapped Erie's eight-game home winning streak with a 6-5 win in front of 3,229.
"Festo didn't get a lot of help tonight," coach Robbie Ftorek said. "There were some breakdowns and we didn't play as well as we would like to have."
That was just the beginning of the bad news for the Otters.
Coming into last night's game, Erie was in sole possession of seventh place in the Western Conference, one point behind sixth-place London and fifth-place Plymouth.
Erie also trailed Windsor by three points for the fourth slot, which guarantees home ice advantage in the playoffs.
All three of those teams won Friday, putting Erie on the outside looking in for the coveted fourth playoff seed with just eight games left on the schedule.
Things looked promising throughout the first period, as Greg McKegg, the reigning OHL Player of the Week, scored his 40th goal of the season just 1 minute, 16 seconds in. From there, the Otters maintained pressure in the Peterborough zone, while firing 10 shots in the direction of Bryce O'Hagan.
But what would become a reoccurring theme, Festarini was beat by Lino Martschini for his 17th goal of the season at 17:49, sending the two teams to a 1-1 tie after 20 minutes of play.
Anthony Luciani needed just 43 seconds in the second period to regain the Erie lead, as he put his 25th goal of the season behind O'Hagan.
Then, the wheels feel off for the Otters.
On their next seven shots, the Petes would score four times on Festarini, who came into the game with an 0-8-0-0 record, before he was pulled in favor of Adam Wood, a recent call-up from Junior B Lindsay. Zach Tartn scored the equalizer at 4:56, while Kallie Ekelund, Austin Watson and Alan Quine quickly put Erie in a 5-2 hole.
Festarini was in net for the second straight night in place of Ramis Sadikov, who has missed the last two contests with a lower body injury.
"Chris played well enough for us to win," said forward Phil Varone, who scored 18 seconds after Quine to cut the Erie deficit to two. "We broke down defensively. When you leave a goalie out to dry, they're going to score goals"
Shawn Szydlowski capitalized on a power play opportunity with 15 seconds left in the frame, as he blasted his 36th goal of the year off a needle-threading pass from Varone to make it 5-4 after two periods.
The teams combined for seven goals and 21 shots in wild period, while Wood did not have to make a save. With a 1-16-1-1 record this season after trailing after two periods, it appeared the Otters would have an uphill battle to earn a much-needed two points.
When Austin was whistled for a tripping penalty early into the third, Luciani took advantage and notched his second of the game as he lifted the power-play goal into a wide open cage, tying the game at 5.
But on a night where Erie was lifeless throughout, it was only fitting that Peterborough got the final laugh.
With 48 seconds left, the Petes feathered a shot towards Wood, setting off a frantic goal-mouth scramble that ended with Watson's second of the game. Wood, who came into the game with a 2-0 record with the Otters dating back to last season, stopped 8-of-9 shots.
The goal was symbolic on how Peterborough (19-38-1-1) played against the Otters all night. They simply wanted it more.
"It was a nice, hardworking play to get the goal," said Petes' forward and former Otter Jeremy Gottzmann, who had two assists, one of which came on the game winner. "Everyone was hyped up for the game today. Everyone played great tonight, so it's a good feeling."
While Peterborough came to play, Erie, who is a dangerous team when it wants to be, has to go back to the drawing board.
"We didn't give it a full 60 minutes today," Luciani said. "We have to come out hard at the beginning of every period and follow through at the end."
   
~Alex Sibley covers sports for the Erie Reader. You can contact him at ASibley@Eriereader.com, or follow him on Twitter @ErieReaderSport.