Local School to Receive Makeover
Mural project slated for summer
March 14, 2014 at 11:37 AM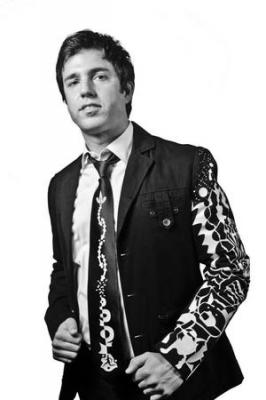 Earlier today, Mercyhurst Preparatory School held an assembly to announce a massive public art project featuring Erie artist (and Mercyhurst Prep alum) Todd Scalise.
Scalise is certainly no stranger to Reader readers; he has contributed scads of artwork to this very publication, and was profiled at length with a cover story last year. Reader readers will also remember his Stairway Annex Project at the Erie Art Museum, as well as his work on the logo for the late Perry 200 Commemoration. He's worked in Italy, France, and all across these Untied States, and recently took home two significant awards recognizing both his art and his entrepreneurial ability.
But this summer, Scalise will embark on one of his most ambitious projects to date. Beginning in May, Scalise will create and install a giant outdoor mural at Mercyhurst Prep, in collaboration with students. The mural will consist of Scalise's instantly recognizable 'Scalisized' imagery depicting ideas and themes submitted by students.
According to an MPS press release issued in conjunction with the assembly, the "multidisciplinary project will reflect various aspects of MPS campus life in the form of a permanent work of art that reflects the core values of the school and how it uniquely offers students 'Unparalleled Preparation for Life.'"
In addition to parts of the building's facade, the mural will wind its way through the 24 pillars that flank the outdoor walkway between the front entrances; 24 is a highly symbolic number at MPS and refers to the 24 divisions of the Priesthood, the 24 Elders seated around God's throne, the 24 elements that make up the human body, and most importantly, the 24 distinct parts of MPS's slogan, "Unparalleled Preparation for Life."
For more information on the Mercyhurst Preparatory School mural, check out MerchyhurstPrepMural.com. For more information on Scalise, visit Higherglyphics.com.