Monday Morning Locks -- Week 12
After a 1-4 week, Alex Sibley looks for redemption with four games from the NCAA Tournament, including his pick in the BYU-Florida contest Thursday night.
March 20, 2011 at 10:26 PM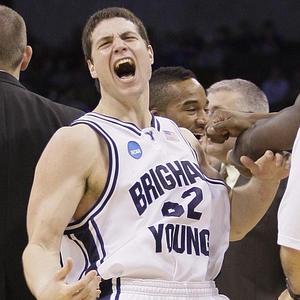 By ALEX SIBLEY
ASibley@Eriereader.com
It was only fitting that after driving to the Tullio Arena after the Patty Kazmaier Memorial Award Banquet Saturday afternoon, the first song that came on the radio was "Cold as Ice" by Foreigner.
That was the best way to describe my week of picks, as I went 1-4 in Week 11 and have won just three-of-10 locks in two weeks.
And to think I was complaining for so long that I could get over three wins in a week. Now I'm struggling to keep my head above water as my overall record is just a disappointing 32-30.
To make it simple, I need an impressive week.
Thank the heavens that March Madness is in full gear.
 Also, more importantly, thank you to the throngs of you that sent in brackets for the first Erie Reader Bracket Challenge.
I need to catch fire with my picks, so I'll start with probably the hottest team still alive in the tourney.

Lock No. 1 – University of Connecticut
As the NCAA basketball season as gone on, Wes Whiteside, the man who brought you the West Side Story podcast, and I would always go back and forth about one particular player I thought was overrated.
Well, the last month or so, Kemba Walker has turned me into one of his biggest fans after dogging him the majority of year.
He led the Huskies to five wins in five days to win the Big East Tournament. He's been clutch when his team needs him to be. Now, he's leading once-forgotten UConn to a chance at a title.
The next team that attempts to shut down the surging guard is the two-seeded San Diego State Aztecs.
A month ago, I would take San Diego State. Now that Kemba is on a mission, I have to go with UConn.
The kid can flat out play the game. Whether he goes against one, two, or even three defenders at time, he can slash to the hoop better than most that remain in the tournament.
Even with all the games and minutes he has played the last three weeks, he looks fresh and determined.
I like going with the sizzling team with the hottest player in the country, so give me the Huskies to advance to the next round.
Lock No. 2 – Ohio State
With its football program getting the majority of the press lately, the Ohio State basketball program is quietly making its march towards a title.
Friday night Kentucky will look to knock off the best team in the Big 10.
The Buckeyes are coming off a beatdown of George Mason Sunday afternoon, and with Jared Sullinger continuing to be a force both on offense and defense, Kentucky may have a hard time matching up with the 6-foot-9 forward.
Kentucky's Josh Harrellson is good, but not even near the talent of Sullinger.
If OSU can get a good game from Sullinger and hit from the outside, it should be an easy win for my pick to win the championship.
Take OSU.
Lock No. 3 – Butler Bulldogs
Apparently, the Butler Bulldogs want to be a Cinderella two years in a row.
A year after losing to Duke in the National Championship contest, the Bulldogs have beat Old Dominion by two and a lot of people's pick to win it all in Pitt.
Cinderella must have a later curfew than midnight this season.
They're not a team of superstars, and they definitely are winning games with style and grace. But all that matters this time of year is that they're getting it done when it counts.
On paper, Wisconsin is the better team. Much better in all aspects of the game.
But I bet against Butler every step of the way last year, and we all know how that worked out. They were bracket busters from day one.
I'm a believer this year. It doesn't take skill; it takes heart to win basketball games in March.
No way can Wisconsin can match the intensity Butler will bring Thursday night.
I can't wait to see how this fairy tale ends. I'm assuming it will end before the title game, but against the Badgers, I'll take Butler.
Lock No. 4 – BYU
My man Jimmer Fredette is tearing it up
He's got over 60 points in the first two games and BYU has looked unstoppable at times.
And for BYU, he's going to have to remain hot to keep the season alive.
On Thursday, the Cougars will meet the Gators of Florida, a two-seed.
BYU can score, and that's where Florida has problems. They come into the contest 98th in the country, averaging just 71 points a game.
Florida has only been over 85 points five times this season, one of which came in a double-overtime and another came against North Caroline A&T.
Yeah, I've never heard of it either.
BYU on the other hand can flat out shoot and score. They're eighth in the nation in scoring and shoot 45 percent from the field.
Take BYU.
Lock No. 5 – Erie Otters
In October, this team was anything but a lock as they stumbled out of the gates winning just three games before November.
Now, the Otters are streaking into the playoffs with eight consecutive wins, while earning a rematch in the quarterfinals of the OHL playoffs with the Windsor Spitfires-- the same squad that eliminated the squad in four last year.
Player for player, Erie is the best team in the Western Conference. The club has three players with 40 or more goals in Shawn Szydlowski, Greg McKegg, and Brett Thompson. Throw in Ramis Sadikov, who in his sophomore year is making it known that he wants to be known as one of the best goaltenders to play junior hockey in Erie.
But more than that, the Otters have revenge on their minds. They were embarrassed last year by the Spits, who are the back-to-back OHL and Memorial Cup Champions.
With a lot of uncertainty on who will be back next year, this is the year for Erie to make a deep run and possibly win a title.
When they're good, they're scary good.
Take the Otters in Game 1 and don't be surprised if we're seeing hockey played come early May.
~Alex Sibley covers sports for the Erie Reader. You can contact him via e-mail at ASibley@Eriereader.com, or follow him on Twitter @ErieReaderSport.