News of the Weird: August 31, 2016
Hemp-based hypocrisy, and then some.
August 31, 2016 at 1:00 PM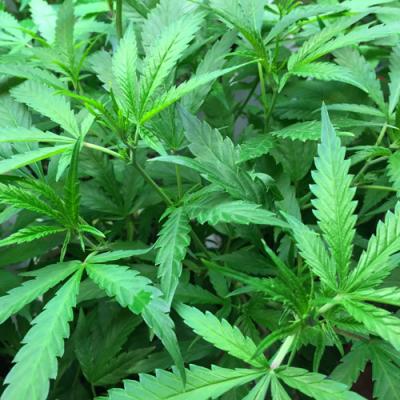 Virtual Fandom
The phenomenal Japanese singer Hatsune Miku (100 million YouTube hits) is coming off of a sold-out, 10-city North American concert tour with high-energy audiences (blocks-long lines to get in; raucous crowd participation; hefty souvenir sales), except that "she" isn't real. Hatsune Miku is a projected hologram on stage singing and dancing (but her band is human), and her May show in Dallas, according to a Dallas Observer review, typically ignited frenzied fans who know the show's "every beat, outfit ... and glow stick color-change." Her voice, a synthesized "vocaloid," is crafted in pitch, timbre and timing to sound human. (The latest PlayStation brings Hatsune Miku into the home by virtual reality.) [Dallas Observer, 5-16-2016]
The Finer Points of Law
Make Up Your Mind, Feds: On Aug. 11, the federal government's Drug Enforcement Agency famously refused to soften the regulation of marijuana, leaving it (with heroin) as a harsh "Schedule I" drug because, citing Food and Drug Administration findings, it has "no medical use." However, as the Daily Caller pointed out, another federal agency Department of Health and Human Services obtained a U.S. patent in 2003 for marijuana-derived cannabinoids, which HHS pointed out have several medical uses (as an antioxidant and for limiting neurological damage following strokes). [Daily Caller, 8-17-2016]
Priorities: (1) "A dog has better protection than our kids," lamented an Oregon prosecutor in May because, unlike the pet law, the "child abuse" law requires proof the victim experienced "substantial" pain which a young child often lacks vocabulary to describe. (Simply showing welts and bruises is insufficient, the Court of Appeals has ruled.) (2) That same Oregon Court of Appeals ruled in June that Thomas Wade, 44, was not guilty of a crime when in 2013 he unzipped his pants, reached inside, and at that point cursed the woman he had confronted in a public park. "Distasteful," wrote the Court, but it was an exercise of Wade's free speech right. [The Oregonian, 5-21-2016] [The Oregonian, 6-10-2016]
Texas! In August, Houston defense lawyer Jerry Guerinot announced his retirement from death-penalty cases, leaving him with a perfect record (for that area of his practice): He lost every single time. Twenty-one clients received the death penalty, and 10 have been executed (so far). He made no excuses, pointing out that "gang members, serial killers and sociopaths" were entitled to representation, too, and that he has taken more than 500 noncapital cases to trial (with, presumably, more success). [Associated Press via Fox News, 8-13-2016]
Tourists Gone Wild
Tourism officials in Iceland recently posted "hundreds" of signs at visitor attractions showing a squatting person in silhouette, with a small pile on the ground underneath and the familiar diagonal line (indicating "don't"). Critics of the signs reluctantly admit Iceland's chronic shortage of public restrooms. (2) In a YouTube clip released in July, a Disney fan posted shot after shot of "rude" Chinese tourists at Shanghai Disneyland, coaxing their small children to urinate in public rather than in restrooms. (3) The Tourism Bureau of Japan's Hokkaido island recently rewrote its etiquette guide for visitors to underscore the inappropriateness of "belching or flatulence" in public. [Daily Mail (London), 7-20- 2016] [Daily Mail (London), 7-19-2016] [Agence France-Presse via Yahoo News, 4-28-2016]
Leading Economic Indicators
Suspicions Confirmed: (1) A New York Times reporter, describing in June the rising prices of prescription pharmaceuticals, noted that a popular pain reliever (probably describing oxycodone) was available on the Paterson, New Jersey, black market for $25 a pill, while heroin was going for $2 a baggie. (2) The economic growth rate in Ireland for 2015 was revised upward in July. Growth of its gross domestic product was originally estimated at 7.8 percent, but subsequently adding the paper value of several "inversions" (U.S. companies "moving" to Ireland to reduce U.S. taxes) Ireland found that it was actually growing at 26.7 percent. [New York Times, 6-14-2016] [New York Times, 7-13-2016]
Awesome!
Investigators revealed in July that an off-duty Aurora, Colorado, sheriff's deputy had justifiably fired his gun to resist a parking lot mugging and that, furthermore, one of the bullets from Deputy Jose Marquez's gun had gone straight into the barrel of one of the handguns pointed at him. The investigators called the shot "one in a billion." (2) Matthew Lavin, 39, drew internet acclaim in July after he was gored through his left thigh while "running with the bulls" in the annual spectacle in Pamplona, Spain. Interviewed in his hospital bed by Madrid's The Local, he called it "the best time ever" and said he looked forward to another run next year. [Denver Post, 7-13-2016] [The Local (Madrid), 7-13-2016]
Ironies
Gary Durham, 40, was shot to death during a heated road-rage incident in Plant City, Florida, on Aug. 10. Durham had served 10 years in prison after an aggressive road-rage episode in 2001 in which he pursued another driver and knocked him to the ground, causing the man to hit his head, fatally, on the pavement. (Included in Durham's 2002 sentence was an order to take anger management classes.) [Tampa Bay Times, 8-11-2016]
Wait, What?
The Borough Council of Pompton Lakes, New Jersey, was surprised to learn in June that, because of an existing local ordinance, dogs were not permitted in its brand-new Pompton Lakes dog park, created with great fanfare in an area of Hershfield Park. The council vowed to fix the problem. (2) In June, a police watchdog agency in Dublin, Ireland, asked officers ("gardai") across the country to try to carry out house raids at "reasonable hours" so that they do not disturb the occupants. (In one complaint, gardai staged a 3:15 a.m. raid to search for evidence of stolen vehicle accessories.) [The Record (Hackensack), 6-13-2016] [Irish Independent, 6-12-2016]
A 9-year-old girl named Irina won a contest in Berezniki, Russia, in August for letting mosquitos bite her more often that they bit other contestants. It is the signature event of the annual Russian Mosquito Festival, and her 43 hits were enough to earn her the title of "tastiest girl." The annual Great Texas Mosquito Festival in Clute, Texas (south of Houston), apparently has nothing comparable. [Washington Post, 8-15-2016]
The Passing Parade
The Elanora Heights Public School (a primary school in Sydney, Australia) recently banned clapping during student assemblies in an effort to help pupils with noise anxieties. To show audience approval, students are asked to "punch the air," "pull (on their) faces" or "wriggle about." (2) In July, The Nairobian newspaper reported the remarkable career of "Rosemary," reputed to be the Kenyan capital's oldest prostitute still going strong at 64 after more than 5,000 clients. She said she could make it through 40 on a good day, but never missed church on Sunday. [Sky News (London), 7-20-2016] [The Nairobian, 7-16-2016]
Least Competent Criminals
Didn't Think Ahead: (1) In July, Joshua Jacobs, 30, accidentally knocked down a traffic sign at 12:45 a.m. in Vero Beach, Florida, and, spotting a sheriff's deputy, sped away. The deputy gave chase especially, he said, given the fully-grown marijuana plant resting in the bed of the pickup. Jacobs was arrested. (2) Jeremy Watts, 30, and Jessica Heady, 24, were charged with aggravated burglary (a PlayStation and other electronics from a man's home) in Clarksville, Tennessee, in August. The pair had offered the haul to a Cash America Pawnshop, but did not realize that the home they had burglarized was the pawnshop manager's. [TCPalm.com (Stuart, Fla.), 8-2-2016] [Leaf Chronicle (Clarksville), 8-3-2016]
A News of the Weird Classic (October 2012)
Researchers writing in the journal Animal Behaviour in July (2012) hypothesized why male pandas have sometimes been seen performing handstands near trees. They are urinating, the scientists observed, and doing handstands streams the urine higher on the tree, presumably signaling their mating superiority. A San Diego Zoo researcher involved in the study added that an accompanying gland secretion gives off even more "personal" information to other pandas than the urine alone. [Live Science, 8-28-2012]
COPYRIGHT 2016 CHUCK SHEPHERD