Tech Watch: E-mail: The new Snail Mail?
Has e-mail become the new snail mail? With faster, more efficient means of communication, Michael Haas thinks so.
October 5, 2011 at 9:00 AM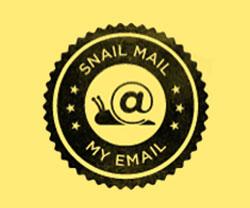 When e-mail became mainstream, people began using the phrase ?snail mail? to describe anything sent by the Postal Service.  This communication revolution reduced the amount of time it took to send a letter across the country from a few days to just a few minutes and suddenly we started communicating faster.
But today, I would argue that what we call ?snail mail? has changed. The paradigm of what is ?fast? has fundamentally changed with the advent of new messaging and communication software. Now, e-mail is ?snail mail? because communication is now happening at breakneck speeds both personally and professionally.
On a personal level, I hardly ever send e-mail. If I want to communicate with my parents, I call them or send them a text message. If I want to chat with my friends, I don?t send them an e-mail?I get on to Facebook and post on their wall.
Communication has fundamentally changed from being something you ?wait? for to something that ?happens? to you instantly. And while some people may try to argue that this constant and accelerated flow of information is a bad thing, I would argue the exact opposite.
Take, for example, a young child whose father is on a business trip. A few years ago, the child would have had to write a letter or send an e-mail to her dad and then wait for a response. Today, she can video chat with him and actually see his face wherever without having to wait.
And the business world?s changed too. When I am at work, I hardly ever send an email to a co-worker. If I need them to look at something, I simply send it to them via Google chat, Google?s instant messenger service. Instead of needing to check their email and reply, the item just pops up on their screen, prompting them to click it. This instant communication saves the company time and money by making the company more efficient as a whole.
E-mails now, like letters were, are used only for information that is either more official or not in need of such an immediate exchange as the other forms of communication offer. A business leader told me he received twice as many junk emails as legitimate ones. With no ?junk? to sort through with the other communication platforms, more companies are moving towards these alternatives to the modern-day ?snail mail?.
The same is true for traditional ?snail mail? as well. For every important letter I receive (usually just a bill), I receive at least five or six ?Free Offers? and what seems like a thousand coupons that I never use.
Letters are sentimental and e-mails are an efficient was to communicate when reliability and timeliness are unimportant, but let?s call them both what they really are: just two forms of ?snail mail?.