Tech Watch: Klout
Something's out there. And right now it's measuring your influence. And Michael Haas knows what it is.
November 16, 2011 at 1:00 PM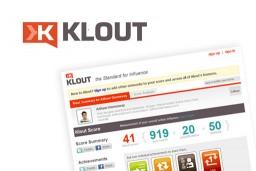 Imagine a world where everyone has a number that represents how important and influential he or she is. Everything, from the jobs you can apply for to the deals you can get on a car, is determined by this quantification of your influence.
No, this isn't from a science-fiction novel or the Twilight-Zone, or make believe.
This is Klout, and it's measuring your influence right now.
Founded in September of 2009 by Joe Fernandez and Binh Tran, Klout is the standard of influence for the online world. By analyzing your usage of Facebook, Twitter, and other social networks, Klout is able to give you something akin to a credit score for your social media. The algorithm rates people on their influence, or "the ability for users to create action." If more people "like" my statuses, "retweet" my tweets, and view my videos, I'm more influential. On the other hand, if I encourage people to go to Epic Web Studios and there is no influx in traffic, I'm not very influential at all.
Recently, Klout has gained a lot of attention from the media. From the New York Times to the Wall Street Journal, Wired to Forbes, and even Advertising Age, Klout has become the "standard of influence" on the web and is moving rapidly into the everyday "offline" world. And it makes sense why: President Barack Obama, Lady Gaga, and even the Erie Reader all have 'Klout'.
But why should you care? Sure, it can be fun to attach numbers to things, but does Klout actually mean anything in the real world? And besides, who's paying attention?
Well, advertisers are.
With Klout Perks, companies have an ability to market directly to the people who "drive action." For instance, Chevrolet recently let select influencers in the Chicago area (with a Klout score of 60 or higher) try out the new Chevy Volt for a week. And Dick's Sporting Goods gave away $10 gift cards to people who are influential in sports.
When you receive a "Klout Perk" as they're called, you don't have to "do" anything. No required promotion via social media, no paying for the sample. The only stipulation is that if you do discuss the product that you received online, you mention that you got to sample it via a Klout Perk.
But beyond that, Klout is becoming more mainstream. Parties in NYC require a score above 40 to enter, certain jobs adjust their pay-grade according to an employee's Klout, and more industries are utilizing Klout as a way to measure how effective they are at reaching their target audience.  
But just like Google, the algorithm for Klout is constantly being updated and adjusted, and the future of online influence ratings is up in the air. With alternatives to Klout, like Kred, sprouting up, the potential exists for a system much like the three credit rating agencies to begin.
Are you familiar with Klout? Do you know how influential you are? Do you know what your Klout is? Check it out at www.klout.com by logging in using your Facebook or Twitter to see just how much you influence those around you.