Tech Watch: Social Music: This isn?t Your Average Walkman
Michael Haas says he won?t buy another CD, ever. Call him crazy, but he?s done some research on the changes in the ways people are listening to music.
September 29, 2011 at 1:01 PM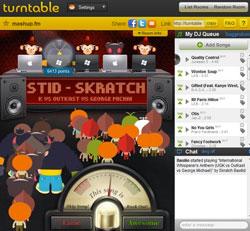 I will never buy another CD again. Call me crazy, but the way the music industry is moving, I?ll never need to buy another one again.
Listening to music has fundamentally changed from a passive activity into a social function with a plethora of new startups out there.
But navigating all these new websites and apps is not only confusing and tedious but time consuming as well. So I broke down some of the best so I could share with you the best ways to share music with your friends and family.
Pandora ? ?Best Way to Discover Music You Already Knew About?
To use Pandora, simply type in any Arist, Song, or Album and the service will tap into its veritable arsenal of music to generate an ?Internet radio station? centered around similar music. This ability to take one artist and find similar groups makes Pandora fantastic for discovering those artists and songs that, while have been on your radar for the longest time, you never actually listen to. Personally, I used to skip ?Matt & Kim? all the time on my iPod. But when listening to my various radio stations on Pandora, I feel the need to at least give them a chance (mostly because you can only skip about five songs before the site locks you out).
However, Pandora is not new to many people. In fact, it is bulky, old, and outdated compared to a lot of the newer sites. Also, the advertisements are not only loud, but incredibly intrusive and take forever to load. But with a fresh redesign in HTML5, Pandora has gotten a much needed facelift to compete in this growing market.
Good ? Easy to use ;readily available; mobile App (iOS and Android): free (or ad-free subscription)
Bad ? Ads are intrusive; music gets repetitive; can?t select a specific song you want to hear
Turntable.fm ? ?Best Way to Discover Music You?ve Never Heard of
What do you get when you combine Internet chat rooms with the ability to share music? Turntable.fm ? the newest (literally only about half a year old) music service to hit the mainstream Internet. On this site, the main location for music are not ?stations? (like Pandora) but ?rooms? tailored to specific groups of people or musical tastes.
Inside each of these rooms are five DJ slots and a multitude of other people just hanging out and listening to some good music. When a DJ plays a song, anyone in the room can declare the song to be ?Awesome? or ?Lame,? and a meter at the bottom of the screen tracks how the crowd is receiving the song. If the crowd isn?t accepting a song, the rest of the song is skipped and it is the next DJ?s turn.
The cool thing about turntable.fm is that all the songs are handpicked by the DJs, not by algorithms like on Pandora?and anyone can be a DJ (if there?s a spot open in the room you?re in). Because of this, all musical boundaries are pushed to their limits. It?s also a great way to discover music you?ve never heard of before, and with the chat feature you can let everyone in the room know how much that beat makes you want to get up and dance. Turntable.fm is democracy at its finest ? selecting what music to skip and what music flat out rocks.
Good ? Shared music experience; variety of music; iOS App; free
Bad ? Being a DJ can be extremely exhausting; sometimes the site runs slowly; no Android App (yet)
Songza ? ?Best Way to Discover Music when you don?t know what to play?
Sometimes I know exactly what song I want to listen to. However, most of the time I have absolutely no clue what I want to listen to?but I clearly need some music. Whether I?m too tired, too busy, or just too bored, I don?t have the motivation to select a specific artist or album. That?s where Songza comes in. On Songza, you don?t select a playlist by artist or song (like on Pandora), but rather by ?Mood?, ?Activity? and ?Genre?. With playlists from ?Formal Dinner Party? to ?Cocky?, your music can be narrowed down to exactly the mood you?re in (or the event you?re at). There?s even the option to submit your own playlist to the site.
Good ? Easy to use; music selection is intuitive; mobile Apps (iOS and Android); free
Bad ? You can?t select a specific song you?d like to hear
Spotify ? ?Best Way to Listen to Music?
Finally, the king of all music services: Spotify. Any song you can think of is free to play. Let me repeat that. Any song you can think of is free. I started using Spotify in mid-July and have not used iTunes since. Search by Artist, Song, or Genre and you can find almost anything you want to hear. Alright, some major groups are missing due to licensing, but the vast majority of music is there and FREE. But what makes Spotify a true game changer is its most recent feature: integration with Facebook.
At the F8 (Facebook Developer) conference on the September 22, Mark Zuckerberg announced massive changes to Facebook and social sharing. One of their main focuses was the ability to share music, TV shows, and movies. Now, thanks to the increasingly intuitive sharing of Facebook, Spotify is completely integrated. If I create a playlist, my friends on Facebook will see it and can listen to it instantly. If I?m listening to Kanye West, my friends can listen right with me.
Spotify has taken the best part of music ? listening with people, and made that an attainable reality on Facebook.
Good ? Any song or album for FREE; seamless integration with Facebook
Bad ? You may not want everyone seeing what you?re listening to (looking at you, ABBA fans), and audio ads play occasionally; not ?every? musician is on Spotify.
Music has always been a way to connect with people. And now, thanks to the internet, we no longer are confined to our iPods and CD players. With the advent of social music services, we can share/comment on/engage with our music and find the people who share our tastes. If you need to find me, I?ll be listening to my favorite tunes?with my friends.