The Maturation of Pickle
From Matty B to Matt Boland, see why Michael Bennett says Erie will see its boy all grown up.
June 17, 2011 at 12:00 AM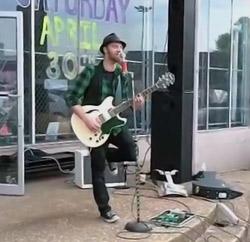 With a new album, a new band, and a new beard, Matt Boland is trying to shake off his years as a Dirty Pickle and reintroduce himself as, well, himself.

For his new album, "Well All B," Boland mixes Dirty Pickle's remakes with new originals to create a transformative listening experience.

Many of the tracks are instantly recognizable yet feel refreshed. Boland reinterprets his Pickle's tracks for solo acoustic guitar and blends in new tracks with a more country-blues feel.

The process began not in the studio but on the stage.

"I booked a bunch of acoustic gigs one summer to make some extra money and my first one was at Night Flights and I got about 10 minutes in and I just couldn't feel it," Boland explained. "I was so used to having [the band] I never did just straight acoustic. I ended up getting the bass drum out of the van and just started doing it right there. Didn't practice it or nothing, and I busted the tambourine out the same show and just started doing this 'UnPickled' thing."

Being sans Pickles was a big step for Boland, who had built up an entire persona around fronting a band with a built in hook and a growing legend.

"I look at the Dirty Pickles as almost cartoon characters," he said. "We're something that when you come to a show you get sucked out of reality and into 'Pickle World.' This new album is a little more from my heart. Instead of sucking you out of this world I want to smack you in the face with some real world."

The new album beings with "Night To End All Nights," the most Pickle-influenced of the album tracks. The song holds true to the jangly-pop ethos developed by the Pickles. As much as the track sounds like a Pickle's song, the listener can hear the slight change to another side of Matt Boland.

A lot of that change also has to do with the DIY spirit of the recording process.

"I went to my buddy Chris Workman's house, and he has a really good microphone and pretty good recording studio," Boland said of the recording process. "I brought my stuff and set up in the middle of a room and I played, sang, and played the bass drum into this one microphone and it came out really good and that same day we just started having fun.

"[Workman] played on it. He played some slide guitars that his dad made with Swamp Road Guitars. He makes cigar box guitars and guitars out of cabbage slicers," Boland continued. "All the extra guitars in this, the only actual legitimate guitar is my acoustic guitar. All the rest are homemade all the slide and stuff you hear on it. And we just started throwing all this other stuff on it and we listened to it and we were like, 'Holy shit we're gonna make an album out of this.' We recorded the whole thing in 12 hours. Boom. Done. No editing, no extras, and it just came out to the point where this is [the album]."

Boland wanted more of a Johnny Cash-Hank Williams feel to the songs for this album, a bluesy-country music spin through his song catalog.

That desire is achieved on tracks like "To Grow Old," "I Cried Because I Cried," and "Do You Remember When," which all share a throwback, country sensibility.

"I've done the Pickles for so long," Boland said. "I started it when I was 18 or 19 years old. I'm 25 now, that's a long time to be in the same band playing the same songs. I love the Pickles. We're not stopping it either. We're still going to continue doing stuff.

"I'm going to phase out the 'Matty B' thing. Keep that as a character for the Dirty Pickles," he explained. "This CD is almost a transition because I've always been Matty B for the Dirty Pickles and this solo CD is Matty 'B-Boppin' Boland. And from here on out I'm going to be Matt Boland. You can call it growing up, maturing musically."

The album features a few new tracks that may have been written with the Pickles in mind but show a new direction in the song writing and lyrical abilities.

"Night Winds" especially foreshadows where Boland's new directions are taking him. The longest track on the album, the song still clings to the same devices Boland employed in his Pickle's days, but on a new level, with a more refined ear and voice.

"Rite on Red" is another new track that holds steady to Boland's musical influences yet cuts a sharper, harder edge.

And that harder edge is more fully realized on "Whiskey Drinking Woman." The song is Pickle-ready, but rather than bouncing around the music, Boland delivers a driving performance with a less pop, more blues voice.

The stand out track on the album clocks in at around 50 seconds. The poem "Too Many" set to just a driving, single drum beat, provides all of the information a listener needs to know about the true talent Boland possesses.

"It's country. It's more of a country-folk album. It's a punk-rock-country-folk album, but all acoustic," Boland said, trying to describe the new CD's sound. "It's a little dirty, it's a little bluesy. I'm always going to have that nostalgic feel to me. It's a lot more growly. You can hear me more angry, a little more emotionally driven. It's not, 'Well… Alright alright alright' all the time. You know what I mean. I think they're going to see that I'm stepping up my game a little bit."

It is an appreciable step. No one wants to see the day when a 45-year-old Matty B has to shake his bad hip and tip his hat to an audience at the amphitheater for a throwback great Tuesday.

The album is not just a move away from the Matty B persona; it is also a move into a new band. Kettle Black is a more roots-based band started by Boland, with his ever faithful compatriot Digg It Dave on bass and Mike Edgerly on guitar.

"I've been wanting to write songs like this for a long time. What's stopping me from doing it?" Boland said. "Why do the same thing when you can do all of it?"

"Well All B" will be available at an album release party at The crooked i Saturday, June 18. The album is an enlightening look inside the non-"cartoon" mind of Boland. One listen will have the Erie music scene collectively stand up and shout, "Our little boy is all grown up."